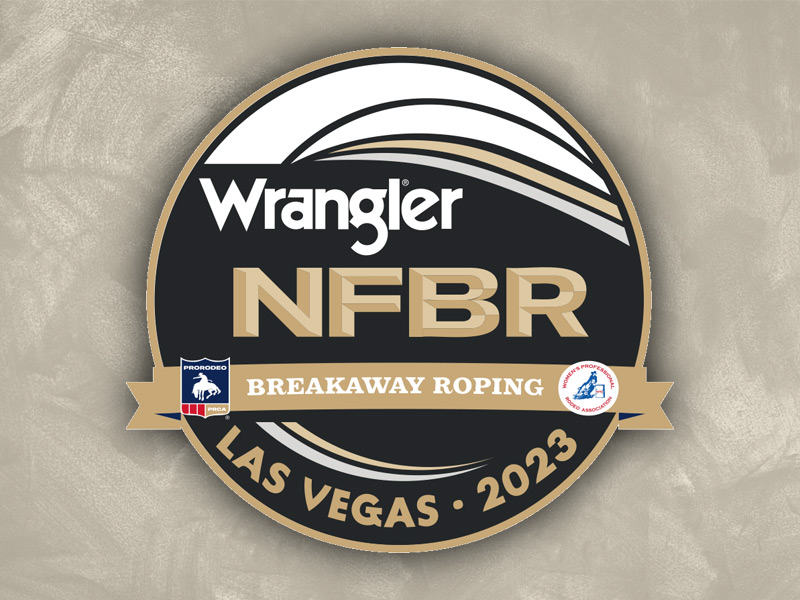 2023 Wrangler National Finals Breakaway Roping Tickets On Sale NOW
---
COLORADO SPRINGS, Colo. – The 2023 Wrangler National Finals Breakaway Roping is shaping up to be the most competitive Finals yet with at least a third of the field entering this year's finals with over $100,000 won. A year ago, only the No. 1 ranked cowgirl entered with over $100,000 won. Tickets are now on sale for this must-see championship event.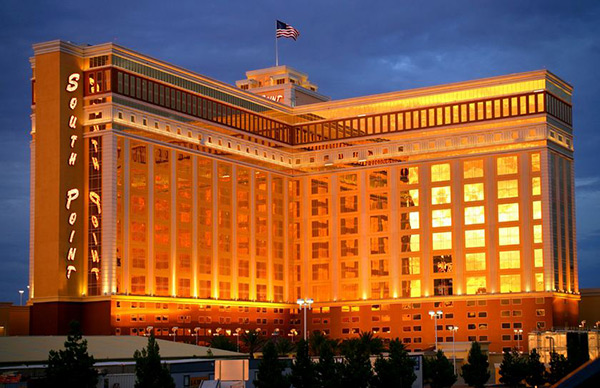 South Point Hotel, Las Vegas
The NFBR, produced by the Women's Professional Rodeo Association (WPRA) and Professional Rodeo Cowboys Association (PRCA), will be held at the South Point Arena & Equestrian Center, Dec. 5-6. The roping will begin daily at 2 p.m. (PST) with doors opening at 1 p.m.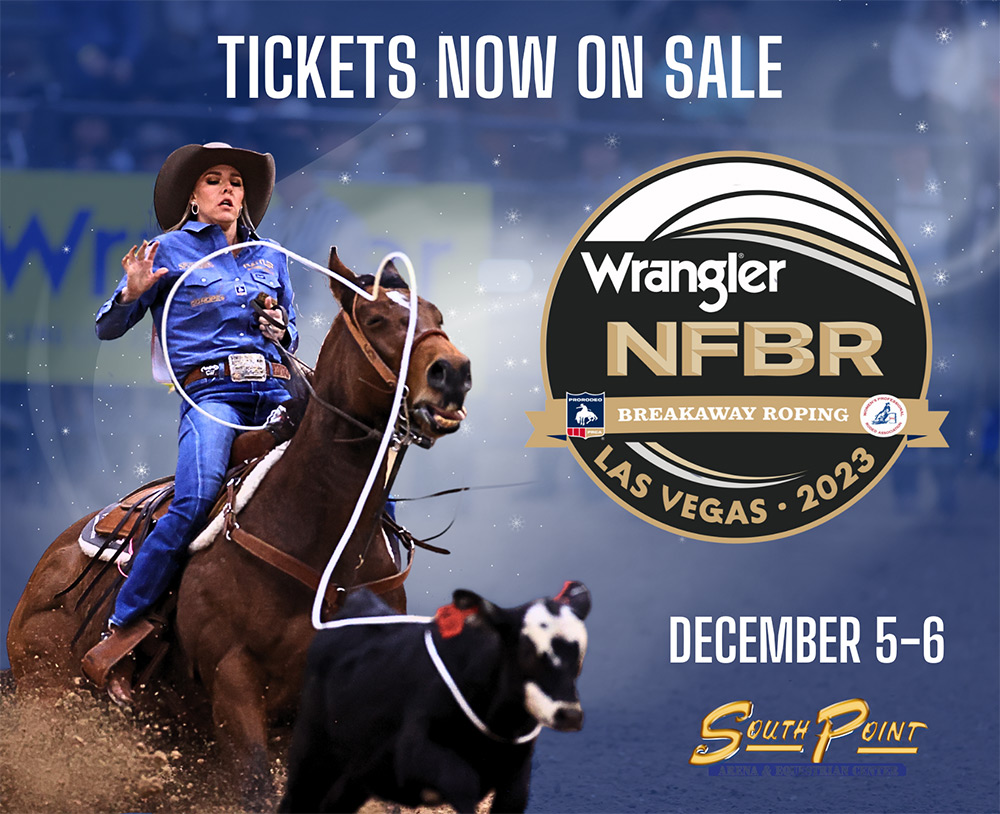 The Top 15 breakaway ropers will compete for prize money of $250,000 during the two-day, 10-round performance. This is the second year in a row the South Point Arena & Equestrian Center will play host to the NFBR.  
"The South Point is a great place for the National Finals Breakaway Roping," said Jimmie Munroe, WPRA President. "Michael Gaughan and the South Point are so welcoming it is a great place to have it. With it being held during the PRCA convention, it gives so many PRCA rodeo committees from all over the U.S. the chance to attend the National Finals Breakaway Roping to watch the best breakaway ropers in the world compete for a world championship.  
"The growth of breakaway roping has been so phenomenal and so well received by all these committees. So, it's great that they will have the opportunity to come to the National Finals Breakaway Roping at the South Point." 
Breakaway roping has gone from being featured at 30 PRCA rodeos in 2019 to more than 450 in 2023.
"I'm pleased to see the success and growth of breakaway roping since the inaugural National Finals Breakaway Roping in 2020," PRCA CEO Tom Glause said. "Breakaway roping has experienced rapid growth and it is now featured at more than 450 rodeos annually. It is amazing that the breakaway ropers now have an opportunity to compete for $250,000 at the NFBR."
General admission tickets are $30 each day, with reserve admission tickets available for $45 per day. Tickets can be purchased online at southpointarena.com, ticketmaster.com, or by using this direct event link: https://am.ticketmaster.com/southpoint/buy?filterType=169, by phone at 866-796-7111 or at the South Point Hotel, Casino & Spa box office. Tickets are electronic unless purchased at the box office or specified otherwise online or over the phone. Parking at the South Point Hotel and Casino is FREE.  
"Anytime you do an event the first time, normally you would have some challenges, but this is what we do," said Ryan Growney, General Manager of the South Point Hotel, Casino & Spa. "I thought the event was well produced and well run. We sold more than 1,000 tickets each day, which was our original goal and I think now that people know about it, hopefully we can grow the audience. We are honored to have this event at our property."
The South Point Hotel, which is a hotspot for contestants and visitors during the Wrangler NFR, is thrilled to be the event venue for the 2023 Wrangler NFBR. The 2023 Wrangler National Finals Rodeo is Dec. 7-16 at the Thomas & Mack Center in Las Vegas. 
"We just want to create the awareness that the NFBR is a couple of days before the NFR," said Steve Stallworth, General Manager of the South Point Arena and Equestrian Center. "We know the people who came last year are coming back. We are hoping to continue to grow that audience and get people to come to Vegas a couple of days early. I'm hoping for a big jump in year two."  
The 2020 National Finals Breakaway Roping took place at Globe Life Field in Arlington, Texas, in conjunction with the NFR and Jackie Crawford captured the world title. In 2021, the NFBR took place in Las Vegas at the Orleans Hotel and Casino and was won by Sawyer Gilbert. 
Martha Angelone took home the title in 2022 and will be back to try and defend her title. She will be facing some stiff competition, one being her sister Sarah Angelone, who will be making her NFBR debut in 2023. In addition, she will face Shelby Boisjoli, who has qualified for every NFBR since its inception in 2020 as well as Hali Williams, who will be making her NFBR debut. Williams is the daughter of eight-time PRCA World Champion Team Roping Header Speed Williams and has been consistently ranked in the top two since March of 2023. She will be looking to add her own gold buckle to the family collection come December.
For more information visit www.wpra.com, www.prorodeo.com or www.southpointcasino.com.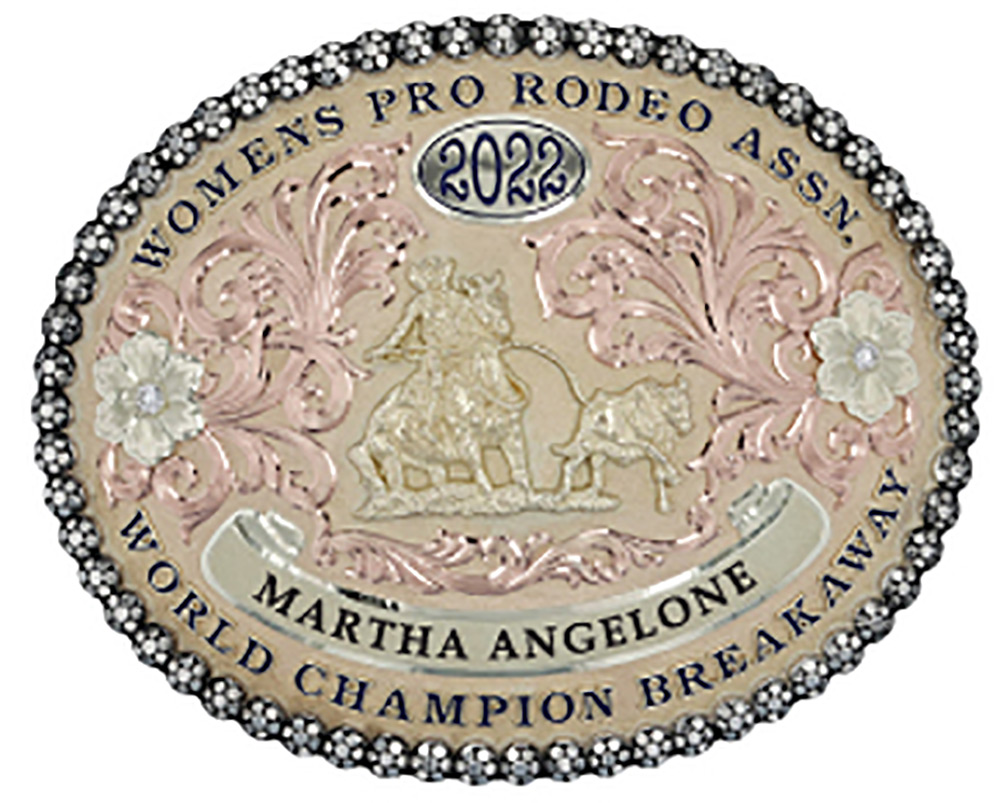 (719) 447-4627
(719) 447-4631 (fax)

431 South Cascade
Colorado Springs, CO 80903
DIRECTIONS
(719) 447-4627 | (719) 447-4631 (fax)
WORLD CHAMPIONSHIP BARREL RACING — Where the Elite Compete®
WORLD CHAMPIONSHIP
BARREL RACING
Where the Elite Compete®