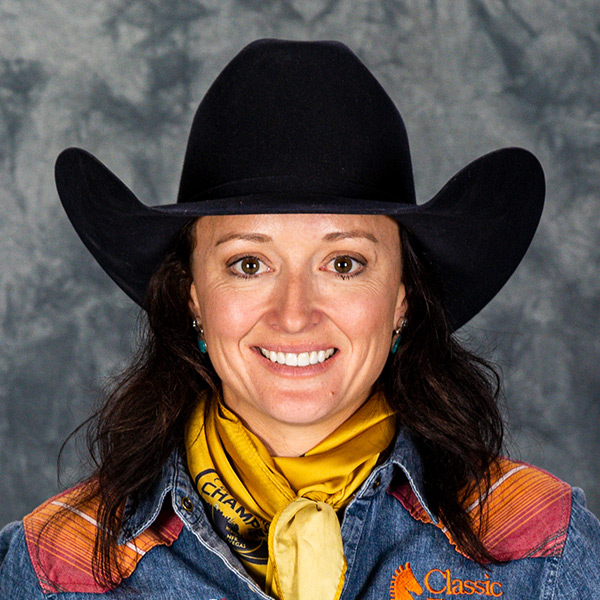 Career Earnings – through 2022 season
---
Born: August 9, 1988, in Elbert, Colo.
Residence: Tolar, Texas
Joined WPRA: 2007
Horse: Famous Lil Jet "Rollo" (9-year old sorrel gelding) – Sire: Dash Ta Fame/Dam: Blazin Beauty
World titles: 1 (2021)
Wrangler NFR average titles: 1 (2021)
Wrangler NFR qualifications: 3 (2009, 2021-22)
Education: Weatherford (Texas) Junior College
Professional
---
2022 Highlights 
• Finished the year as reserve world champion after entering her third NFR in the No. 1 position with $177,779. She won $96,741 at the NFR. Placed in five out of 10 rounds. Was fourth in the average in a total time of 142.41 seconds.
• Won RodeoHouston
• Won Dinosaur Days Rodeo (Vernal, UT)
• Won Ogden (UT) Pioneer Days
• Won Nebraska's Big Rodeo (Burwell, NE)
• Finished second at Reno (NV) Rodeo
• Finished second at NFR Open (Colorado Springs, CO)
• Finished second at Home of Champions (Red Lodge, MT)
Career Highlights
• 2021– Won her first WPRA World Barrel Racing title joining her mother Kristie Peterson in the record books as the first mother-daughter duo to win a WPRA World Title. Won her first Wrangler NFR average title in record fashion setting a new 10 run record inside the Thomas and Mack with a total time of 136.83 seconds, broke Nellie Miller's record set in 2017 with 137.32. Placed in nine out of 10 rounds winning the eighth round, tied for first in the ninth round was second in the 7th round, third in the 5th round, two 5th place finishes in the 1st and 6th round and three 6ths in the 2nd, 3rd and 10th round. Only round not placing was 4th round. Finished the year with $297,460. Won Ellensburg (WA) Rodeo, Dodge City (KS) Roundup, Wild Bill Hickok Rodeo (Abilene, KS), Home of Champions Rodeo (Red Lodge, MT), Laramie (WY) Jubilee Days, Crockett (TX) Lions Club PRCA Rodeo and Old Fort Days Rodeo (Ft. Smith, AR). Co-champion at the Guymon (OK) Pioneer Days Rodeo. Finished second at Central Wyoming Fair and PRCA Rodeo (Casper, WY), at Horse Heaven/Kennewick (WA) Round-up, at Caldwell (ID) Night Rodeo and at Walla Walla (WA) Frontier Days
• 2020– Finished the year ranked 50th with $12,530
• 2019 – Was Barrel Futurities of America (BFA) Derby Champion
• 2014– Was Barrel Futurities of America (BFA) Juvenile Champion
• 2009 – Entered first Wrangler NFR ranked fifth but finished the year ranked sixth with $126,051. Placed in five out of 10 rounds, winning the sixth round in a time of 13.72 seconds. Won the Ellensburg (Wash.) Rodeo, the Kit Carson County Fair and Rodeo (Burlington, Colo.), Nebraska's Big Rodeo (Burwell), the Cowboy Capital of the World Rodeo (Stephenville, Texas), the Bell County Rodeo (Belton, Texas), and the Fort Worth (Texas) Stock Show and Rodeo. Finished second in the average at the Greeley (Colo.) Independence Stampede. Co-champion at the Sandhills Stock Show and Rodeo (Odessa, Texas).
• 2008 – Finished 19th in the WPRA Rookie Standings.
• 2007 – Was the IFYRA Barrel Champion.
• 2006 – Was the Barrel Futurities of America (BFA) Futurity Champion.
• 2004 – Won the Martha Josey Jr. World title and was the Texas State High School Champion.
Awards
Famous Lil Jet "Rollo" named 2021 and 2022 Nutrena Horse of the Year presented by AQHA. Peterson family was honored with the WPRA's Lifetime Family Heritage Award, 2022
Personal
---
Husband, Justin Briggs; daughter, Bexley…daughter of four-time WPRA World Champion and ProRodeo Hall of Fame inductee Kristie Peterson and her late father, Chuck (passed away Aug. 29, 2022)…Trainer at Briggs Performance Horses. Most of her career has been spent training young horses and has Lifetime Earnings of over $1 Million. Since 2009 has been training and competing on futurity colts…Graduated from Rosebud-Lott High School in Texas with 94 classmates…Started running barrels before she was 8 and started competing in junior rodeos when she was around 10-years of age. Although many believe she started on her mom's famous horse Bozo, she actually didn't start competing on Bozo until she was at least 12…Jordan didn't begin the 2009 season with aspirations to make it to the NFR but after wanting to get out of the Texas heat in the summer and winning around $10,000 in Cheyenne, her plans got changed as she was on track to compete at her first Wrangler NFR…Favorite rodeo is Belton, Texas, because it is close to home, it pays well and the ground is good. Favorite rodeo win in 2022 was RodeoHouston…Favorite food is steak, favorite movie is The Notebook, and favorite magazine is Barrel Horse News…Enjoys shopping while on the road…Rodeo idol is her mom.
​
Martha AngeloneCareer Earnings - through 2022 season (includes all WPRA roping disciplines) $130,304 2022 Earnings1st 2022 World Standings Born: May 13, 1995 in Cross Junction, VAResidence: Stephenville, TXJoined WPRA: 2018Horse: Spots Lil Legend "Legend" (14-year old...
(719) 447-4627
(719) 447-4631 (fax)

431 South Cascade
Colorado Springs, CO 80903
DIRECTIONS
(719) 447-4627 | (719) 447-4631 (fax)
WORLD CHAMPIONSHIP BARREL RACING — Where the Elite Compete®
WORLD CHAMPIONSHIP
BARREL RACING
Where the Elite Compete®