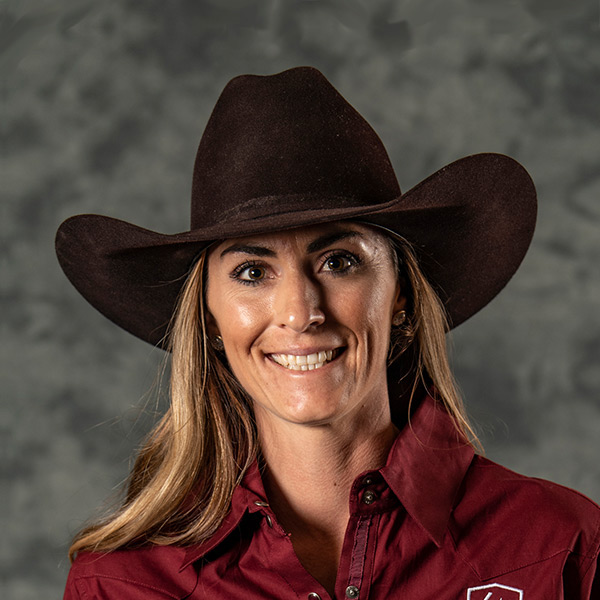 Career Earnings – through 2022 season
---
Born: February 17, 1991
Residence: Volborg, MT
Joined WPRA: 2009
Horse: Baybe Bullet "Baybe" (12-year old bay mare)
World titles: 0
Wrangler NFBR qualifications: 2 (2021-22)
NFR Open qualifications (actual rodeo season-event following year): 2 (2021-22)
Education: Black Hills State University (bachelor's in business administration with emphasis in Marketing); University of South Dakota (MBA Masters of Business Administration)
Professional
---
2022 Highlights 
• Finished the year ranked 7th with $80,316 after placing in four out of 10 rounds at the NFBR, winning the seventh round in a time of 1.9 seconds (just a tenth of a second off the fastest time of the event)
• Won the Montana Circuit Finals to qualify for the 2023 NFR Open
• Won Ellensburg (WA) Rodeo
• Won Mandan (ND) Rodeo
• Won Wild Rides Rodeo (Dickinson, ND)
• Co-champion at the Rancho Mission Viejo Rodeo (San Juan Capistrano, CA)
• Co-champion at Ogden (UT) Pioneer Days Rodeo
• Finished second at War Bonnet Roundup (Idaho Falls, ID)
• Finished second at the Range Days Rodeo (Rapid City, SD)
Career Highlights
• 2021 – Entered first NFBR ranked 14th and finished the year ranked 10th with $25,113. Turned in the fastest time of the NFBR in the fourth round stopping the clock in 1.7 seconds. Also won the eighth round in 1.8 seconds and tied for the win in the second round with Kelsie Chace and Cheyanne Guillory in 2.4 seconds. Finished fifth in the average in a total time of 27.5 seconds on eight. Won a total of $19,239. Won the Montana Circuit Finals year-end title and qualified for the NFR Open, the Daggett Heritage Rodeo (Manila, UT), the Badlands Iron Cowboy Rodeo (Killdeer, ND) and the Missoula (MT) Stampede; co-champion at Tri-State Rodeo (Amarillo, TX), Couer d'Alene (ID) Breakaway Roping and at the Wolf Point (MT) Wild Horse Stampede. Finished second at the Fallon County Fair & Rodeo (Baker, MT)
• 2020 – Finished the year ranked 28th in the ProRodeo Breakaway World Standings with $5,691 and was 116th in the WPRA Breakaway (co-approved) standings with $1,671. Montana Circuit Breakaway Champion.
• 2019 – Finished the year ranked 37th in the WPRA Breakaway (co-approved) standings with $6,238
• 2009 – Badlands Rookie and Barrel Racing Circuit Finals qualifier
Awards
---
Won Nutrena Horse of the Year with Baybe Bullet, 2022
Personal
---
Husband, Taylor Williams (PRCA team roper – 2019 and 2020 Montana Circuit average champion); sons, Landon (5), Carson (3); daughter, Shay (born Dec. 30, 2020)…Parents are Joe and Cindy Painter, who continue to run cattle on Harding County grasslands which has been part of the Painter family since 1895 when Lewis Levi Painter rode the open range as a horse wrangler for the CY Cattle Company of Texas. Sister, Jessica Holmes and brother, PJ who is an attorney in Salt Lake City, Utah. Joey and Jessica help their parents on the ranch that run primarily Angus cows and graze yearlings…Her husband Taylor grew up on a cattle ranch and guided hunting operation near Broadus, MT. Joey and Taylor currently live on husband's ranch in Broadus, MT where they run cattle, raise horses and help with the outfitting business…Her grandmother and father's mother Marilyn Scott was the first Miss Rodeo America crowned in 1955 representing Wyoming, father won the College National Finals Rodeo in team roping and brother PJ was all-around cowboy at the Great Plains Region Intercollegiate Rodeo. Joey and sister Jessica were named all-around cowgirls at the Great Plains Region Intercollegiate Rodeo and won the breakaway title at the College National Finals Rodeo (Jessica in 2006) and (Joey in 2012). Jessica coached the National American University and Black Hills State Rodeo teams 2007-2009…Baybe was raised on her husband's ranch and was trained by him. Baybe's full sister, J-Lo, helped PRCA team roper Clay Tryan qualify for the 2021 Wrangler NFR.
​
Martha AngeloneCareer Earnings - through 2022 season (includes all WPRA roping disciplines) $130,304 2022 Earnings1st 2022 World Standings Born: May 13, 1995 in Cross Junction, VAResidence: Stephenville, TXJoined WPRA: 2018Horse: Spots Lil Legend "Legend" (14-year old...
(719) 447-4627
(719) 447-4631 (fax)

431 South Cascade
Colorado Springs, CO 80903
DIRECTIONS
(719) 447-4627 | (719) 447-4631 (fax)
WORLD CHAMPIONSHIP BARREL RACING — Where the Elite Compete®
WORLD CHAMPIONSHIP
BARREL RACING
Where the Elite Compete®