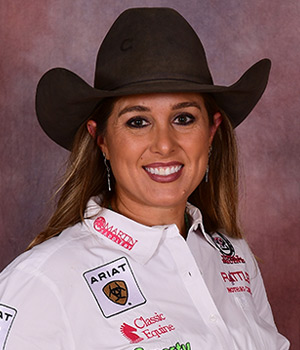 Career Earnings – through 2022 season in all events
---
$45,712
2022 ProRodeo Breakaway Earnings
---
17th
2022 World Standings
---
Born: December 23, 1982
Residence: Stephenville, TX
Joined WPRA: 2006
Horses: Peppin Up My Step "Kevin" (9-year old gelding) – Sire: Prime Talent/Sam: La Peppy Pep; Gypsy Roulette "Roulette" (8-year old mare) – Sire: Starlights Gypsy/Dam: Uno Ceelena; DS Sassy Shiner "T-Boy" (18-year old gelding) – Sire: Zans Diamond Shine/Dam: Skips Sassy Tee
World titles: 20 (2014, 2016, 2020 breakaway roping; 2008-11, 2013, 2015-16, 2018-19 all-around; 2011, 2014, 2016 team roping header; 2008-10, 2013-14 tie-down roping
Wrangler NFBR qualifications: 2 (2020-21)
Professional
---
2022 Highlights 
• Won Spanish Fork (Utah) Fiesta Days Rodeo
• Co-champion at Utah's Own Rodeo at The Utah State Fair (Salt Lake City)
• Co-champion at Walla Walla (WA) Frontier Days
• Finished second at Ellensburg (WA) Rodeo
• Finished second at Ellis County Livestock Show & Rodeo (Waxahachie, TX)
• Tied for second at Santa Rosa Roundup (Vernon, TX)
• Finished third at Hugo (OK) Pro Rodeo
• Finished third at the American Hat Pro Rodeo (Bowie, TX)
• Won $25,668 in co-approved breakaway roping events, $6,986 in team roping heading and $981 in the team roping heeling
Career Highlights
• 2021 – Entered her second NFBR ranked No. 7. Won a total of $12,120 after winning the first round, tied for the win in the third round, second in the fourth round, and sixth in the ninth round. Won the Betty Gayle Cooper Ratliff NFBR First Round Fast Time Award after stopping the clock in 1.9 seconds. Finished the year with $49,407 in breakaway roping earnings. Finished the WPRA season 14th in the team roping heading and heeling standings with $1,750 and $1,710, respectively and 12th in the WPRA co-approved standings for breakaway roping with $16,082. Won the Othello (WA) PRCA Rodeo, the Sheridan County Fair & Rodeo (Gordon, NE), the Atoka (OK) Pro Rodeo and the Helotes (TX) Festival Association Rodeo. Finished second at Sheridan WYO Rodeo and Greeley (CO) Independence Stampede. Tied for second at the Abbyville (KS) Frontier Days
• 2020 – Won her 20th overall WPRA world title and 3rd breakaway roping title upon the conclusion of the first National Finals Breakaway Roping (NFBR) with $47,185 in earnings. Won the first round (1.9 seconds) at the NFBR in Arlington and also won the Betty Gayle Cooper Ratliff Fast Time Award given to the winner of the first round on behalf of the National Cowgirl Hall of Fame and Museum. Placed in six out of 10 rounds, then tied for the win in the semifinal round and third in the final round. Won $25,536 at inaugural NFBR. Finished second at the Fort Worth Stock Show and Rodeo behind Cassie Bahe. Tied for second at the Killdeer (ND) ProRodeo Breakaway Roping
• 2019 – Won her 19th WPRA World Title (overall) in the all-around category
• 2018 – Won her 18th WPRA World Title (overall) in the all-around category, becoming the second most decorated member in the WPRA behind Wanda Bush with 32 world titles. Was reserve world champion in the breakaway roping with $18,886.
• 2017 – Reserve world champion in the all-around and team roping heading category
• 2016 – Tied JJ Hampton's record of 17 WPRA World titles after winning the all-around, breakaway roping and team roping (header) title
• 2015 – Won the WPRA World All-Around title
• 2014 – Won three WPRA World titles in breakaway roping, team roping (header) and tie-down roping. Was reserve world champion in the all-around category
• 2013 – Won two WPRA World titles in all-around and tie-down roping. Was reserve world champion in the breakaway roping with $5,217
• 2012 – Reserve world champion in the all-around and breakaway roping
• 2011 – Won two WPRA World titles in all-around and team roping (header). Reserve world champion in the team roping heeling category and the tie-down roping.
• 2010 – Won two WPRA World titles in all-around and tie-down roping. Reserve world champion in the team roping heeling category.
• 2009 – Won two WPRA World titles in all-around and tie-down roping. Reserve world champion in the breakaway roping
• 2008 – Won two WPRA World titles in all-around and tie-down roping
• 2006 – Finished third in the final WPRA tie-down roping world standings
Awards
Betty Gayle Cooper Ratliff Fast Time Award given to the winner of the first round at the NFBRon behalf of the National Cowgirl Hall of Fame and Museum, 2020 and 2021 with 1.9 second runs each. Breakaway Roping Horse With the Most Heart Award for D Sassy Shiner "T-Boy," 2021.
Personal
---
Husband Charly Crawford (11-time PRCA NFR qualifier Team Roping Header) married Dec. 2013, son, Creed (born in 2017); stepdaughter Kaydence; daughter, Journey (born March 2021)…Grew up competing in the speed events of barrel racing, pole bending and flag race in Illinois. It wasn't until she moved to Oklahoma when she was around 11, that her list of events changed. Said she didn't have a real passion for rodeo until she moved to Oklahoma and was around kids with a passion and she fell in love with it. Started roping around 14 or 15 years old…Mother, Annette Hobbs, instilled a strong work ethic and got her started in horsemanship to support her roping. Also credits Lari Dee Guy, who gave her the opportunity early in her professional career to ride top horses and rope every day…Started hauling and competing on her horse T-Boy when he was 5 and won the first roping they went to as a team at Joe's Boot Shop Roping in Clovis, N.M….Trains horses and puts on breakaway roping clinics…Charly bought Jackie her PRCA permit for Valentine's Day in 2015 and she has competed in the team roping at PRCA Rodeos…Won Teton Ridge's The American (non-sanctioned event) in 2022 and returned in 2023 to become the first breakaway roper to share the $1 million bonus (shared with Ty Harris so won $500,000 plus $100,000 for winning the round)…Participated on the WPRA Team in 2014 what was known as the Fireball Run, which was a week-long driving scavenger hunt that spread the word about missing children. Season 8, Fireball Run America's Frontier online reality filmed entertainment series began in Frisco, TX and ended in Independence, MO.
​
Martha AngeloneCareer Earnings - through 2022 season (includes all WPRA roping disciplines) $130,304 2022 Earnings1st 2022 World Standings Born: May 13, 1995 in Cross Junction, VAResidence: Stephenville, TXJoined WPRA: 2018Horse: Spots Lil Legend "Legend" (14-year old...
(719) 447-4627
(719) 447-4631 (fax)

431 South Cascade
Colorado Springs, CO 80903
DIRECTIONS
(719) 447-4627 | (719) 447-4631 (fax)
WORLD CHAMPIONSHIP BARREL RACING — Where the Elite Compete®
WORLD CHAMPIONSHIP
BARREL RACING
Where the Elite Compete®