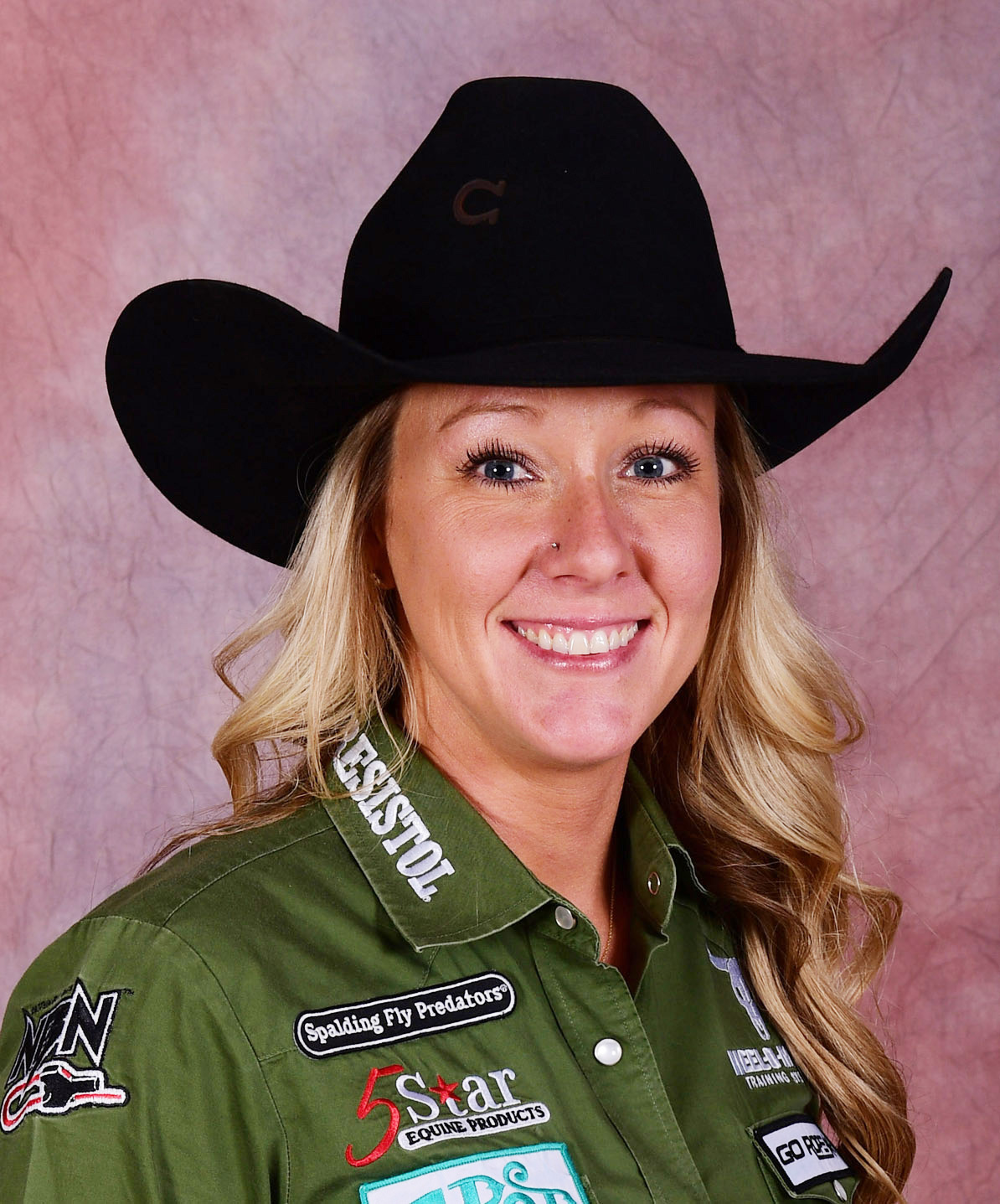 Career Earnings – through 2022 season all events
---
$35,266
2022 Earnings – breakaway
---
24th
2022 World Standings (breakaway only)
---
Born: November 6, 1985
Residence: Abilene, TX
Joined WPRA: 2010
Horse: Supercrome Ink "Ink" (15-year old black mare) – Sire: Starlights Gypsy/Dam: Little Swinging Gal
World titles: 4 (2013-breakaway roping; 2017, 2020, 2022 – team roping heading)
Wrangler NFBR qualifications: 1 (2020)
NFR Open qualifications (actual rodeo season-event following year): 1 (2021)
Education: McNeese State University (Lake Charles, LA)
Professional
---
2022 Highlights 
• Won her fourth world title and third in the team roping heading category. Finished the year in the team roping with $21,671. Roped with Rylie Smith in 2022.
• Won the BFI All Girls Roping with Whitney DeSalvo, an event co-approved by the WPRA that gave her the big boost to win her world title.
• Tied for third at Gladewater (TX) Round-Up Rodeo
• Tied for third at Canby (OR) Rodeo
• Tied for third at Utah's Own Rodeo at the Utah State Fair (Salt Lake City, UT)
Career Highlights
• 2021 – Finished the year ranked 16th with $24, 419 in breakaway roping barely missing her second trip to the NFBR; finished the year in other WPRA events – third in team roping heading standings ($11,220) and seventh in the WPRA co-approved breakaway standings with $21,696. Won Chinook (MT) Rodeo; tied for the win at Woodward (OK) Elks Rodeo; tied for second at the Elizabeth (CO) Rodeo and at the Lewistown (MT) Round-Up; tied for third at the Cody (WY) Stampede and at the Walla Walla (WA) Rodeo
• 2020 – Won $16,808 in earnings at the inaugural NFBR. Won the fourth round of the NFBR in a time of 2.2 seconds. Finished the year ranked sixth with $27,053 in ProRodeo earnings. Won the WPRA Team Roping (header) World Champion Title with Whitney DeSalvo. Tied for second at Dickinson (ND) ProRodeo Breakaway Roping. Finished second at Rapid City (SD) ProRodeo Breakaway Roping. Tied for third at Burley (ID) ProRodeo Breakaway Roping and at Mobridge (SD) ProRodeo Breakaway Roping. Won the Charlie 1 Horse All-Girl Challenge Team Roping during the Bob Feist Roping in Guthrie, OK with partner Whitney DeSalvo. Leads the team roping heading standings entering the 2020 WPRA World Finals in Waco, TX (Nov. 12-15)
• 2019 – Finished the year ranked 14th in the breakaway roping with $12,256 and 7th in the team roping heading with $3,303.
• 2018 – Finished the year ranked 16th in the breakaway roping with $7,047 and 16th in team roping heading with $1,468.
• 2017 – won the WPRA World title in the team roping with Whitney DeSalvo. In fact that duo won every all-female roping they entered in 2017. Also won the average title in the team roping at the WPRA World Finals in Waco, TX. Finished the team roping with $29,875 in earnings ahead of reserve world champion Jackie Crawford. Won the Wildfire Ladies Championship Roping in Salado, TX and the Patriot Event in Fort Worth, TX…Finished the year with $29,875 in Team roping earnings
• 2016 – Reserve World Champion breakaway roper behind Jackie Crawford with $16,706 in earnings
• 2013 – won her first WPRA World Title in the Breakaway roping aboard 8 Track a 12-year old gelding…Outdistanced Jackie Crawford by just $92.53 for the title finishing the year with $5,309 in breakaway earnings
• 2008 – Won the College National Finals Rodeo and was named National Champion Breakaway Roper
• Windy Ryon Champion
• American qualifier in breakaway roping
• World Champions Rodeo Alliance (WCRA) major event qualifier in breakaway roping
Awards
---
Her horse Ink has won the AQHA Reserve World Show title…Finished second in the Wrangler Network Breakaway Roping Tour, 2019.
Personal
---
Single…Horse trainer and clinician with Lari Dee Guy putting on clinics all over the U.S. and the world including Sweden and Australia…In 2017 on Memorial Day weekend she was doing some tie-down roping and broke her ankle (a vertical break in her ankle joint) and she also broke the tibia and fibula bones. Had surgery on June 6 and couldn't put any weight on it for two and a half months. She was then in a walking boot and back in the saddle competing. This all came after her roping partner Whitney DeSalvo broke her thumb in April of that year. Thompson had to have two plates and 14 screws to repair her broken pieces…Thompson rode her horse Zena, a 14-year old mare, in 2017 to win the team roping title…Grew up in the east Texas community of Atlanta and parents just had horses as pets. Took her to first playday when she was just 2 or 3 years old and she knew exactly what she wanted to be when she grew up…The youngest of a family of four kids was the first to pursue not only rodeo but roping. Jim Murdock helped her with the basics…Attended community college near home in Northeast, TX and then earned a rodeo scholarship for McNeese State University in Lake Charles, LA…While in college attended a Josey Ranch All-Around camp and knew that she wanted to be a rodeo clinician.
​
Martha AngeloneCareer Earnings - through 2023 regular season (includes all WPRA roping disciplines) $132,865 2023 Earnings3rd 2023 World Standings Born: May 13, 1995 in Cross Junction, VAResidence: Stephenville, TXJoined WPRA: 2018Horse: Spots Lil Legend "Legend"...
(719) 447-4627
(719) 447-4631 (fax)

431 South Cascade
Colorado Springs, CO 80903
DIRECTIONS
(719) 447-4627 | (719) 447-4631 (fax)
WORLD CHAMPIONSHIP BARREL RACING — Where the Elite Compete®
WORLD CHAMPIONSHIP
BARREL RACING
Where the Elite Compete®