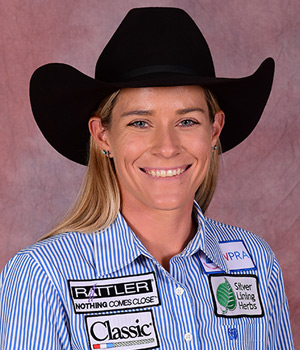 Career Earnings – through 2022 season
---
169th
2022 World Standings
---
Born: June 12, 1993
Residence: Las Cruces, NM
Joined WPRA: 2020
Horses: Six Moon Legacy "Calamity" (8-year old blue roan mare) – Sire: Sugs Six Moon Breeze/Dam: Tuckers Short Stuff; Captains Playboy "Jeter" (14-year old bay gelding) – Sire: Captains Quixote/Dam: San Badger Playgirl
World titles: 0
Wrangler NFBR qualifications: 1 (2021)
Education: New Mexico State University (Las Cruces, NM) – degree in Animal Science and master's degree in Education
Professional
---
2023 Highlights 
• Won the 94th Annual Arcadia All-Florida Championship Rodeo.
Career Highlights
• 2022 – Finished the year ranked 169th with $4,621
• 2021 – Entered first NFBR ranked 13th and finished the year ranked 15th with $32,149. Won the Parada Del Sol (Scottsdale, AZ) and the Stockyard Pro Rodeo (Fort Worth, TX); finished second at Cheyenne (WY) Frontier Days Rodeo; tied for second at Black Hills Roundup (Belle Fourche, SD); finished third at Days of the Old West Rodeo (Delta, UT) and at the Big Bend Round-Up (Waterville, WA)
• 2020 – Finished the year ranked 94th in the ProRodeo Breakaway standings with $747 and was 151st in the WPRA Breakaway (co-approved) standings with $1,123
• 2019 – Finished tied for second in the average with Hope Thompson in breakaway roping at the WPRA World Finals in Waco, TX
Personal
---
Husband, Brice (New Mexico State University rodeo coach)…Has been interested in the sport since she could sit on a horse. Started roping when she was 8-years old…Parents are Kevin and Jenny Sweazea; brother, Carl (PRCA team roper)…Qualified for the College National Finals Rodeo three years (two in goat tying, once in breakaway and once in team roping) and was a two-time year-end all-around champion of the Grand Canyon Pro Rodeo Association… Team ropes with her husband and gives roping lessons….Calamity was a surprise baby to my family and I. I bought Calamity's dam as a roping prospect not knowing that her previous owner had tried to breed her but thought the mare didn't take so she sold her. I was using the mare and roping on her but she kept getting fatter and fatter. All of a sudden she started to bag up and out popped Calamity a week later.
​
Martha AngeloneCareer Earnings - through 2023 regular season (includes all WPRA roping disciplines) $132,865 2023 Earnings3rd 2023 World Standings Born: May 13, 1995 in Cross Junction, VAResidence: Stephenville, TXJoined WPRA: 2018Horse: Spots Lil Legend "Legend"...
(719) 447-4627
(719) 447-4631 (fax)

431 South Cascade
Colorado Springs, CO 80903
DIRECTIONS
(719) 447-4627 | (719) 447-4631 (fax)
WORLD CHAMPIONSHIP BARREL RACING — Where the Elite Compete®
WORLD CHAMPIONSHIP
BARREL RACING
Where the Elite Compete®