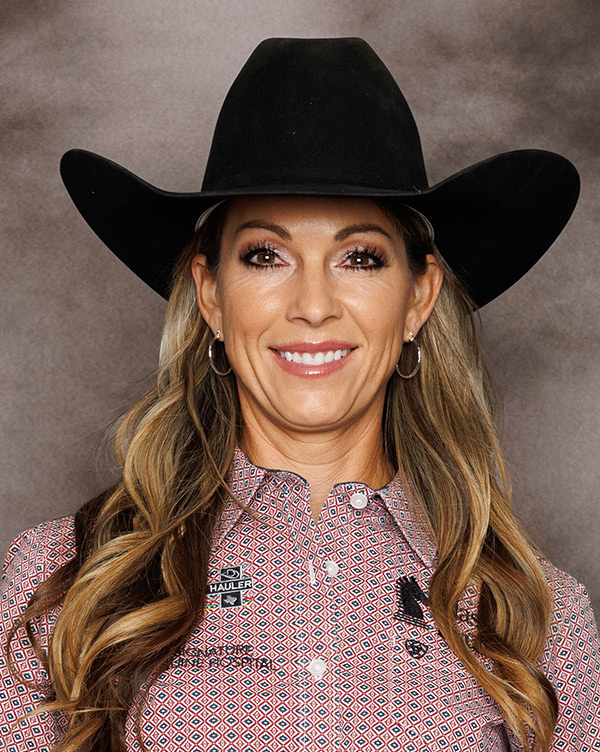 Career Earnings – through 2023 regular season
---
Born: March 11, 1982, in Corona, CA
Residence: Dublin, TX
Joined the WPRA: 2003
Horse: Famous Ladies Man "Emmett" (8-year old bay gelding) – Sire: Dash Ta Fame/Dam: Lady Perks; CP He Will Be Epic "Will" (8-year old gelding) – Sire: Epic Leader/Dam: Percilla; Force The Goodbye "Jarvis" (5-year old gelding) – Sire: The Goodbye Lane/Dam: VF Forcit First
World titles: 0
Wrangler NFR qualifications: 4 (2005, 2017, 2022-23)
Education: Western Texas College
Professional
---
2023 Highlights 
• Only went to 28 rodeos en route to her fourth NFR
• Won San Antonio (TX) Stock Show and Rodeo
• Won San Angelo (TX) Stock Show and Rodeo
• Won Fiesta Days Rodeo (Spanish Fork, UT)
• Won the West Texas Fair & Rodeo (Abilene, TX)
• Finished second at Sheridan WYO Rodeo
• Finished second at Black Hills Roundup (Belle Fourche, SD)
Career Highlights
• 2022 – Finished the year ranked 12th with $150,121 after winning $57,568 at the NFR. Placed in three out of 10 rounds. Only went to 26 rodeos en route to the NFR and entered ranked 10th. Won Calgary Stampede and set a new arena record 16.86 seconds. Finished second at RodeoHouston. Co-champion at Black Hills Roundup (Belle Fourche, SD). Finished second at Ogden (UT) Pioneer Days Rodeo and won Heart O' Texas Rodeo (Waco)
• 2021 – Finished 26th with $42,477
• 2020 – Finished 24th with $23,751
• 2015 – Finished 224th with $4,293
• 2017 – Finished the year ranked 9th with $189,047 aboard FirewaterMakeMeHappy "Junior." Placed in four out of 10 rounds at the Wrangler NFR winning a total of $73,885; won Snake River Stampede (Nampa, Idaho), RodeoHouston, the Parker County Sheriffs Posse Frontier Days and PRCA Rodeo (Weatherford, Texas) and San Angelo (Texas) Stock Show and Rodeo; finished second at Rodeo of the Ozarks (Springdale, Ark.)
• 2005 – Finished the year ranked 14th with $62,309; was eight in the average at the NFR and won $10,349; Won the North Idaho Fair & Rodeo (Coeur D'Alene, Idaho), the Molalla (Ore.) Buckeroo, the Santa Maria (Calif.) Elks Rodeo, the Wrangler ProRodeo Tour round at La Fiesta de los Vaqueros (Tucson, Ariz.), the Wrangler ProRodeo Tour round at the Laughlin (Nev.) River Stampede, the Marshall (Texas) Pro Rodeo.
• 2004 – Won Cody (Wyo.) Rodeo and Heart of the North Rodeo (Spooner, Wis.).
Awards
---
Famous Ladies Man "Emmett" won the WPRA's Scot Flit Bar Rising Star Award, 2022. High School National Champion, 2000; College Champion, 2001.
Personal
---
Single…Hobbies include boating as she is a self-described "water baby."…Got involved in rodeo because of her love for horses and the fact that she has been riding since she can remember. First competition was in 1999. Is now known as a top futurity horse trainer…Parents are Bill, who works as a manager, and Kim, who is a massage therapist…Nickname is Sleepy because she once slept through the barrel racing at a rodeo and missed her run…Also works as a horse trainer…While on the road she enjoys watching movies, especially scary ones…Horse breeder Jud Little raised the horses that Kassie rode early on but following 2005 Wrangler NFR Kassie started focusing on training futurity horses and competing on them. Wasn't until 2017 when a futurity horse won San Angelo Stock Show and Rodeo and got her qualified for RodeoHouston that she even put the NFR back on her radar screen. Loves the process of taking a three-year-old horse, teaching it the barrel pattern and competing on it.…Favorite rodeo is the Cody (Wyo.) Rodeo because she won there in 2004; favorite food is spaghetti; favorite book is Where the Red Fern Grows; favorite movie is Primal Fear;  and enjoys all types of music.
​​
Martha AngeloneCareer Earnings - through 2023 regular season (includes all WPRA roping disciplines) $132,865 2023 Earnings3rd 2023 World Standings Born: May 13, 1995 in Cross Junction, VAResidence: Stephenville, TXJoined WPRA: 2018Horse: Spots Lil Legend "Legend"...
(719) 447-4627
(719) 447-4631 (fax)

431 South Cascade
Colorado Springs, CO 80903
DIRECTIONS
(719) 447-4627 | (719) 447-4631 (fax)
WORLD CHAMPIONSHIP BARREL RACING — Where the Elite Compete®
WORLD CHAMPIONSHIP
BARREL RACING
Where the Elite Compete®