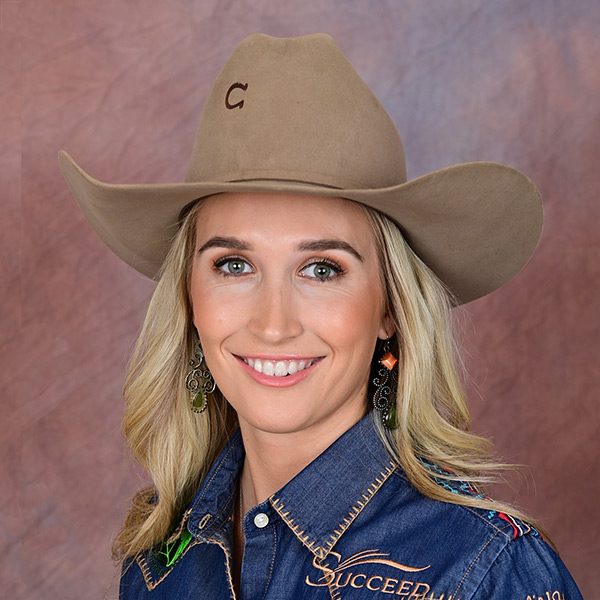 Career Earnings – through 2022 season
---
13th
2022 World Standings
---
Born: January 5, 1998
Residence: Chapman Ranch, Texas
Joined the WPRA: 2017
Horses: Chewingthehotwire "Chewy" (9-year old gelding), Sire: Flaming Firewater/Dam: Native Quick Dash; A R Dash Ta Flame "Scoop" (10-year old gelding) – Sire: Dash Ta Fame/Dam: Discreat Retreat; JL I Am Reddy "Ted" (6-year old gelding); Sire: JL Ready To Charm/Dam JL Seraphina
World titles: 0
Wrangler NFR qualifications: 1 (2022)
NFR Open qualifications: 2 (2021-22, actual rodeo season, competed following year)
Education: Texas A&M University (graduated 2020)
Professional
---
2022 Highlights 
• Entered first NFR ranked 7th in the world and finished ranked 13th with $149,156 after winning $47,308. Placed in two out of 10 rounds and was seventh in the average in a total time of 144.03.
• Texas Circuit year-end champion and qualified for the NFR Open in July 2023.
• Won the Bozeman (MT) Stampede
• Won the Jerome (ID) County Fair & Rodeo
• Won Livingston (MT) Round-Up
• Won the Rio Grande Valley Livestock Show & Rodeo (Mercedes, TX)
• Finished second at Cascade (MT) Pro Rodeo
Career Highlights
• 2021 – Finished 20th with $48,647. Won the average at the Texas Circuit Finals Rodeo and qualified for the NFR Open. Won the Comal County Fair & Rodeo (New Braunfels, TX), Buffalo (TX) PRCA Pro Rodeo and Stockyards Rodeo (Fort Worth, TX)
• 2020 – Finished 51st with $12,069
• 2019 – Finished 71st with $18,838
• 2018 – Finished 38th with $37,070
• 2017 – Finished 98th with $13,118 and was sixth in the WPRA Rookie standings.
Awards
Won the 2022 Jerry Ann Taylor Best Dressed Award at the Fort Worth (TX) Stock Show and Rodeo.
Personal
---
Single…Parents, Tom and Melissa Winn; older sister, Amy…a former Miss Rodeo Texas Princess (2011) and Miss Rodeo Texas Teen (2015)….In junior high and high school, Sissy competed in barrel racing, breakaway roping, goat tying, cutting and pole bending…Seven-time national qualifier for junior high and high school finals…Won the 2013 Texas High School Rodeo Association All-Around cowgirl and was named the rookie champion…Started working on her NFR goals while studying at Texas A&M University in College Station where she graduated with honors in 2020…Chewy got his name from his habit of chewing things. Winn decribes the horse's personality as playful, yet mischievous. Winn acquired Chewy as a 5-year-old because he was a strong futurity colt and she was looking for a good second horse. She found a keeper. She bought him from Shelby Ridling. Scoop joined the team in April of 2022 and they clicked right away…In addition to the three big horses, Sissy travels with her companion minis: Scout and Stormy.
​
Martha AngeloneCareer Earnings - through 2022 season (includes all WPRA roping disciplines) $130,304 2022 Earnings1st 2022 World Standings Born: May 13, 1995 in Cross Junction, VAResidence: Stephenville, TXJoined WPRA: 2018Horse: Spots Lil Legend "Legend" (14-year old...
(719) 447-4627
(719) 447-4631 (fax)

431 South Cascade
Colorado Springs, CO 80903
DIRECTIONS
(719) 447-4627 | (719) 447-4631 (fax)
WORLD CHAMPIONSHIP BARREL RACING — Where the Elite Compete®
WORLD CHAMPIONSHIP
BARREL RACING
Where the Elite Compete®