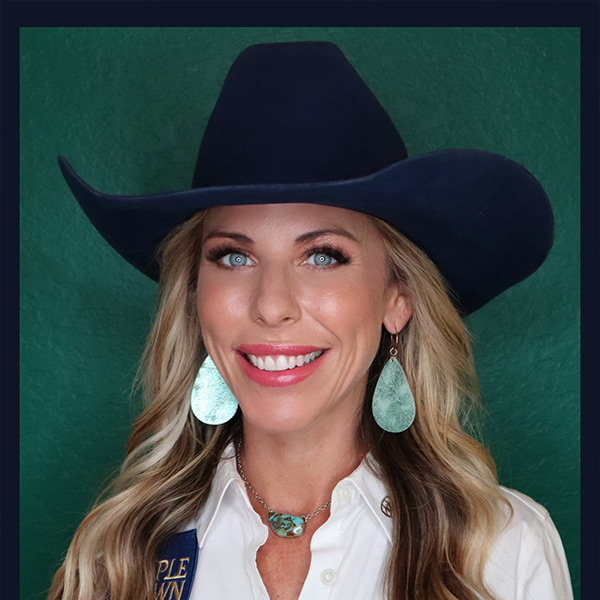 Career Earnings – through 2022 season
---
Born: Aug. 3, 1985 in Fort Myers, FL
Residence: North Fort Myers, FL
Joined WPRA: 2005
Horse: Shes Packin Fame "Sissy" (11-year old sorrel mare) – Sire: Carrizzo/Dam: Heidis Dashing Sixes
World titles: 0
Wrangler NFR qualifications: 1 (2022)
RNCFR/NFR open qualifications (year is season qualified, competed following year): 2 (2020, 2022)
Education: Tarleton State University (Stephenville) degree in business
Professional
---
2022 Highlights 
• Entered first NFR ranked 8th and finished the year ranked 7th with $184,751 after winning $87,880 by placing in four out of 10 rounds and finishing 9th in the average.
• Won ProRodeo Tour Finale (Puyallup, WA)
• Won Caldwell (ID) Night Rodeo
• Won the Omak (WA) Stampede
• Won the Deadwood (SD) Days of '76 Rodeo
• Won the Red Desert Roundup (Rock Springs, WY)
• Won Franklin (TN) Rodeo
• Finished second at Central Wyoming Fair & PRCA Rodeo (Casper, WY)
• Finished second at the Deep South PRCA Rodeo (Winnsboro, LA)
Career Highlights 
• 2021 – Finished the year ranked 123rd with $8,401.
• 2020 – Finished the year ranked 35th with $19,303.
• 2019 – Only won $49 in the WPRA.
• 2018 – Finished the year ranked 311th with $2,597
• 2017 – Won the Old Fort Days Futurity & Derby (Fort Smith, AR). Finished the year ranked 105th with $11,974
• 2016 – Won the WPRA Finals Futurity Champion and WPRA Finals Card Holder race
• 2008 – Won ABC Pro Rodeo (Lubbock, TX), Mineral Wells (TX) Pro Rodeo, qualified for the 2008 Texas Circuit Finals, was the Odessa College Rodeo Champion. Finished the year with $11,914.
• 2006 – Weatherford College Rodeo Champion, Vernon College Rodeo Champion, Josey Jr World Finalist
Awards
---
Won the Jerry Ann Taylor Best Dressed Award at the NFR presented by the National Cowgirl Museum and Hall of Fame, 2022.
Personal
---
Husband, Casey; a son, Sawyer and two daughters, Stella and Saylor… Maiden name Peters…Daughter Stella is a WPRA Junior member…Was making a run for the NFR back in 2008 on a horse named Fast Tyme Lynx "Lexus," but tragedy struck when she lost her beloved mare on July 5, 2008. The 7-year old sorrel was originally exhibiting signs of liver failure and was shipped to the Montana Equine Medical Surgery Center in Bozeman, where it was determined she was suffering from salmonella, a bacterial infection that ended up being fatal. Margo didn't ride for almost a year as a result of the heartbreak. It wouldn't be until she got Sissy that she decided to make another run…In 2016, Crowther and Sissy had a breakout performance at the WPRA World Finals when the mare was just 4 years old sweeping not only the futurity race but also the WPRA card holder race…Margo grew up in Florida riding and showing horses. Earned a rodeo scholarship to Tarleton State University (Stephenville) and nearly made the College National Finals Rodeo with Lexus…She and her husband run and operate a roofing company, Targe Roofing and Sheet Metal…Has lived through all three hurricanes to hit the area – Irma, Charley and most recently Ian.
​
Martha AngeloneCareer Earnings - through 2022 season (includes all WPRA roping disciplines) $130,304 2022 Earnings1st 2022 World Standings Born: May 13, 1995 in Cross Junction, VAResidence: Stephenville, TXJoined WPRA: 2018Horse: Spots Lil Legend "Legend" (14-year old...
(719) 447-4627
(719) 447-4631 (fax)

431 South Cascade
Colorado Springs, CO 80903
DIRECTIONS
(719) 447-4627 | (719) 447-4631 (fax)
WORLD CHAMPIONSHIP BARREL RACING — Where the Elite Compete®
WORLD CHAMPIONSHIP
BARREL RACING
Where the Elite Compete®