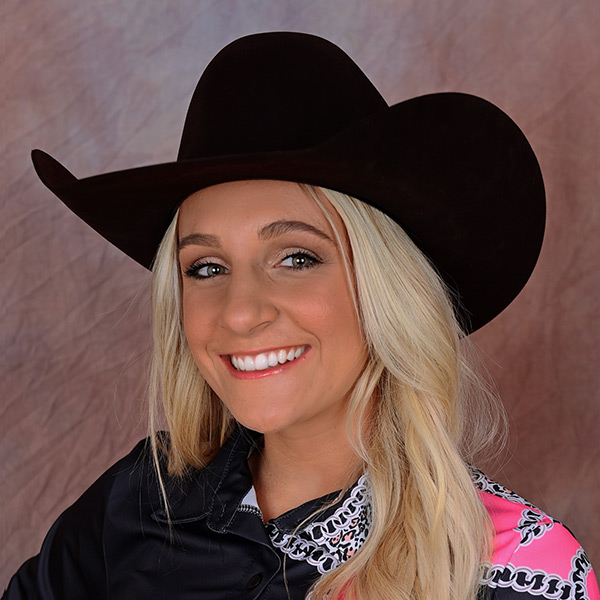 Career Earnings – through 2022 season
---
Born: June 19, 2003
Residence: Fort Worth, Texas
Joined WPRA: 2022
Horses: Hail To Be Famous "Dash" (8-year old chestnut gelding) – Sire: Dash Ta Fame/Dam: Itty Bitty Boon; TJR Stinson Blue "Boozer" (6-year old bay roan gelding) – Sire: Eddie Stinson/Dam: YO Threatnin Frost; LK Heza Fame "Preacher" (9-year old gelding) – Sire: Dash Ta Fame/Dam: Sheza Peasa Pie
World titles: 0
Wrangler NFR qualifications: 1 (2022)
Professional
---
2022 Highlights 
• Finished her rookie year ranked 8th in the world with $182,971, the most money won by a rookie in history of the WPRA. Finished second in the average joining winner Shelley Morgan as the only two to turn in 10 clean runs. Finished with a total time of 138.98. Placed in two out of 10 rounds. Won a total of $92,078
• Enters first Wrangler NFR with second most money won by a WPRA rookie prior to the NFR ($90,893). Taci Bettis set the record in 2017 with $97,023. Entered the NFR ranked 11th
• Won the most money over the Fourth of July among all WPRA members ($25,506).
• Won the Ponoka (Alberta) Stampede
• Won Wainwright (AB) Stampede
• Won High Prairie (AB) Elks Pro Rodeo
• Won Mineral Wells (TX) Rodeo
• Won the American Royal Rodeo (Kansas City, MO)
• Co-Champion at the Santa Rosa Roundup (Vernon, TX)
• Won the semifinal round at Rodeo Austin
• Finished second at California Rodeo Salinas
• Finished second at Williams Lake (BC) Stampede
• Finished second at Pro Tour Finals (Armstrong, BC)
• Finished second at LaCrete (AB)
• Finished second at Medicine Hat (AB) Stampede
• Finished second at Tops In Texas Rodeo (Jacksonville, TX)
Awards
---
WPRA Resistol Rookie of the Year, 2022. Canadian Professional Rodeo Association Rookie of the Year, 2022.
Personal
---
Single…Parents are Mike and Mandy Ralston; older sister, LeAnn and younger brother, River…Was a WPRA Junior member in 2020 and 2021 and then filled her WPRA permit in 2021…Boozer was Choate's first futurity horse…Favorite aspect of ProRodeo is the level of competition… Grew up in Cohutta, Georgia and looked up to Sarah Rose McDonald Waguespack…A former Junior NFR qualifier through the KK Run For Vegas…Kassie Mowry trained the gelding Hail To Be Famous, Whitney Godinez trained TJR Stinson Blue and LK Heza Fame is from Aimee Kay's program…Qualified for Canadian Finals, 2022.
​
Martha AngeloneCareer Earnings - through 2023 regular season (includes all WPRA roping disciplines) $132,865 2023 Earnings3rd 2023 World Standings Born: May 13, 1995 in Cross Junction, VAResidence: Stephenville, TXJoined WPRA: 2018Horse: Spots Lil Legend "Legend"...
(719) 447-4627
(719) 447-4631 (fax)

431 South Cascade
Colorado Springs, CO 80903
DIRECTIONS
(719) 447-4627 | (719) 447-4631 (fax)
WORLD CHAMPIONSHIP BARREL RACING — Where the Elite Compete®
WORLD CHAMPIONSHIP
BARREL RACING
Where the Elite Compete®