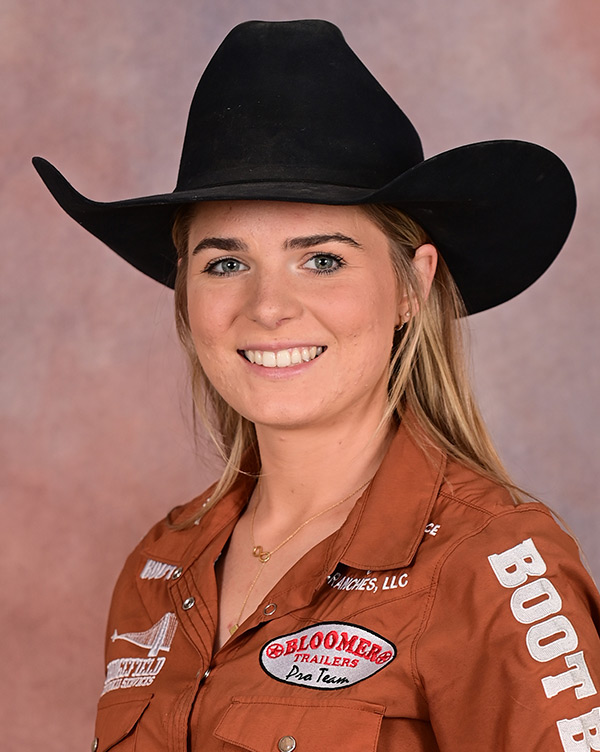 Career Earnings – through 2023 regular season
---
Born: December 14, 2003, in Amarillo, TX
Residence: Comanche, TX
Joined WPRA: 2022
Horse: Stylish Red Light "Red Light" (7-year old sorrel gelding) – Sire: Stylish Rey/Dam: Shiney Night Light
World titles: 0
Wrangler NFBR Average titles: 0
Wrangler NFBR qualifications: 1 (2023)
NFR Open qualifications (actual rodeo season-event following year): 0 
Professional
---
2023 Highlights 
• Won RodeoHouston
• Won Jerome (ID) County Fair and Rodeo
• Co-champion at Mt. Pleasant (TX) Rodeo
• Co-champion at Cascade (MT) Pro Rodeo
• Co-champion at Missoula (MT) Stampede
• Finished tied for second at the Palouse Empire Rodeo (Colfax, WA)
• Finished tied for second at the Meagher County Labor Day Rodeo (White Sulphur Springs, MT)
• Finished third at San Antonio (TX) Stock Show and Rodeo
• Finished third at Fort Worth (TX) Stock Show and Rodeo
Career Highlights
• 2022 – Finished the year ranked fourth in the breakaway rookie standings with $28,357 and was 28th in the world standings with $31,976.
Personal
---
Single…Father is eight-time PRCA World Champion and ProRodeo Hall of Famer Speed Williams; mother is Jennifer; brother Gabe…took online classes through Ignite Christian Academy to finish out her high school studies.
​
Martha AngeloneCareer Earnings - through 2023 regular season (includes all WPRA roping disciplines) $132,865 2023 Earnings3rd 2023 World Standings Born: May 13, 1995 in Cross Junction, VAResidence: Stephenville, TXJoined WPRA: 2018Horse: Spots Lil Legend "Legend"...
(719) 447-4627
(719) 447-4631 (fax)

431 South Cascade
Colorado Springs, CO 80903
DIRECTIONS
(719) 447-4627 | (719) 447-4631 (fax)
WORLD CHAMPIONSHIP BARREL RACING — Where the Elite Compete®
WORLD CHAMPIONSHIP
BARREL RACING
Where the Elite Compete®