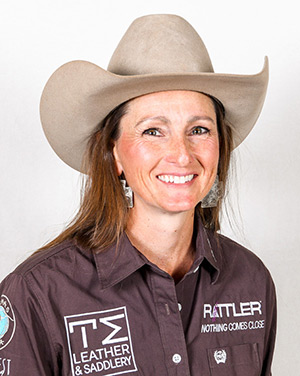 Career Earnings – through 2022 season
---
$88,720
2022 ProRodeo Breakaway Earnings
---
Born: March 12, 1980
Residence: Fowler, CO
Joined WPRA: 2007
Horses: Rio Fols "Bubba" (18-year old grey gelding) – Sire: Skips Fols/Dam: Miss Rio Ventur; Huskers Be Smokin "Chico" (15-year old palomino gelding) – Sire: High Brow Husker/Dam: Sonny Be Smokin
World titles: 3 (2011-12, 2015)
Wrangler NFBR qualifications: 3 (2020-22)
NFR Open qualifications (actual rodeo season- event following year): 2 (2021-22)
Education: Bachelor's Degree in Business Administration, majoring in accounting
Professional
---
2022 Highlights 
• Finished the year ranked 3rd after finishing fifth in the average and placing in three out of 10 rounds at the NFBR.
• Won RodeoHouston
• Won Sheridan WYO Rodeo
• Won Douglas (WY) County Fair and Rodeo
• Won the year-end title in the Mountain States Circuit
Career Highlights
• 2021 – Entered second NFBR ranked 3rd and finished the year ranked 5th. Won $12,123 at the NFBR and finished with $50,442 on the season. Won the Mountain State Circuit Finals Breakaway Roping Circuit average and year-end titles and qualified for NFR Open. Won the Socorro (NM) County Fair & PRCA Rodeo, the Dick Stull Memorial Rodeo (Sterling, CO) and the Kimball (NE) Breakaway Roping; was co-champion at Tri-State Rodeo (Amarillo, TX)and at Caldwell Night (Idaho) Rodeo. Finished second at Lea County Fair & Rodeo (Lovington, NM) and at World's Oldest Rodeo (Prescott, AZ). Finished ranked 24th in the WPRA Breakaway Standings for co-approved events.
• 2020 – Finished the year ranked 15th in the world with $15,542. Won $6,625 at inaugural NFBR. Qualified for the semifinal round with an average time of 19.2 seconds on seven head. Co-champion at Deadwood (SD) Breakaway Roping. Finished second at the Redmond (OR) Breakaway Roping. Tied for second at Dickinson (ND) Breakaway Roping. Finished third at Range Days Rodeo (Rapid City, SD)
• 2015 – Won her third WPRA World Title in Breakaway Roping with $12,752
• 2012 – Won her second WPRA World Title in the Breakaway Roping with $17,490
• 2011 – Won her first WPRA World Title in the Breakaway Roping with $16,750
• 2010 – Reserve World Champion breakaway roper with $8.796
Amateur
Eight-time Colorado Professional Rodeo Association Breakaway Roping Champion.
Awards
Husker Be Smokin "Chico" finished third in the 2021 Nutrena Horse of the Year presented by AQHA voting
Personal
---
Husband, Darnell (PRCA tie-down roper), son Denton, daughters Evin and Annie…Her father raised Bubba and gave to his daughter…Grew up in Burlington, CO on her family's fourth generation Homm Ranch…Participated in 4-H and primarily showed cattle and horses…Loves farming, ranching, and working on their farm with her husband and kids…Enjoys cooking and baking for her family…Continues her dad's small horse program, breeding and raising a few colts a year.
​
Martha AngeloneCareer Earnings - through 2022 season (includes all WPRA roping disciplines) $130,304 2022 Earnings1st 2022 World Standings Born: May 13, 1995 in Cross Junction, VAResidence: Stephenville, TXJoined WPRA: 2018Horse: Spots Lil Legend "Legend" (14-year old...
(719) 447-4627
(719) 447-4631 (fax)

431 South Cascade
Colorado Springs, CO 80903
DIRECTIONS
(719) 447-4627 | (719) 447-4631 (fax)
WORLD CHAMPIONSHIP BARREL RACING — Where the Elite Compete®
WORLD CHAMPIONSHIP
BARREL RACING
Where the Elite Compete®