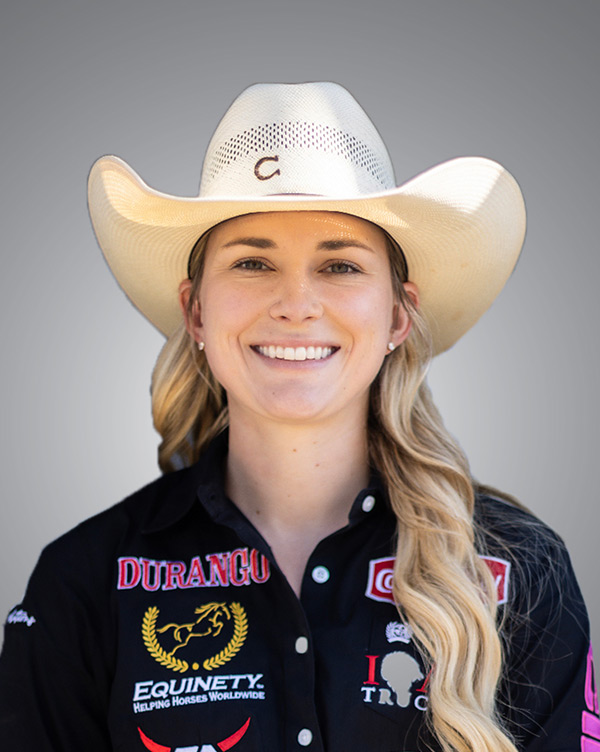 Cheyanne (Guillory) McCartney
Career Earnings – through 2023 regular season
---
Born: March 6, 1997
Residence: Kingston, OK
Joined WPRA: 2020
Horses: Mister Dun Star "Gus" – Sire: Doseys Star/Dam: Dun Brow Sug; High Flyin Hawk"Hawk" (9-year old sorrel gelding) – Sire: Ebr Kitty Hawk/Dam: Debbie Dun It
World titles: 0
Wrangler NFBR qualifications: 3 (2021-23)
Education: Louisiana College and Texas A&M University (degree in general studies-graduated May 2021)
Professional
---
2023 Highlights 
• Won Fort Worth (TX) Stock Show and Rodeo
• Won American Royal Rodeo (Kansas City, MO)
• Won the Wilson County Pro Rodeo (Fredonia, KS)
• Co-champion at the Duncan (OK) Pro Rodeo
• Co-champion at Oakley (UT) Independence Day Rodeo
• Finished second the Ozark Empire PRCA Pro Rodeo (Springfield, MO)
• Tied for second at Rodeo El Paso (TX)
• Tied for second in White Sulphur Springs (MT) Labor Day Rodeo
Career Highlights
• 2022 – Moved from 10th in the standings to sixth with $83,786 after winning $27,037, the most of any breakaway roper at the 2022 NFBR. Placed in 6 out of 10 rounds including winning the fourth round in a time of 2.0 seconds, and finished third in the average with a total time of 32.90 seconds on nine head. Won Range Days Rodeo (Rapid City, SD) and the Wolf Point (MT) Wild Horse Stampede. Co-champion at Rancho Mission Viejo (San Juan Capistrano, CA) and at Missoula (MT) Stampede. Finished second at Pendleton (OR) Round-Up, Cascade (MT) Pro Rodeo and at White Sulphur Springs (MT) Springs Labor Day Rodeo
• 2021 – Entered first NFBR ranked 11th in the world and ended the year ranked 8th in the world with $48,295. Tied for the win in the second round with Kelsie Domer and Joey Williams in a time of 2.4 seconds and tied for the win in the ninth round with Martha Angelone in a time of 1.8 seconds. Finished fourth in the average in a total time of 42.3 on nine head. Finished ranked 11th in the WPRA co-approved breakaway standings with $17,131. Won most money among WPRA breakaway ropers over the Fourth of July known as Cowboy Christmas. Won an event best $14,330. Won the Black Hills Roundup (Belle Fourche, SD). Co-champion at Oakley (UT) Independence Day Rodeo. Finished second at Cody (WY) Stampede
• 2020 – Finished the year ranked 96th in the WPRA Breakaway (co-approved) standings with $2,326.
Personal
---
Husband, Cody McCartney (married October 2023)… Native of Louisiana and second generation roper…Learned to rope from her dad Carl, who suffered a heart attack and passed away in July 2020…Bought Hawk from Colton Christian…Says she likes a smaller short strided horse and when Hawk gets in the corner of the box he doesn't move. Said if they leave too early it is always her fault…Former collegiate softball player at Louisiana College…Traveling partner is Alex Loiselle, who has a real estate license and helping Cheyenne get one as well…Counts ProRodeo Hall of Famers Joe Beaver and Fred Whitfield as mentors…Dad's biggest goals for her was for her to graduate college and be successful at roping – she accomplished both in 2021!
​
Martha AngeloneCareer Earnings - through 2023 regular season (includes all WPRA roping disciplines) $132,865 2023 Earnings3rd 2023 World Standings Born: May 13, 1995 in Cross Junction, VAResidence: Stephenville, TXJoined WPRA: 2018Horse: Spots Lil Legend "Legend"...
(719) 447-4627
(719) 447-4631 (fax)

431 South Cascade
Colorado Springs, CO 80903
DIRECTIONS
(719) 447-4627 | (719) 447-4631 (fax)
WORLD CHAMPIONSHIP BARREL RACING — Where the Elite Compete®
WORLD CHAMPIONSHIP
BARREL RACING
Where the Elite Compete®