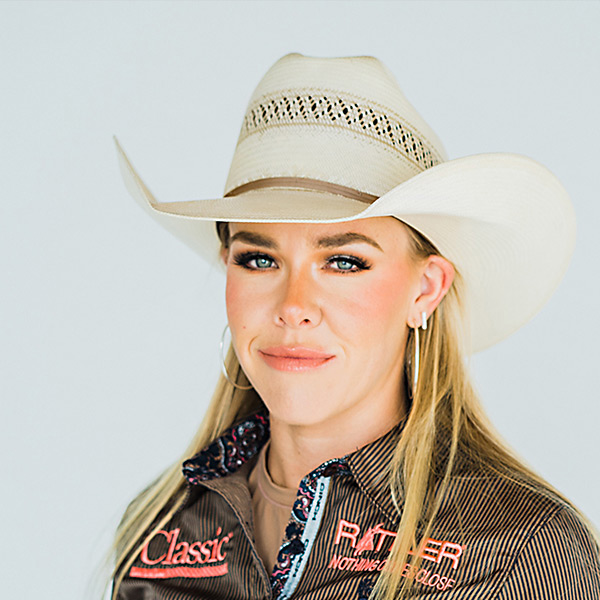 Career Earnings – through 2022 season
---
Born: March 11, 1991 in Belgrade, MT
Residence: Weatherford, TX
Joined WPRA: 2019
Horse: Dropit Likeitz Hott "Scandal" (8-year old bay mare) – Sire: Hottish/Dam: Miss Peppys Moped
World titles: 0
Wrangler NFBR Average titles: 1 (2022)
Wrangler NFBR qualifications: 1 (2022)
NFR Open qualifications (actual rodeo season-event following year): 1 (2021)
Education: Weatherford (TX) College
Professional
---
2022 Highlights 
• Entered her first NFBR ranked 13th but moved to 8th in the world after winning $21,147 at the NFBR. Won the average becoming the first breakaway roper to have 10 clean runs during the NFBR. Finished with a total time of 31.90 seconds on 10 head. Placed in three out of 10 rounds
• Won the Days of '76 Rodeo (Deadwood, SD)
• Won Liberty Hill (TX) Fair and Rodeo
• Finished second at Dawson County Fair and Rodeo (Glendive, MT)
• Finished second at Sheridan Saddle Club PRCA Rodeo (Plentywood, MT)
• Finished second at Golden Spike Rodeo (Tremonton, UT)
• Tied for second at Woodward (OK) Elks Rodeo
Career Highlights
• 2021 – Finished the year ranked 37th with $13,019. Won the average title at the Montana Circuit Finals Rodeo and qualified for the NFR Open in Colorado Springs in July 2022.
Personal
---
Husband, Landon; daughter, Honor and son, Wyatt…Parents are Clay and Roxie Tew; brothers, Colt, Casey and Cody Tew, competes in team roping…Says Scandal is almost small enough to be registered as a pony – only 13.2 hands tall…Handles the marketing and social media for Wild West Trailers in Lubbock, Texas…No relation to fellow WPRA breakaway roper Joey Williams…Former national breakaway roping champion – won national high school title in 2008…Husband, Landon, won the tie-down roping title at the Montana Circuit Finals in 2021 and competed alongside Cadee at NFR Open in 2022…Hobbies are skiing, hiking and traveling.
​
Martha AngeloneCareer Earnings - through 2022 season (includes all WPRA roping disciplines) $130,304 2022 Earnings1st 2022 World Standings Born: May 13, 1995 in Cross Junction, VAResidence: Stephenville, TXJoined WPRA: 2018Horse: Spots Lil Legend "Legend" (14-year old...
(719) 447-4627
(719) 447-4631 (fax)

431 South Cascade
Colorado Springs, CO 80903
DIRECTIONS
(719) 447-4627 | (719) 447-4631 (fax)
WORLD CHAMPIONSHIP BARREL RACING — Where the Elite Compete®
WORLD CHAMPIONSHIP
BARREL RACING
Where the Elite Compete®