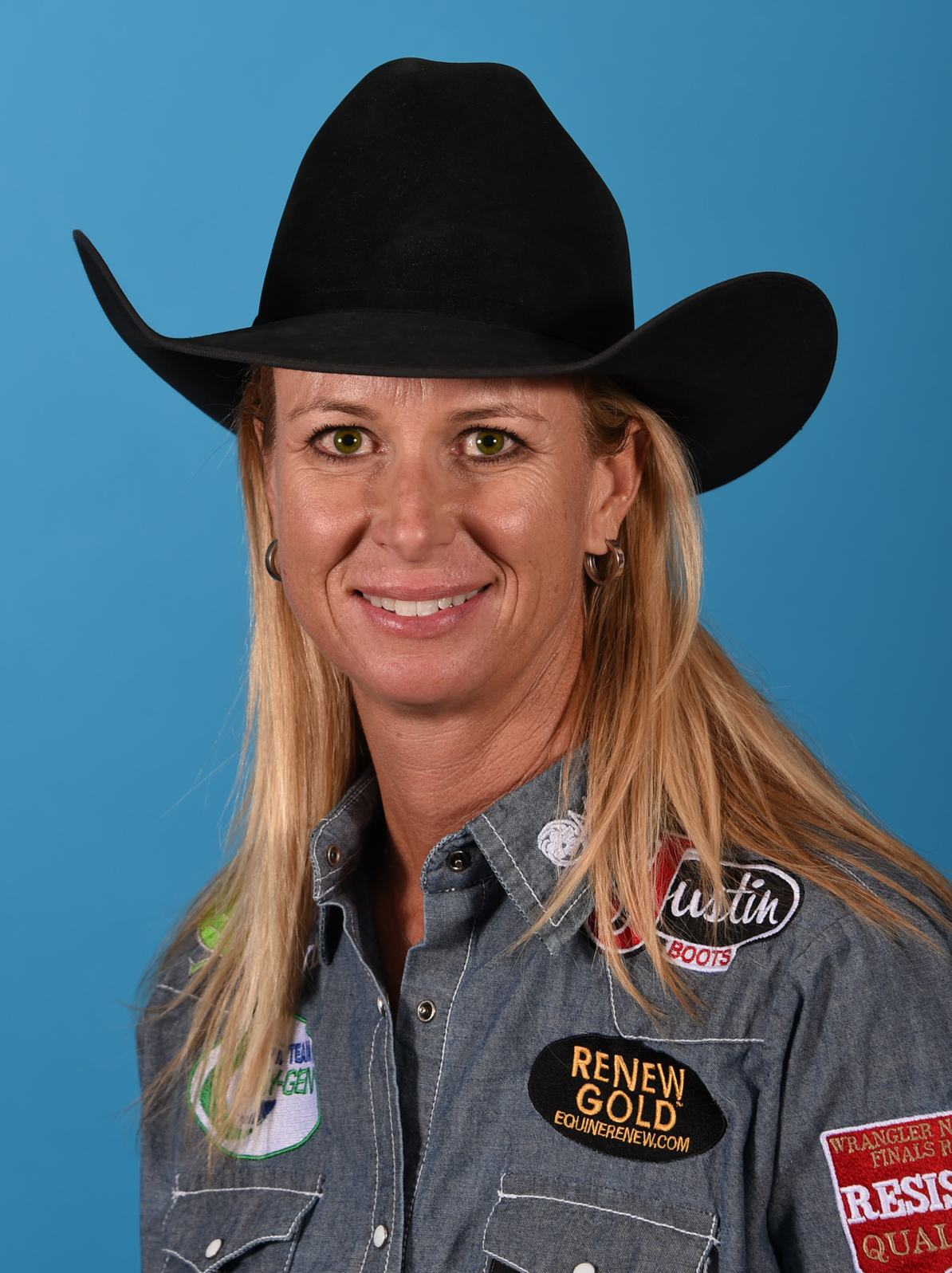 Career Earnings – through 2022 season
---
82nd
2022 World Standings
---
Born: Sept. 17, 1975, in Tucson, Ariz.
Residence: Marana, Ariz.
Joined WPRA: 1986
Horse: MP Meter My Hay "Stingray" (21-year old palomino mare) Sire- PC Frenchmans Hayday/Dam: Miss Meter Jet; Dash Ta Diamonds "Arson" (17-year old sorrel gelding owned by Trip duPerier) – Sire: Dash Ta Fame/The Millennium Star; Easily Dashed "Sweet" (15-year old gelding) – Sire: Dash Ta Fame/Sweet Baby Mine
World titles: (4) 1995, 1999, 2010, 2013
Wrangler NFR average titles: 3 (1999, 2009, 2013)
Wrangler NFR qualifications: 19 (1994-2001, 2003, 2005-06, 2009-16)
RNCFR qualifications: 13 (1994-2001, 2008, 2010, 2014, 2016-17)
Education: Central Arizona College (1 year)
Professional
---
Career Highlights
• 2022 – Finished 82nd with $19,789
• 2021 – Finished 58th with $17,645
• 2020 – Finished 174th with $2,201
• 2019 – Finished the year ranked 176th with $6,866
• 2018 – Finished the year ranked 58th with $22,649
• 2017 – Finished the year ranked 16th with $74,363. Won the 33rd Annual Andy Devine Days Rodeo (Kingman, Ariz.); finished second at Four States Fair & Rodeo (Texarkana, Ark.), the Fallon County Fair and Rodeo (Baker, Mont.), the Cache County Fair and Rodeo (Logan, Utah) and at Eugene (Ore.) Pro Rodeo
• 2016 – Tied for most NFR qualifications with Charmayne James at 19 in 2016; entered the NFR ranked 12th; placed in seven rounds tying for the win in Rd. 10 (marking 23rd NFR round win in career). Finished the year ranked 4th with $248,313 and was third in the average. Won $164,635 at the Wrangler NFR. Welcomed Mary Burger to the No. 1 club with only three WPRA members wearing the No. 1 back number at the Wrangler NFR (Charmayne James 1987; Cervi 1995; Burger 2016). Became the first WPRA member to cross the $3 million mark in career earnings at the end of Super Series III at RodeoHouston on March 9 after winning all three rounds in her group. Won the average title at the Turquoise Circuit Finals Rodeo to earn another trip to the Ram National Circuit Finals Rodeo, the Tri-State Rodeo (Amarillo, Texas), the Caldwell (Idaho) Night Rodeo, the Big Sky ProRodeo Roundup (Great Falls, Mont.), the Silver State Stampede (Elko, Nev.), the average title at the Ram National Circuit Finals Rodeo but didn't win the title after falling short in the semifinal round to advance to the finals and finished second the average at the Cheyenne (Wyo.) Frontier Days Rodeo
• 2015 – Placed in just one round at the Wrangler NFR but turned in the fastest time of the 2015 Wrangler NFR in Rd. 10 with a 13.55 second run. Finished the year ranked ninth in the world with $163,821 and was fifth in the average with a time of 146.04 on 10 runs. Won $49,077 at the NFR; on the average and year-end title in the Turquoise Circuit; won Ellensburg (Wash.) Rodeo; finished second in the average at the Cheyenne (Wyo.) Frontier Days Rodeo; finished second at the San Antonio (Texas) Stock Show and Rodeo
• 2014 – Finished the year ranked 11th with $122,165 after winning $29,117 at the NFR. Placed in four out of 10 rounds at the Wrangler NFR, finished second in the average at Reno (Nev.) Rodeo and second in the average at La Fiesta de los Vaqueros (Tucson, Ariz.)
• 2013 – Won her fourth world title in record fashion: set a new WPRA NFR earnings record with $155,899, set a new average record with a total time of 138.15 seconds on 10 runs, became the first barrel racer since Kristie Peterson in 1997 to place in all 10 rounds. Finished the year with $303,317 just behind Lindsay Sears' earnings record of $323,570 set in 2008. Became the second barrel racer in three years to win the Ram Top Gun Award given to the NFR contestant who wins the most money in a single event. Mary Walker won the award in 2012. Won three out of 10 rounds. Was one of only three ladies to win rounds at the Wrangler NFR in 2013 – others were Lisa Lockhart and Taylor Jacob; won the average title at the Turquoise Circuit Finals Rodeo (Las Cruces, N.M.), the Justin Boots Playoffs (Puyallup, Wash.), the most money of any ProRodeo contestant over the Fourth of July with $31,349 at 11 rodeos, the Champions Challenge (Amarillo, Texas), the Caldwell (Idaho) Night Rodeo, Canby Rodeo (Ore.), Day's of '47 Rodeo (Salt Lake City,Utah), the Big Sky ProRodeo Roundup (Great Falls, Mont.), the Oakley Independence Day Rodeo (Oakley, Utah), the Reno (Nev.) Rodeo and that added with the Fourth of July figures and Calgary Stampede won over $72,000 in a span of three weeks and won the Airdrie (Alberta) Pro Rodeo
• 2012 – Has placed in an average of six rounds at each previous NFR. In 2012, placed in four rounds, winning the fourth round in a time of 13.67 seconds. Won a total of $37,202. Finished the year ranked eighth with $130,263; won the Justin Boots Championships (Omaha, Neb.), War Bonnet Rodeo (Idaho Falls, Idaho), the Guymon (Okla.) Pioneer Days Rodeo and Payson (Ariz.) Rodeo; co-champion at the Walla Walla (Wash.) Rodeo.
• 2011 – Entered the NFR with $90,521 and won $93,317 in 10 days in Las Vegas after placing in seven out of 10 rounds winning Rd. 6. Finished the year ranked third with $183,838; co-champion at the War Bonnet Stampede (Idaho Falls, Idaho); won the average and year-end titles at the Turquoise Circuit Finals Rodeo (Las Cruces, N.M.), the St. Paul (Ore.) Rodeo, the Eugene (Ore.) Pro Rodeo, Strathmore (Alberta) Stampede, the Safford (Ariz.) Pro Rodeo and Wayne Wilson Children's Charity Rodeo & Carnival (Cave Creek, Ariz.).
• 2010 – Became the first $2 million barrel racer, surpassing Charmayne James' earnings record of $1,886,568. Won her third world title and set a new NFR arena record in Rd. 8 with a time of 13.49 seconds. Finished second in the average with a 10-run time of 143.29 seconds. Placed in seven out of 10 rounds, winning Rd. 3 (13.65 seconds), Rd. 7 (13.70 seconds and Rd. 8 (13.49 seconds). Finished second in the average and won $120,042 at the Wrangler NFR; making her 13th Wrangler NFR appearance moving her into second for qualifications and trails only Charmayne James with 19 for total qualifications, the Canby (Ore.) Rodeo, the Snake River Stampede (Nampa, Idaho), the Treaty Day Celebration & PRCA ProRodeo (Window Rock, Ariz.), the Helldorado Days Rodeo (Las Vegas, Nev.), the Clark County Fair & Rodeo (Logandale, Nev.) and RodeoHouston and pockets $61,500 – the most of any competitor. Ties Lindsay Sears' record from 2008 at RodeoHouston for most money won at a regular season rodeo. Fourth time to win the title and did so on three different horses (Troubles, Hawk and Stingray).
• 2009 – Won the average title at the 2009 Wrangler National Finals rodeo with a 10-run time of 139.01 seconds. Won $146,100 at the NFR, the most money won of any of the 118 contestants. Finished 3rd in the world with $219,629. Won the Cave Creek (Ariz.) Rodeo, the Safford (Ariz.) Pro Rodeo, the Lynden (Wash.) PRCA Rodeo, the Red Horse Ranch PRCA Rodeo (Fergus Falls, Minn.), the Central Wyoming Fair & Rodeo (Casper, Wyo.), the Airdrie (Alberta) Pro Rodeo and the Dixie National Rodeo (Jackson, Miss.).
• 2008 – Finished the year ranked 20th in the world with $41,986; co-champion at the Pioneer Days Rodeo (Clovis, N.M.); won the Wild, Wild West Pro Rodeo (Silver City, N.M.), the Payson (Ariz.) Spring Rodeo and the Grand National Rodeo Horse and Stock Show (San Francisco, Calif.).
• 2007 – Won the Redding (Calif.) Rodeo. Finished the year ranked 20th in the world with $41,397.
• 2006 – Placed in seven out of 10 rounds at the Wrangler NFR. Finished the year ranked ninth in the world standings with $102,525; won the Wrangler ProRodeo Tour Championship (Dallas) and qualified for her 11th Wrangler NFR; won the Western Stampede (West Jordan, Utah) and the Fourth of July Youth Celebration and PRCA Pro Rodeo (Window Rock, Ariz.); won the Wrangler ProRodeo Tour Round at the San Antonio (Texas) Stock Show and Rodeo.
• 2005 – Won the Pace Picante ProRodeo Challenge (Omaha, Neb.) and the Pace Picante ProRodeo Classic (Dallas); won average title at the California Rodeo Salinas and the Redding (Calif.) Rodeo. Finished the year ranked fourth in the world with $142,258.
• 2003 – Won San Antonio (Texas) Stock Show and Rodeo, Navajo Nation Fourth of July (Window Rock, Ariz.), Andy Devine Days (Kingman, Ariz.), and Kern County Sheriff Reserve Stampede Days Rodeo (Bakersfield, Calif.); won Rd. 5 with a 13.98-second run and Rd. 6 in 13.96 seconds at the Wrangler NFR; finished the year fifth in the world with $109,354.
• 2002 – Olympic Command Performance Rodeo (Farmington, Utah) qualifier.
• 2001 – Won RodeoHouston and pockets $19,033.
• 2000 – Turquoise Circuit Finals Champion (1994-2000); set record for most money won at a regular season rodeo with $16,497 at RodeoHouston.
• 1999 – Set the WPRA record for highest single-year earnings with $245,369 and most money won prior to the NFR with $130,996. Won the Wrangler NFR average title.
• 1997 – Reserve World Champion
• 1995 – Won RodeoHouston and collects $18,983. Became just the second WPRA member to wear the No. 1 back number at the Wrangler NFR. The first was Charmayne James in 1987.
• 1994 – Reserve World Champion
Awards
---
Horse with the Most Heart award to Jet Royal Speed (Hawk), owned by Sherry Cervi, 1999-2000 and MP Meter My Hay "Stingray" won the award in 2013. MP Meter My Hay "Stingray" finished second in the 2010 AQHA/WPRA Horse of the Year voting for barrel racing and tied with Yeah Hes Firen (Duke) in the 2011 AQHA/WPRA Horse of the Year voting. Inducted into the National Cowgirl Museum and Hall of Fame, 2018.
Personal
---
Husband, PRCA Team Roper Cory Petska (married Sept. 2014)…Daughter of Mel and Wendy Potter. Mel served on the PRCA Board of Directors as a contestant director from 1996 – 1999 and Wendy competed in the NFR barrel racing event three times (1970-72). Sherry has one sister, Jolynn Alexander. Their family is part owner of Ocean Spray Cranberries Inc…Daughter-in-law of former PRCA Board of Directors member Mike Cervi, who served as a Stock Contracting Director. Was married for six years to team roper Mike Cervi Jr., who was killed with two other men in a private plane crash near Marshfield, Wis., in September 2001…In 2010 moved into the lead in all-time money won in the WPRA with $1.9 million, surpassing Charmayne James' record of $1.8 million…Trains barrel horses…Favorite sports team is the University of Arizona basketball team…She was an all-conference basketball player as a senior at Marana (Ariz.) High School…Hobbies include shopping and traveling…Inducted into the Pima County (Ariz.) Hall of Fame in 2003…Winner of more than 90 trophy saddles…Favorite rodeos are RodeoHouston and California Rodeo Salinas…Didn't qualify for the 2017 Wrangler NFR but was able to watch her husband Cory Petska win his first world title with Erich Rogers…Sponsored by Justin Boots, Classic Equine, Martin Saddlery, Resistol, TexasLandMan, Oxy-Gen, Silver Lining Herbs, RevitaVet, Back on Track, Elgin Vet Clinic, Team Hesston, Toyota, Renew Gold.
​
Martha AngeloneCareer Earnings - through 2023 regular season (includes all WPRA roping disciplines) $132,865 2023 Earnings3rd 2023 World Standings Born: May 13, 1995 in Cross Junction, VAResidence: Stephenville, TXJoined WPRA: 2018Horse: Spots Lil Legend "Legend"...
(719) 447-4627
(719) 447-4631 (fax)

431 South Cascade
Colorado Springs, CO 80903
DIRECTIONS
(719) 447-4627 | (719) 447-4631 (fax)
WORLD CHAMPIONSHIP BARREL RACING — Where the Elite Compete®
WORLD CHAMPIONSHIP
BARREL RACING
Where the Elite Compete®