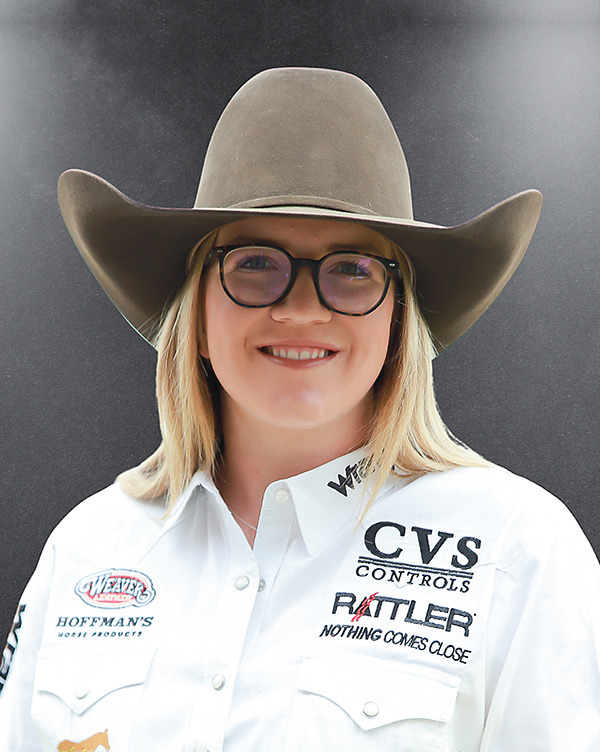 Career Earnings – through 2023 season
---
$80,031
2023 ProRodeo Breakaway Earnings
---
12th
2023 World Standings
---
Born: Feb. 22, 2004
Residence: Wardlow, AB
Joined WPRA: 2022
Horse: Kendals Smokin Gun "Smoke" (12-year-old gelding) – Sire: Ima Son Of A Gun/Dam: Kids Dee Blue
World titles: 0
Wrangler NFBR qualifications: 1 (2023)
Professional
---
2023 Highlights 
• Finished second at Oakdale (CA) Saddle Club Rodeo
• Finished second at the Pioneer Days Rodeo (Clovis, NM)
• Finished second at Kitsap Stampede (Bremerton, WA)
• Tied for second at Palouse Empire Rodeo (Colfax, WA)
Career Highlights
• 2022 – WPRA Rookie Year. Finished 53rd in the world standings with $17,153.
Personal
---
Single…Father, Bruce, earned multiple trips to the Canadian Finals Rodeo and was the 1989 Canadian Novice Bareback Champion. Mother is Connie. Sister, is Shelby Pierson and is a talented trick rider in professional rodeo. Shelby is a four-time Canadian Specialty Act of the Year winner…In 2021, she became the country's first breakaway roping champion at the Canadian Finals Rodeo and repeated in 2022…Bought her horse Smoke as a 6-year-old from Riley Regier.
​
Martha AngeloneCareer Earnings - through 2023 regular season (includes all WPRA roping disciplines) $132,865 2023 Earnings3rd 2023 World Standings Born: May 13, 1995 in Cross Junction, VAResidence: Stephenville, TXJoined WPRA: 2018Horse: Spots Lil Legend "Legend"...
(719) 447-4627
(719) 447-4631 (fax)

431 South Cascade
Colorado Springs, CO 80903
DIRECTIONS
(719) 447-4627 | (719) 447-4631 (fax)
WORLD CHAMPIONSHIP BARREL RACING — Where the Elite Compete®
WORLD CHAMPIONSHIP
BARREL RACING
Where the Elite Compete®