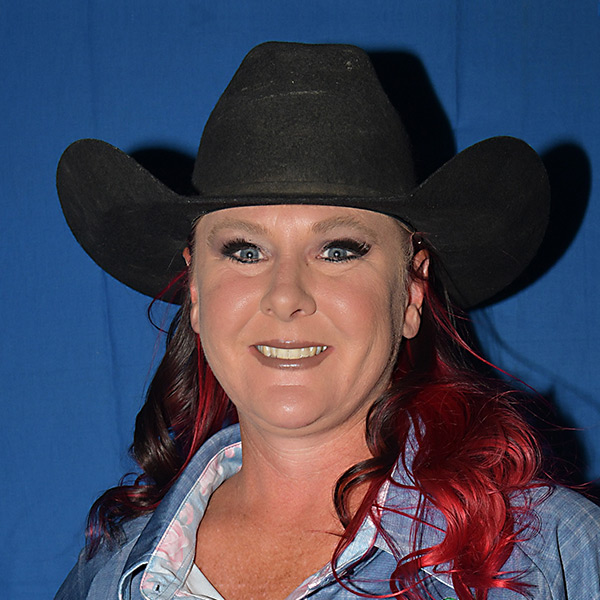 Career Earnings – through 2022 season
---
10th
2022 World Standings
---
Born: September 12, 1975
Residence: Skiatook, OK
Joined the WPRA: 2019
Horse: : Justaheartbeattofame "Gus" (13-year old gelding) – Sire: Justaheartofawarrior/Dam: Yawl A Fame Maker
World titles: 0
Wrangler NFR qualifications: 1 (2022)
RNCFR/NFR Open qualifications (actual rodeo seasons/competed following year): 1 (2021)
Education: South Dakota State University and Colby (KS) Community College
Professional
---
2022 Highlights 
• Entered her first NFR ranked 15th but finished the year ranked 10th ($158,343) after winning $73,890 at the NFR which included her first NFR round win in the 8th round in a time of 13.41 seconds. Was the third fastest time turned in at the 2022 NFR behind Hailey Kinsel and Sister's 13.34 in Rd 9 and 13.35 in Rd 10. Placed in the first and 7th round as well.
• Won Cody (WY) Stampede
• Won Home of Champions (Red Lodge, MT)
• Won the Cheyenne County Pro Rodeo (Cheyenne Wells, CO)
• Won the Goliad (TX) County Fair & Price Rodeo
• Won the Central Ark PRCA Rodeo (El Paso, AR)
• Won the Ada (OK) Pro Rodeo
• Finished second at Cheyenne (WY) Frontier Days Rodeo
• Finished tied for second and Woodward (Ok) Elks Rodeo
Career Highlights
• 2021 – Finished the year ranked 49th with $21,349. Gus won 26 checks in a row. Won the year-end title in the Prairie Circuit and qualified for the NFR Open.
• 2020 – Finished the year ranked 63rd with $9,060
• 2019 – Won the Prairie Circuit Rookie title. Finished the year ranked 135th with $9,999.
Personal
---
Husband, Glenn…Parents are Tom and Marna Foster, brother, Taylor Foster and older sister Shannon Foster…Was about 3 when her dad purchased her first pony named Image as a Christmas present…Born in Montana and grew up in North Dakota…Family had a feedlot and also had 3,000 hogs…Family is very competitive…Spent nearly entire childhood and well into her twenties competing in western pleasure events, reining and English classes. Her dad taught her if she wanted to show she had to make her own horse through hardwork. Was training her own horses at the age of 9. The hardwork paid off when she was 21 years old and won a world championship in western pleasure and English on a futurity horse. She also competed in barrels and poles but after her reining and showing mentor passed away from cancer she left that part of her life and turned focus to barrel racing…Owner and head trainer at F5 Barrel horses…Parents lived by Marlene McRae and she helped her get my start in barrel racing at a more elite level and helped me switch from her horse show world to the rodeo world…She worked at a propane company during the day and a cocktail waitress at a casino at night to pay her bills while trying to break into the rodeo world…Gus is all business and she bought him when he was 3-years old out of Utah off the racetrack…Played basketball and volleyball and got college scholarships, sister competed in rodeo in high school…Dyed her blonde hair red and didn't go quite as planned but she ran with it and said she was running with her hair on fire and it worked well in Cheyenne so she has kept it and become a bit of a trademark.
​
Martha AngeloneCareer Earnings - through 2022 season (includes all WPRA roping disciplines) $130,304 2022 Earnings1st 2022 World Standings Born: May 13, 1995 in Cross Junction, VAResidence: Stephenville, TXJoined WPRA: 2018Horse: Spots Lil Legend "Legend" (14-year old...
(719) 447-4627
(719) 447-4631 (fax)

431 South Cascade
Colorado Springs, CO 80903
DIRECTIONS
(719) 447-4627 | (719) 447-4631 (fax)
WORLD CHAMPIONSHIP BARREL RACING — Where the Elite Compete®
WORLD CHAMPIONSHIP
BARREL RACING
Where the Elite Compete®