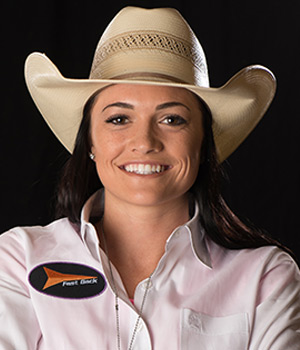 Career Earnings – through 2021 season
---
Born: June 19, 1998
Residence: Stephenville, TX
Joined WPRA: 2020
Horse: No Wimpy Tunrs "Onna" (7-year old sorrel mare) – Sire: Whiz N Starlight/Dam: Its Wimpys Turn; Sexy Lil Blue Blood "Root Beer" (10-year old black mare) – Sire: Smart Lil Guy/Dam: Blue Bloods
World titles: 0
Wrangler NFBR qualifications: 2 (2020-21)
Education: Ranger (Texas) College, majoring in business
Professional
---
2021 Highlights 
• Finished the year as the reserve world champion with $69,457.Tied for the win in the third round with Jackie Crawford and Lari Dee Guy in a time of 2.1 seconds and finished third in the average in a total time of 33.6 seconds on nine head.
• Finished the regular season ranked No. 1 with $52,486.
• Finished third in the WPRA co-approved breakaway standings with $27,654.
• Won ProRodeo Tour Finale in Salinas.
• Won the Northeast Montana Fair & Rodeo (Glasgow, MT)
• Won the Drummond (MT) PRCA Rodeo
• Won the Buffalo Bill Rodeo (North Platte, NE)
• Won the Newtown (ND) Rodeo Days
• Won the Atoka (OK) Pro Rodeo
• Co-champion at Old Fort Days (Fort Smith, AR)
• Co-champion at the Days of the Old West Rodeo (Delta, UT)
• Finished second at Missoula (MT) Stampede
• Finished second at Reno (NV) Rodeo
• Finished second at Mandan (ND) Rodeo Days
• Tied for second at the Big Fork (MT) Summer ProRodeo
• Prior to WPRA World Finals currently ranked 3rd in the WPRA Breakaway Roping standings for co-approvals with $26,365.
Career Highlights
• 2020- Finished the year ranked eighth in the world with $21,556. Won $9,610 at the inaugural NFBR. Won the most money of any WPRA Breakaway Roper over ProRodeo's Cowboy Christmas over the Fourth of July week winning $9,198. Co-champion at the Deadwood (SD) ProRodeo Breakaway Roping. Finished second at the Killdeer (ND) ProRodeo Breakaway Roping. Finished third at the Mobridge (SD) ProRodeo Breakaway Roping. Tied for third at the Belle Fourche (SD) ProRodeo Breakaway Roping. Finished fourth at Cody (WY) Stampede ProRodeo Breakaway Roping. Has won $42,861 and ranked fourth in the WPRA breakaway roping standings that is made up of co-approved event
•2019 – Reserve National Intercollegiate Rodeo Association breakaway roping champion
Awards
No Wimpy Turns "Onna" won the inaugural Nutrena Horse of the Year presented by AQHA in 2021.
Personal
---
Last name pronunced Bois-Jo-Lee…Dating Haven Meged (2019 PRCA World Champion Tie-down roper)…Grew up in Langdon, Alberta, Canada, small town outside of Calgary…Travels with Amanda Coleman…Acquired her horse Root Beer when the horse was 2-years old out of a sale…Older sister, Makayla, also competes in breakaway roping and younger sister, Marissa, is a WPRA roping member as well…Parents are Garth and Sherry. Mother, Sherry was a Calgary Stampede princess…Graduated from Chestermere High School in Canada…Played basketball in high school.
​
Martha AngeloneCareer Earnings - through 2021 season $43,962 2021 Earnings 11th 2021 World Standings Born: May 13, 1995Residence: Stephenville, TXJoined WPRA: 2018Horse: WR Class Whiskey "Simba" (10-year old gelding) – Sire: WR Smooth Whiskey/Dam: FF Class LenaWorld...
(719) 447-4627
(719) 447-4631 (fax)

431 South Cascade
Colorado Springs, CO 80903
DIRECTIONS
(719) 447-4627 | (719) 447-4631 (fax)
WORLD CHAMPIONSHIP BARREL RACING — Where the Elite Compete®
WORLD CHAMPIONSHIP
BARREL RACING
Where the Elite Compete®