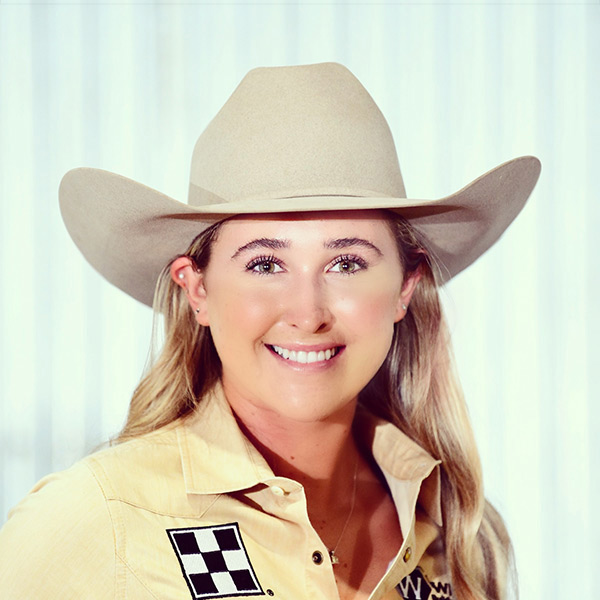 Career Earnings – through 2022 season
---
10th
2022 World Standings
---
Born: August 13, 2022
Residence: Gatesville, TX
Joined WPRA: 2021
Horses: La Dona Kitty "Judy" (14-year old bay mare) – Sire: High Bobcat/Dam: Anna Wood; Pepto Pepper Rey "T-Box" (11-year old roan gelding) – Sire: Mr Roan Freckles/Dam: Fancy Rey Freckles
World titles: 0
Wrangler NFBR qualifications: 1 (2022)
Education: Hill College; Texas A&M Commerce, majoring in business marketing and real estate
Professional
---
2022 Highlights 
• Finished the year ranked 10th with $73,102, placing in three out of 10 rounds at NFBR.
• Won ProRodeo Tour Finale (Puyallup, WA)
• Top winner for breakaway ropers over the Fourth of July with $15,156
• Won Oakley (UT) Independence Day Rodeo
• Won the Black Hills Roundup (Belle Fourche, SD)
• Co-champion at Rodeo Grady County (Chickasha, OK)
• Finished second at War Bonnet Round-up (Filer, ID)
• Tied for second at Tri-State Rodeo (Amarillo, TX)
Career Highlights
• 2021 – Finished 40th in the World Standings with $12,603.
Personal
---
Single…Father, Tommy Edens, qualified for NFR in 2007 at a team roper with Coby Jones and mother is Lori Edens…Two-time national high school rodeo runner-up breakaway roper…Lori is a barrel racer and takes care of the horses while Tommy handles the competitive side of daughter's career including the scheduling and entering…Won the first Days of '47 Breakaway Roping Gold Medal (Salt Lake City, UT) at age 16.
​
Martha AngeloneCareer Earnings - through 2022 season (includes all WPRA roping disciplines) $130,304 2022 Earnings1st 2022 World Standings Born: May 13, 1995 in Cross Junction, VAResidence: Stephenville, TXJoined WPRA: 2018Horse: Spots Lil Legend "Legend" (14-year old...
(719) 447-4627
(719) 447-4631 (fax)

431 South Cascade
Colorado Springs, CO 80903
DIRECTIONS
(719) 447-4627 | (719) 447-4631 (fax)
WORLD CHAMPIONSHIP BARREL RACING — Where the Elite Compete®
WORLD CHAMPIONSHIP
BARREL RACING
Where the Elite Compete®