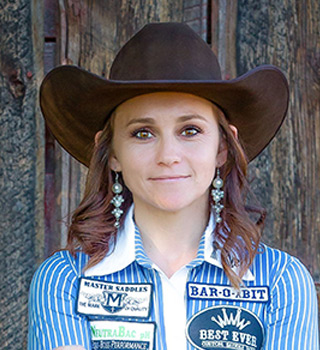 Career Earnings – through 2022 season
---
101st
2022 World Standings
---
Born: March 30, 1988
Residence: Gillette, WY
Joined the WPRA: 2006
Horse: Frenchman Fire Fly "Fire Fly" (13-year old gelding) – Sire: Frosty Frenchman/Dam: Princess Bar Dash
World titles: 0
Wrangler NFR qualifications: 1 (2021)
RNCFR qualifications (actual year qualified): 3 (2019-2021)
Professional
---
2022 Highlights 
• Finished the year ranked 101st with $15,443. Her main horse Fire Fly suffered a stifle injury and was out the whole season. Returned to competition the end of October.
Career Highlights
• 2021 – Entered the Wrangler NFR ranked 7th and ended the year ranked 7th. Tied for the win in the first round at first NFR with Cheyenne Wimberley in a time of 13.77 seconds. Placed 2nd in round 4 and 3rd in round 9. Was eighth in the average with 148.01 seconds. Won a total of $78,146 at first NFR. Won average title at Badlands Circuit Finals for third straight year, the 84th annual North Dakota Winter Show (Valley City) – set an arena record at 12.05, the Lewiston (ID) Roundup, the Spokane (WA) Interstate Rodeo, the Cache County Fair and Rodeo (Logan, UT), the Nebraska's Big Rodeo (Burwell) and the PRCA Championship Rodeo (Bismarck, ND); finished second at the San Antonio Stock Show and Rodeo and at the Jayhawker Roundup (Hill City, KS)
• 2020 – Won second consecutive average title in the Badlands Circuit. Finished the year ranked 36th with $19,152
• 2019 – Won the average title in the Badlands Circuit to qualify for Ram National Circuit Finals Rodeo for first time in her career. Won the 84th annual North Dakota Winter Show (Valley City)
Personal
---
Single; daughter, Raelyn (born in 2015) and son, Ronnie (born in 2017)…Brother is Bobby Welsh, PRCA bull rider that qualified for NFR (2005-2010)…Parents are Robert and Peggy and has four brother, Bobby, Brian, Wyatt and Lane…Her father raised and trained Frenchman Fire Fly and still owns the dam and sire.
​
Martha AngeloneCareer Earnings - through 2023 regular season (includes all WPRA roping disciplines) $132,865 2023 Earnings3rd 2023 World Standings Born: May 13, 1995 in Cross Junction, VAResidence: Stephenville, TXJoined WPRA: 2018Horse: Spots Lil Legend "Legend"...
(719) 447-4627
(719) 447-4631 (fax)

431 South Cascade
Colorado Springs, CO 80903
DIRECTIONS
(719) 447-4627 | (719) 447-4631 (fax)
WORLD CHAMPIONSHIP BARREL RACING — Where the Elite Compete®
WORLD CHAMPIONSHIP
BARREL RACING
Where the Elite Compete®