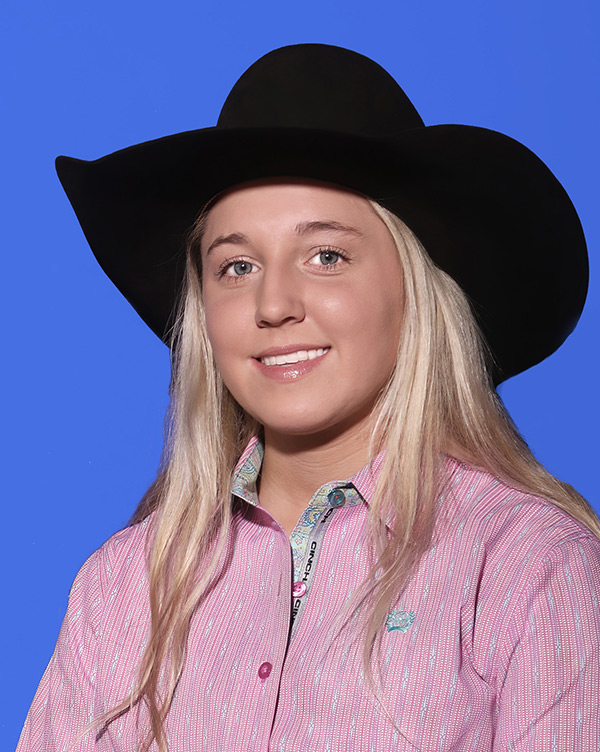 Career Earnings – through 2023 regular season
---
Born: December 20, 2002
Residence: Wynne, AR
Joined the WPRA: 2022
Horse: Heavenly Firewater "Bud The Stud" (11-year-old sorrel stud) – Sire:JL Dash Ta Heaven/Dam:Fire Water Fanny; Fame Fire Rocks "Poprocks" (6-year-old sorrel mare) – Sire: Firewaterontherocks/Dam: W R Aces Fame
World titles: 0
Wrangler NFR qualifications: 1 (2023)
Education: University of West Alabama, business major
Professional
---
2023 Highlights 
• Won California Rodeo Salinas
• Won Central Ark PRCA Rodeo (El Paso)
• Won the Fort Herriman (UT) PRCA Rodeo
• Won the Killdeer (ND) Mountain Roundup PRCA Rodeo
• Won Bowden (Alberta) Daze
• Won the White County Fair and Rodeo (Searcy, AR)
• Won the Big Fork (MT) Summer ProRodeo
• Finished second at the Governor's Cup in Sioux Falls, SD
• Finished second Crossett (AR) Riding Club Rodeo
• Tied for second at the Northwest Montana Fair and Rodeo (Kalispell)
• Tied for second at Los Fresnos (TX) Rodeo
• Finished fourth at Calgary Stampede
Career Highlights
• 2022 – Finished the year 19th in the world with $76,779 and was second in the rookie standings behind Bayleigh Choate.
Awards
---
Horse Fame Fire Rocks "Poprocks" won the 2023 Nutrena Barrel Hore of the Year presented by AQHA; Won the barrel racing title at the College National Finals, 2023 was reserve champion in 2022.
Personal
---
Single…Mother, Kim and father, Terris; older sister Jaylie…Janna Brown Beam trained Poprocks and horse is owned by Mission Ranch LLC…Jaylie won the reserve barrel racing title aboard Poprocks at the College National Finals in 2021 for East Mississippi Community College…Hauling partner Sadie Wolaver…Family raises and trains horses and has a sweet potato farm (Matthews Ridgeview Farms).
​​
Martha AngeloneCareer Earnings - through 2023 regular season (includes all WPRA roping disciplines) $132,865 2023 Earnings3rd 2023 World Standings Born: May 13, 1995 in Cross Junction, VAResidence: Stephenville, TXJoined WPRA: 2018Horse: Spots Lil Legend "Legend"...
(719) 447-4627
(719) 447-4631 (fax)

431 South Cascade
Colorado Springs, CO 80903
DIRECTIONS
(719) 447-4627 | (719) 447-4631 (fax)
WORLD CHAMPIONSHIP BARREL RACING — Where the Elite Compete®
WORLD CHAMPIONSHIP
BARREL RACING
Where the Elite Compete®