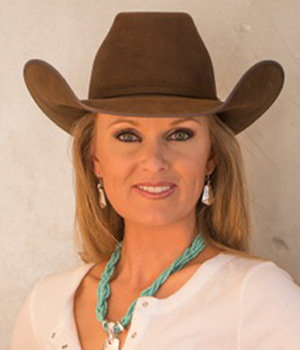 Career Earnings – through 2021 season
---
Born: August 21, 1981
Residence: Pawhuska, Oklahoma
Joined WPRA: 2018
Horses: Macgyver Moonflash "Mac" (9-year old bay gelding) – Sire: First Moonflash/Dam: Touched By The Moon; Dreams First Flash "Flash" (11-year old black gelding) – Sire: First Moonflash/Dam: First Down Dream
World titles: 0
Wrangler NFR qualifications: 2 (2020-21)
Education:  University of South Alabama
Professional
---
2022 Highlights 
• Set arena record in Dickies Arena during the Fort Worth (TX) Stock Show and Rodeo in a time of 16.17 seconds aboard Mac during qualifying rounds and returned in the final round to blow that record out of the water stopping the clock in 16.08 seconds to win her first Fort Worth Stock Show and Rodeo title.
2021 Highlights 
• Entered second NFR but first in Las Vegas ranked 13th and finished the year ranked 9th. Won $70,961 in Vegas after placing in five out of 10 rounds, winning the fourth round in a time of 13.46 seconds.
• Won Reno (NV) Rodeo
• Won San Angelo (TX) Stock Show and Rodeo
• Won Coleman (TX) PRCA Rodeo
• Finished second at Wichita Falls (TX) PRCA Rodeo
• Finished second at Gladewater (TX) Round-Up Rodeo
Career Highlights
• 2020 – Finished the year ranked 12th with $90,569. Won $50,615 at her first NFR finishing eighth in the average in a total time of 184.92 seconds on 10 runs on a standard pattern and placed in three rounds. Won World's Oldest Rodeo (Prescott, AZ) and Coleman (TX) PRCA Rodeo. Finished second at San Angelo (TX) Stock Show and Rodeo and at the Parker County Sheriff's Posse Frontier Days (Weatherford, TX)
• 2019 – Finished the year ranked 158th with $7,893
• 2018 – Filled her permit and competed on rookie card but no earnings
Personal
---
Husband, Tyson; two daughters…Works as a nurse practitioner in emergency department and in 2021, graduated with a Doctorate in Nursing Practice…Originally from Mesa, Arizona…Parents are Victor and Janiece Wilson; sister (Wylene Wilson Davis)- both competed in rodeo when they were young…Both Mac and Flash owned by Tres Mesa Horses (Mark & Lori Singleton) in Fort Worth. She became associated with Tres Mesa Horses when finishing her clinical rotations for school…Initially bought WPRA permit in 2004 while in college but saw the time commitment required and decided instead to focus on school and waited until 2018 to get permit filled…Plays the piano…Qualifying for The American and Mac and Flash in her trailer has really propelled her to new heights.
​
Martha AngeloneCareer Earnings - through 2021 season $43,962 2021 Earnings 11th 2021 World Standings Born: May 13, 1995Residence: Stephenville, TXJoined WPRA: 2018Horse: WR Class Whiskey "Simba" (10-year old gelding) – Sire: WR Smooth Whiskey/Dam: FF Class LenaWorld...
(719) 447-4627
(719) 447-4631 (fax)

431 South Cascade
Colorado Springs, CO 80903
DIRECTIONS
(719) 447-4627 | (719) 447-4631 (fax)
WORLD CHAMPIONSHIP BARREL RACING — Where the Elite Compete®
WORLD CHAMPIONSHIP
BARREL RACING
Where the Elite Compete®