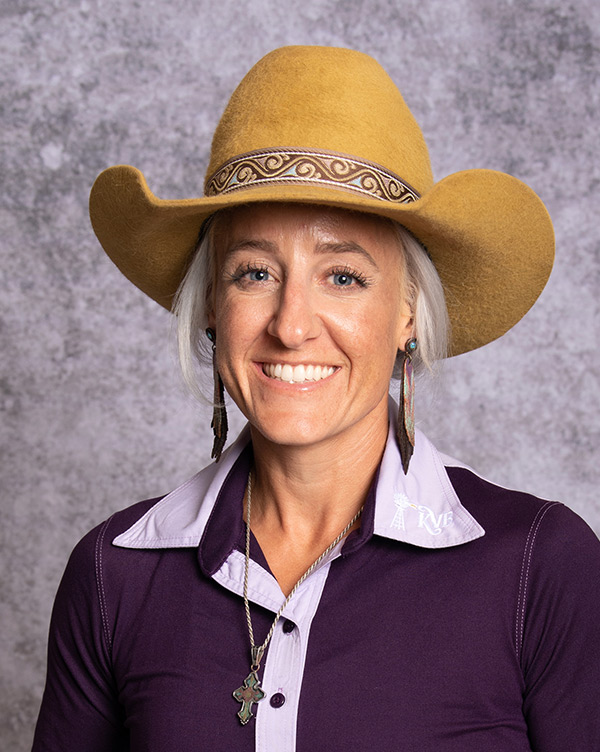 Career Earnings – through 2023 regular season
---
Born: May 30, 1986
Residence: Glenham, SD
Joined the WPRA: 2019
Horse: Firewaterfrenchfame "Apollo" (8-year-old bay gelding) – Sire: Aint Seen Nothin Yet/Dam: Fire Water Flyer
World titles: 0
Wrangler NFR qualifications: 1 (2023)
Professional
---
2023 Highlights 
• Won Guymon (OK) Pioneer Days Rodeo
• Won the Buffalo Bill Rodeo (North Platte, NE)
• Won Sikeston (MO) Bootheel Jaycee Rodeo
• Won Othello (WA) PRCA Rodeo
• Finished second at Cheyenne Frontier Days Rodeo after breaking her own arena record in final round but then Sue Smith broke that record winning the rodeo in 2023
• Finished second at Kansas' Biggest Rodeo (Phillipsburg)
• Finished second at Omaha (NE) River City Rodeo
• Finished second at Walla Walla (WA) Stampede
Career Highlights
• 2022 – Set arena record in Cheyenne 17.02 seconds. Finished the year ranked 26th with $55,126.
Personal
---
Husband, Kevin (former bull rider)…Mother of four girls (ages 17, 13, 12, and 8) and names are Hope, Serenity, Victory and Courage…Before she could even walk she was horseback. Her father, Tom Anderberg) raised racehorses, so she grew up on the racetrack…Previous owners of Apollo had hoped to use him as a tie-down roping horse but his true calling was on the cloverleaf pattern…Helps on the ranch and stock contracting business Smokin Guns Rodeo Production when the time allows. Her husband puts on amateur rodeos in South Dakota and have a few bulls they have taken to PBR events.
​​
Martha AngeloneCareer Earnings - through 2023 regular season (includes all WPRA roping disciplines) $132,865 2023 Earnings3rd 2023 World Standings Born: May 13, 1995 in Cross Junction, VAResidence: Stephenville, TXJoined WPRA: 2018Horse: Spots Lil Legend "Legend"...
(719) 447-4627
(719) 447-4631 (fax)

431 South Cascade
Colorado Springs, CO 80903
DIRECTIONS
(719) 447-4627 | (719) 447-4631 (fax)
WORLD CHAMPIONSHIP BARREL RACING — Where the Elite Compete®
WORLD CHAMPIONSHIP
BARREL RACING
Where the Elite Compete®