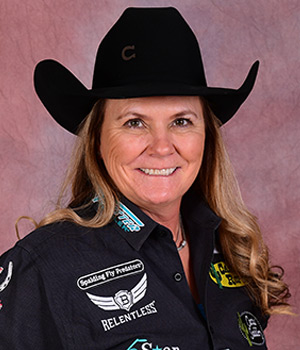 Career Earnings – through 2021 season
---
$49,096
2021 ProRodeo Breakaway Earnings
---
Born: May 21, 1971,
Residence: Abilene, TX
Joined WPRA: 2005
Horse: Peptos Black Quixote "Rex" (16-year old gelding) – Sire: Royal Blue Quixote/Dam: Circle A Sassey Doc; Smart N Spook "Gangster" (16-year old gelding) – Sire: Smart Spook/Dam: Rush N Cat
World titles: 9 (2008, 2010-breakaway, 2013, 2015, 2018, 2021-team roping heading, 2010-11-team roping heeling, 2014-all-around
Wrangler NFBR qualifications: 2 (2020-21)
NFR Open qualifications (actual rodeo season-event following year): 1 (2021)
Education: Vernon (TX) Regional Junior College and Texas Tech University (Lubbock), major in exercise sport science and recreational therapy
Professional
---
2021 Highlights 
•  Entered her second NFBR ranked 5th in the world. Won a total of $11,214 at the NFBR after placing in six rounds – tied for first in the 3rd round, placed 4th in the 2nd round and tied for 4th in the 7th round, tied for 5th in the 6th round and was 6th in the first and fifth rounds. Finished seventh in the average in a total time of 39.2 seconds on eight head.
•  Won her ninth WPRA World title and fourth in the team roping as a header. She did so with partner Annette Stahl, who she previously won the title with in 2015. Finished with $31,607 in earnings. Also finished 4th in the WPRA breakaway roping co-approved standings with $26,462.
•Won the average title at the Texas Circuit Finals Rodeo and qualified for NFR Open
• Won the Palouse Empire Rodeo (Colfax, WA)
• Co-champion at the West Texas Fair & Rodeo (Abilene)
• Finished second at the Parker County Sheriffs Posse Frontier Days and PRCA Rodeo (Weatherford, TX)
• Finished third at World's Oldest Rodeo (Prescott, AZ)
• Currently ranked No. 5 in WPRA Breakaway Standings (co-approvals) with $21,988; No. 1 in WPRA Team Roping Heading standings with $29,175 heading into WPRA World Finals in November in Waco, TX
Career Highlights
• 2020 – Finished the ranked fourth in the world with $33,056. Finished third in the average in a time of 42.6 seconds on 10 head to advance to the semifinals, finished fourth in the semifinals and 4th in the final round. Won $20,947 at inaugural NFBR. Reserve World Champion Team Roper (header). Won the breakaway roping at the Woodward (OK) Elks Rodeo and at the Burley (ID) ProRodeo Breakaway Roping. Finished second at the Mobridge (SD) ProRodeo Breakaway Roping
• 2019 – Reserve world champion breakaway roper with $51,034 to champion Kelsie Chace's $51,709
• 2018 – Won the team roping heading world title in the WPRA with Whitney DeSalvo with a total of $32,653. Placed second at the Patriot Roping in Fort Worth, TX in team roping and won the All-Girl Challenge Roping at Bob Feist Invitational in Reno, NV.
• 2015 – Won the team roping heading world title with Annette Stahl with $14,316 in team roping earnings.
• 2014 – Won her first WPRA All-Around World Title, finished reserve world champion in the team roping heading with $9,512.
• 2013 – Won the WPRA team roping heading world title with $22,961 in earnings. Roped with Annette Stahl but she was reserve world champion on the heeling side.
• 2012 – Finished reserve world champion team roper with $10,645 in earnings
• 2011 – Won the WPRA team roping heeling world title for second consecutive year with $7,625 and also won $3,072 on the heading side
• 2010 – Won the WPRA breakaway roping world title and her first world team roping heeling world title and average title. Rode a horse named Sooner to the breakaway world title, a horse raised in Nebraska for barrel racing. Finished the year with $9,140 in breakaway roping earnings, $31,201 in team roping, and was reserve world champion all-around cowgirl.
• 2008 – Won her first WPRA World title in the breakaway roping
• 2007 – Won the average in the breakaway roping at the WPRA World Finals
• Four-time Windy Ryon breakaway and team roping champion
• Two-time College National Finals Rodeo breakaway champion
Awards
National Cowgirl Museum and Hall of Fame inductee, 2021; Texas Cowboy Hall of Fame inductee, 2020.
Personal
---
Single…Parents Larry and Mary, older brother by three years Tommy Guy, qualified for NFR as a tie-down roper in 1993…Puts on roping clinics all over the United States and the world including Sweden and Australia with Hope Thompson…Has helped trained many of 25-time PRCA World Champion Trevor Brazile's horses…Father Larry taught her how to rope and in 2020 he was inducted into the All Cowboy and Arena Champions Hall of Fame…Founder of Rope Like A Girl Campaign…Won 11-consecutive AJRA world roping titles beginning at age 9…Went to college and was wanting to be a trainer or own a gym so she transitioned that passion into the rodeo arena instead. Says she took motor learning and kinesiology and that has really helped her understand a lot of things with the sport of roping…Has had to overcome two back surgeries the first in 1993 and second in 2000…Annette Stahl is her main team roping partner but also ropes with Whitney DeSalvo.
​
Martha AngeloneCareer Earnings - through 2021 season $43,962 2021 Earnings 11th 2021 World Standings Born: May 13, 1995Residence: Stephenville, TXJoined WPRA: 2018Horse: WR Class Whiskey "Simba" (10-year old gelding) – Sire: WR Smooth Whiskey/Dam: FF Class LenaWorld...
(719) 447-4627
(719) 447-4631 (fax)

431 South Cascade
Colorado Springs, CO 80903
DIRECTIONS
(719) 447-4627 | (719) 447-4631 (fax)
WORLD CHAMPIONSHIP BARREL RACING — Where the Elite Compete®
WORLD CHAMPIONSHIP
BARREL RACING
Where the Elite Compete®