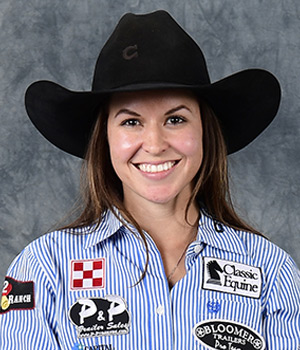 Career Earnings – through 2021 season
---
Born: Oct. 3, 1994
Residence: Cotulla, Texas
Joined the WPRA: 2015
Horses: DM Sissy Hayday "Sister" (11-year old palomino mare) – Sire: PC Frenchmans Hayday/Dam: Royal Sissy Irish; Thunder Stones "TJ" (18-year old gelding) – Sire: Sticks and Stones/Dam: See F Jets Candy; DH Jess Stellar "Jules" (9-year old palomino mare) – Sire: Mighty Jess/Dam: PC Frosted Stellar – horse owned by Hodges Farm
World titles: 3 (2018-20)
Wrangler NFR average titles: 1 (2020)
Wrangler NFR qualifications: 5 (2017-21)
RAM Top Gun: 1 (2020)
Education: Texas A&M University (College Station), graduated May 2017 with a degree in agriculture economics
Professional
---
2021 Highlights 
• Entered the Wrangler NFR ranked first and finished as reserve world champion with $281,156. Won $167,627 after placing in seven out of 10 rounds, winning the seventh round in a time of 13.45 seconds. Was third in the average with a total time of 146.41.
• Highest money earner among WPRA Barrel Racers for the Fourth of July finishing with a total of $22,238.
• Won Cheyenne (WY) Frontier Days Rodeo
• Won Amarillo (TX) Tri-State Fair & Rodeo
• Won Tri-State Rodeo (Fort Madison, IA
• Won Kansas' Biggest Rodeo (Phillipsburg) – set arena record on standard 16.61
• Won Sheridan WYO Rodeo
• Won Ogden (Utah) Pioneer Days
• Won Livingston (MT) Round-up
• Co-champion at Guymon (OK) Pioneer Days Rodeo
• Finished second at St. Paul (OR) Rodeo
• Finished second at Reno (NV) Rodeo
• Finished second at Cody (WY) Stampede
• Finished second at Dinosaur Days Rodeo (Vernal, UT)
Career Highlights
• 2020 – Set a new record on a standard barrel pattern at a PRCA/WPRA rodeo during the Wrangler National Finals Rodeo winning eighth round in a time of 16.56 seconds aboard DM Sissy Hayday "Sister". Won the Wrangler NFR average title in a total time of 170.95 on 10 rounds on a standard pattern, first NFR average title of her career. Almost broke her own record of most money won in a year set in 2018 with $350,700. She finished 2020 with $349,076. Set earnings record for Wrangler NFR breaking her own 2017 record of $189,385. After placing in eight rounds and winning the average she finished with $270,615. Won the RAM Top Gun title at the Wrangler NFR after winning more money in one single event than any other competitor. First WPRA member to win the world title, NFR average title, RAM Top Gun award and fast time award all in the same year. Set a new record on a standard barrel pattern at a PRCA/WPRA rodeo in Dodge City, Kansas, winning the second round aboard DM Sissy Hayday "Sister" at the bottom of the ground in a time of 16.63 seconds. Finished second in the average. Set arena record at Lawton (Oklahoma) Rangers Rodeo in a time of 16.90 seconds aboard DM Sissy Hayday "Sister". Went over the $1 million mark in career earnings. Won Iowa's Championship Rodeo (Sidney) and Nebraska's Big Rodeo (Burwell). Finished second at Mineral Wells (Texas) PRCA Rodeo
• 2019 – Entered the NFR ranked second and during the 10 days moved to the top of the leaderboard after winning $141,154 at the NFR with two round wins (Rd. 7 and 8) and placed in five other rounds. Became first WPRA barrel racer to win back-to-back titles since Kelly Kaminski in 2004-2005. Finished the year with $290,020. Won Sioux Falls (South Dakota) Premier Rodeo, Ogden (Utah) Pioneer Days Rodeo, Old Fort Days Rodeo (Fort Smith, Arkansas), San Antonio (Texas) Stock Show and Rodeo for second consecutive year and Fort Worth (Texas) Stock Show and Rodeo. Finished second at Hugo (Oklahoma) PRCA Rodeo and at the 50th Annual Cowboy Capital of the World PRCA Rodeo (Stephenville, Texas)
• 2018 – Entered the Wrangler NFR ranked No. 1 in the WPRA and won her first world title in Rd. 9 with earnings of $350,700 setting a new season earnings record. Won four rounds and placed in two other rounds en route to the title. Was 7th in the average; Won Calgary Stampede, the San Antonio Stock Show and Rodeo and set a new arena record, the Sanders County Fair & PRCA Rodeo (Plains, Mont.), the Fallon County Fair & Rodeo (Baker, Mont.), That Famous Preston (Idaho) Night Rodeo, Home of Champions Rodeo (Red Lodge, Mont.), Black Hills Roundup (Belle Fourche, S.D.), West of the Pecos (Texas) Rodeo and the Clovis (Calif.) Rodeo; finished second at RodeoHouston and second at the Fort Worth Stock Show and Rodeo
• 2017 – Moved from seventh in the world to reserve world champion after 10 days in Las Vegas with $288,092 in earnings. Set the new arena record at the NFR with a 13.11 during the third round. Set a new earnings record at the NFR after winning $189,385. Finished sixth in the average after placing in eight out of 10 rounds winning four of them; won a gold medal at the Days of '47 Cowboy Games and Rodeo (Salt Lake City, Utah); Finished second at the Tri-State Fair and Rodeo (Amarillo, Texas), at the Dinosaur Days Rodeo (Vernal, Utah), at the Guymon (Okla.) Pioneer Days Rodeo and at the San Patricio County PRCA Rodeo (Sinton, Texas); Won West of the Pecos (Texas) Rodeo; tied for second at the National Western Stock Show and Rodeo (Denver, Colo.)
• 2016 – Won the Elizabeth (Colo.) Stampede, the Longview (Texas) PRCA Rodeo, the Crockett (Texas) Lions Club PRCA Rodeo and the Hugo (Okla.) PRCA Rodeo.
• 2015 – Finished ranked 19th in the WPRA Rookie of the Year standings with $4,880.
Awards
DM Sissy Hayday "Sister" finished second in 2021 Nutrena Horse of the Year presented by AQHA voting; 2019 Finished in a three way tie for WPRA Horse With the Most Heart (others were Freckles Ta Fame "Can Man" – Shali Lord; and High Valor "Valor" – Dona Kay Rule); 2018 DM Sissy Hayday "Sister" PRCA/WPRA AQHA Horse of the Year, 2017 Scoti Flit Bar Award for DM Sissy Hayday "Sister" at the Wrangler NFR. 2017 National Intercollegiate Rodeo Association Barrel Racing Champion; won the Texas High School Finals Rodeo and qualified for the National High School Finals Rodeo two-times in barrel racing and breakaway roping.
Personal
---
Single…Parents Dan and Leslie, brother Matt. Grew up on her family's commercial beef cattle ranch in South Texas. Was a gymnast until age 11 and she decided to follow the rodeo world instead of the Olympic route…Her mother Leslie is a former Miss Rodeo Texas and enjoys starting colts, a passion that stemmed from working for horse trainers and something she now shares with Hailey…Is also a roper and competed at the 2017 WPRA World Finals..Competed on the Texas A&M University rodeo team…Purchased Sister from a sale in her 2-year old year and Hailey and her mom trained her…Kinsel's WPRA season changed in July 2017 when she won $50,000 at the Days of '47 Cowboy Games and Rodeo and set her on the path to the Wrangler NFR. She also won a share of $1 million when she won the barrel racing title at RFD-TVs the American in Dallas in February, 2017 and was second in 2018. Only contestant to win three Gold Medals at the Days of '47 Cowboy Games & Rodeo in July in Salt Lake City….First WPRA member to win the world title, NFR average title, RAM Top Gun award and fast time award all in the same year (2020).
​
Martha AngeloneCareer Earnings - through 2021 season $43,962 2021 Earnings 11th 2021 World Standings Born: May 13, 1995Residence: Stephenville, TXJoined WPRA: 2018Horse: WR Class Whiskey "Simba" (10-year old gelding) – Sire: WR Smooth Whiskey/Dam: FF Class LenaWorld...
(719) 447-4627
(719) 447-4631 (fax)

431 South Cascade
Colorado Springs, CO 80903
DIRECTIONS
(719) 447-4627 | (719) 447-4631 (fax)
WORLD CHAMPIONSHIP BARREL RACING — Where the Elite Compete®
WORLD CHAMPIONSHIP
BARREL RACING
Where the Elite Compete®