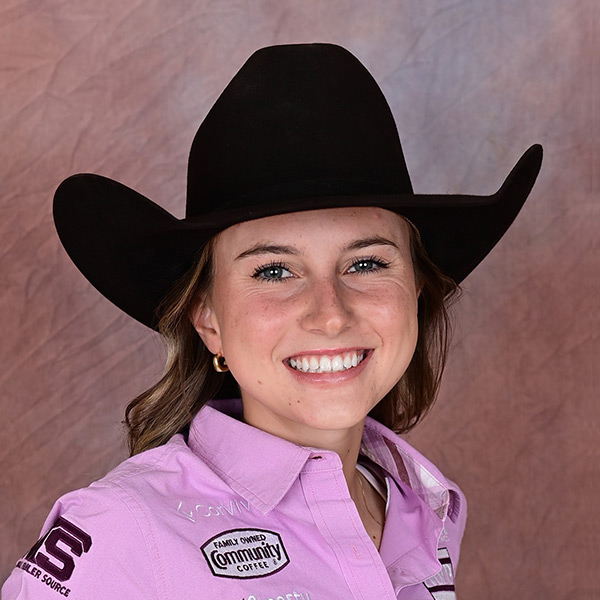 Career Earnings – through 2022 season (includes all WPRA sanctioned events)
---
$61,233
2022 ProRodeo Breakaway Earnings
---
15th
2022 World Standings
---
Born: October 2, 2003
Residence: Iowa, LA
Joined WPRA: 2022
Horses: Stylish Drifter "Dutch" (14-year old sorrel gelding) – Sire: Playin Stylish/Dam: Gold Cloud Miss; Hermie Sadler "Tonka" (17-year old sorrel gelding) – Sire: Diablo Hickory/Dam: Miz Little Cielo
World titles: 0
Wrangler NFBR qualifications: 1 (2022)
Professional
---
2022 Highlights 
• Finished the year ranked 15th with $61,233 in her rookie season. Finished seventh in the average a the National Finals Breakaway Roping and placed in four out of 10 rounds.
• Won the WPRA co-approved breakaway roping title with $54,433 in earnings.
• Won Cumberland (ME) County Fair Rodeo to officially secure her first NFBR qualification
• Won the Earl Anderson Memorial Rodeo (Grover, CO)
• Co-champion at Flagler County Pro Rodeo (Bunnell, FL)
• Finished second at Bryan (TX) Breakaway
• Finished second at Atoka (OK) Pro Rodeo
• Finished second at the Garland County Fair & Rodeo (Hot Springs, AR)
• Tied for second at Oakdale (CA) Saddle Club Rodeo
• Tied for second at Liberty Hill (TX) Fair and Rodeo
• Tied for second at Big Spring (TX) Cowboy Reunion & Rodeo
Career Highlights
• 2021 – Finished as the WPRA National Breakaway Champion as a junior member – top earner in co-approved standings. Won Oklahoma's Richest Roping and the Spoke both co-approved by WPRA.
Awards
---
WPRA Resistol Rookie of the Year, 2022 with $61,233 in ProRodeo Breakaway earnings. Stylish Drifter "Dutch" finished third in the Horse of the Year voting, 2022. Hermie Sadler "Tonka" was named the Professional's Choice Rope Horse of the WPRA World Finals in 2021.
Personal
---
Dating PRCA tie-down roper Riley Webb (2022 PRCA Rookie of the Year)…Parents Jade and Wendi…Finished reserve champion at the National High School Rodeo Finals her sophomore year…Bought her permit on her 18th birthday in 2021 and filled it the day after.
​
Martha AngeloneCareer Earnings - through 2022 season (includes all WPRA roping disciplines) $130,304 2022 Earnings1st 2022 World Standings Born: May 13, 1995 in Cross Junction, VAResidence: Stephenville, TXJoined WPRA: 2018Horse: Spots Lil Legend "Legend" (14-year old...
(719) 447-4627
(719) 447-4631 (fax)

431 South Cascade
Colorado Springs, CO 80903
DIRECTIONS
(719) 447-4627 | (719) 447-4631 (fax)
WORLD CHAMPIONSHIP BARREL RACING — Where the Elite Compete®
WORLD CHAMPIONSHIP
BARREL RACING
Where the Elite Compete®