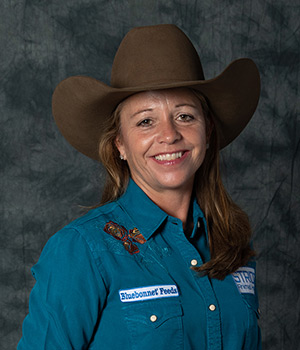 Career Earnings – through 2021 season
---
Born: Aug. 4, 1972
Residence: Eustace, Texas
Horse: HR Fameskissandtell "Kiss" – (8-year old mare) – Sire: CEO/Dam: Fames Fiery Kiss;  Will Merada "Radar" (15-year old gelding) – Sire: Light N Lena/Dam: Meradas Oh Cay; Lees Yellow Gold "Gunner" (12-year old gelding) – Sire: Cee Heart Concho/Dam: Frenchmans Parfait
Joined WPRA: 2008
World titles: 0
Wrangler NFR qualifications: 3 (2009, 2020-21)
RNCFR qualifications (actual rodeo season): 3 (2015, 2020, 2021)
Education: University of Texas (Tyler)
Professional
---
2021 Highlights 
• Entered the Wrangler NFR ranked third with $94,229 and finished the year ranked 4th with $202,202 after winning $107,973 at NFR. Finished seventh in the average in a total time of 147.19 and placed in five out of 10 rounds
• Won the Texas Circuit Finals Year-End Title
• Won the Ram National Circuit Finals Rodeo (Kissimmee, FL)
• Won Rooftop Rodeo (Estes Park, CO)
• Won Central Wyoming Fair & Rodeo (Casper)
• Won the Greeley (CO) Independence Stampede
• Won Elk City (OK) Rodeo of Champions
• Won Wichita Falls (TX) PRCA Rodeo
• Won Durant (OK) Pro Rodeo
• Won Gladewater (TX) Round-up Rodeo
• Won Matagorda County Fair & Livestock Rodeo (Bay City, TX)
• Won Mineral Wells (TX) PRCA Rodeo
• Won Will Rogers Stampede (Claremore, OK)
• Finished second at Walker County Fair & Rodeo (Huntsville, TX)
• Finished second at Okeechobee (FL) Cowtown Rodeo
Career Highlights
•      2020 – Won $63,308 at the Wrangler NFR after placing in five rounds. Finished the year ranked 9th with $116,383. Finished second in the Texas Circuit year-end standings to earn a qualification to the 2021 Ram National Circuit Finals Rodeo. Won the Guymon (OK) Pioneer Days Rodeo and Kansas' Biggest Rodeo (Phillipsburg). Tied for second at Westcliffe (CO) Stampede Rodeo
•     2019 – Finished the year ranked 29th in the world with $50,283. Won California Salinas, Longview (TX) PRCA Rodeo, the Rose City Roundup (Tyler, TX), the Great Plains Stampede Rodeo (Altus, OK) and Apache (OK) Stampede. Finished second at Oakley City (UT) Independence Day Rodeo and at the Rodeo of the Ozarks (Springdale, AR)
•     2018 – Finished with $11,224
•     2017 – Finished with $1,438
•     2016 – Finished with $6,513.
•     2015  – Finished with $29,106
•     2014 – Finished 17th in the world with $69,447. Won the year-end title in the Texas Circuit and qualified for the Ram National Circuit Finals Rodeo, the Big Sky ProRodeo Roundup (Great Falls, Mont.), the Sheridan WYO Rodeo, the Panola County Cattlemen's Rodeo (Carthage, Texas), the Mineral Wells (Texas) Rodeo and the Jasper (Texas) Lions Benefit Rodeo; co-champion at the Greeley (Colo.) Independence Stampede and finished second in the average at the Fort Worth (Texas) Stock Show and Rodeo.
•     2013 – Finished the year ranked 95th with $10,269
•     2012 – Finished the year ranked 35th with $30,537
•     2011 – Finished the year ranked 48th with $24,433
•     2010 – Finished the year ranked 34th in the world with $25,937; won the Jasper (Texas) Lions Benefit Rodeo, the Athens (Texas) MDA Benefit Pro Rodeo, and the Longview (Texas) PRCA Rodeo; co-champion at the SW District FAT Stock Show and Rodeo (Lake Charles, La.)
•     2009 – Entered her first Wrangler NFR ranked 14th but finished the year ranked 10th with $103,960 after placing in four out of five rounds. She took second in the first and eight rounds. Won the Greeley (Colo.) Independence Stampede, the Longview (Texas) PRCA Rodeo, the ARK-LA-MISS Stampede Days (Monroe, La.) and the SW District FAT Show and Rodeo (Lake Charles, La.). Placed second at Marshall (Texas) Pro Rodeo, the Laramie (Wyo.) Jubilee Days, the Wendy Wood Memorial PRCA Rodeo (Cedar City, Utah), the Moses Lake (Wash.) Roundup, the Four States Fair and Rodeo (Texarkana, Ark.) and the New Mexico State Fair and Rodeo (Albuquerque).
•     2008 – Won the San Augustine (Texas) County PRCA Rodeo and finished 16th in the WPRA Rookie Standings with $7,618
Amateur
2008 United Professional Rodeo Association Barrel Racing Champion; 2008 Cowboys Professional Rodeo Association Finals – average champion and year-end reserve champion.
Awards
HR Fameskissandtell "Kiss" finished in a tie for third in the 2021 Nutrena Horse of the Year presented by AQHA voting; HR Fameskissandtell "Kiss" won WPRA Horse With the Most Heart, 2020.
Personal
---
Husband, Rex, children, Zach and Tanner…Parents are Bobby and Barbara Bridwell…Competed in rodeo during school with her sister Marty…Hobbies include playing basketball and spending time with family…Favorite food is anything her husband cooks and favorite sports team is the Dallas Mavericks…Before competing in barrel racing full-time she taught school and coached basketball for six years…In February 2010 she had to put her 7-year old gelding My Playboy Champ "Short Go" down after an injury. She competed on Short Go, sired by Does Lil Playboy and out of My Lady Scootin, during her first Wrangler NFR in 2009.
​
Martha AngeloneCareer Earnings - through 2021 season $43,962 2021 Earnings 11th 2021 World Standings Born: May 13, 1995Residence: Stephenville, TXJoined WPRA: 2018Horse: WR Class Whiskey "Simba" (10-year old gelding) – Sire: WR Smooth Whiskey/Dam: FF Class LenaWorld...
(719) 447-4627
(719) 447-4631 (fax)

431 South Cascade
Colorado Springs, CO 80903
DIRECTIONS
(719) 447-4627 | (719) 447-4631 (fax)
WORLD CHAMPIONSHIP BARREL RACING — Where the Elite Compete®
WORLD CHAMPIONSHIP
BARREL RACING
Where the Elite Compete®