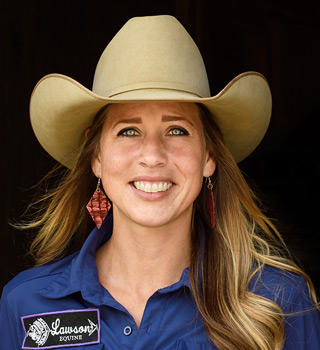 Career Earnings – through 2021 season
---
10th
2021 World Standings
---
Born: July 3, 1987
Residence: Grand Forks, ND
Joined the WPRA: 2011
Horses: Teasin Dat Guy "Chewy" (6-year old palomino) – Sire: Frenchmans Guy/Dam: Teasin Jetolina; Sixappeal "Jimmy" (9-year old gelding) – Sire: More Nachos/Dam: Six It Up
World titles: 0
Wrangler NFR qualifications: 1 (2021)
Professional
---
2021 Highlights 
• Entered the Wrangler NFR ranked 15th and ended the year ranked 10th after adding $70,525 to her earnings. Finished 2nd in the average in a total time of 145.11 seconds.
• Won Walla Walla (WA) Frontier Days
• Won the Sikeston (MO) Jaycee Bootheel Rodeo
• Won the Cattlemen's Days (Gunnison, CO)
• Won the Wild Rides Rodeo (Dickinson, ND)
• Won the Moses Lake (WA) Round-Up Rodeo
• Won the Wild Rides Rodeo (Killdeer, ND)
• Won the Heart of the North Rodeo (Spooner, WI)
• Won the Hamel (MN) Rodeo & Bull Ridin' Bonanza
• Won Days of '76 Rodeo (Deadwood, SD)
• Won the Sitting Bull Stampede (Mobridge, SD)
• Won the Pony Express Rodeo (Eagle Mountain, UT)
• Won the Ute Mountain Round-Up (Cortez, CO)
• Finished second at Crystal Springs Rodeo (Clear Lake, SD)
Career Highlights
• 2020 – WPRA Futurity 1D World Champion on Teasin Dat Guy. Won the Badlands Circuit Rising Star of the Year award
• 2019 – Finished the year ranked 150th with $8,573 in earnings.
Awards
---
Won the Jerry Ann Taylor Best Dressed Award presented by the National Cowgirl Museum and Hall of Fame at the NFR, 2021… Teasin Dat Guy "Chewy" won the Lana Merrick Rising Star Award, 2021.
Personal
---
Husband, Andy; sons, Sterling (15) and Rowdy (12); daughter, Blaisy (5)… Chewy came to Otto from owners Katie and Dustin Lindahl. Just a 4-year-old, Katie Lindahl told Otto that she was "really lazy and super slow and probably was going to be just a kid's horse." In their first jackpot, Otto was just looking for a solid run and Chewy broke the arena record…Didn't come from a family involved in horses and grew up in town. Got her first horse when she was 15 after begging her parents for one. Developed a solid foundation as a rider and then started advancing up the ladder of competition.
​
Martha AngeloneCareer Earnings - through 2023 regular season (includes all WPRA roping disciplines) $132,865 2023 Earnings3rd 2023 World Standings Born: May 13, 1995 in Cross Junction, VAResidence: Stephenville, TXJoined WPRA: 2018Horse: Spots Lil Legend "Legend"...
(719) 447-4627
(719) 447-4631 (fax)

431 South Cascade
Colorado Springs, CO 80903
DIRECTIONS
(719) 447-4627 | (719) 447-4631 (fax)
WORLD CHAMPIONSHIP BARREL RACING — Where the Elite Compete®
WORLD CHAMPIONSHIP
BARREL RACING
Where the Elite Compete®