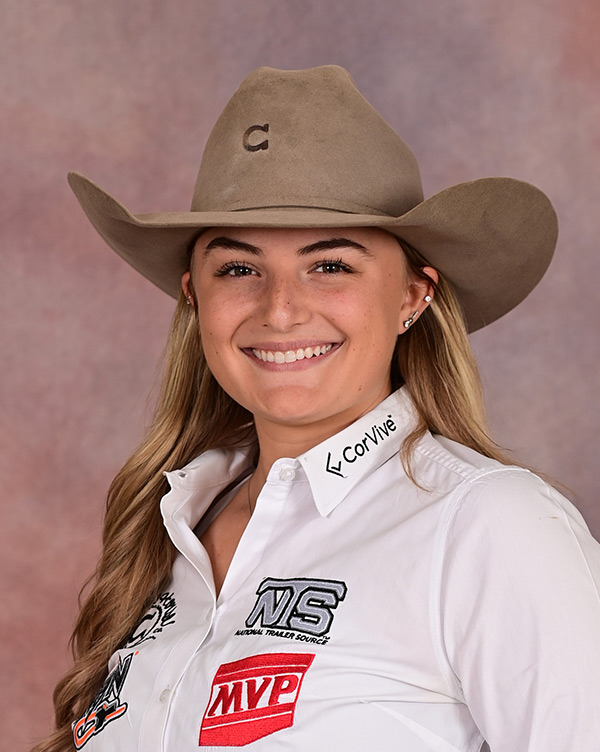 Career Earnings – through 2023 regular season
---
Born: April 10, 2002
Residence: Abilene, TX
Joined WPRA: 2021
Horse: Oh Gotta Player "Rango" (14-year-old gelding) – Sire: Lizzys Gotta Player/Dam: Oh Stylish Sugar
World titles: 0
Wrangler NFBR qualifications: 1 (2023)
Education: Weatherford (Texas) College, majoring in marketing
Professional
---
2023 Highlights 
• Won the Los Fresnos (TX) PRCA Rodeo
• Co-champion the Mt. Pleasant (TX) Rodeo
• Co-champion at the Parker County Sheriffs Posse Frontier Days and PRCA Rodeo (Weatherford, TX)
• Finished second at the Governor's Cup (Sioux Falls, SD)
• Finished second at Cinch Playoffs Tour Finale (Puyallup, WA)
Career Highlights
• 2021 – qualified for both breakaway roping and barrel racing at the Daddy of 'em All (Cheyenne, WY)
Amateur
---
Won the breakaway roping at the Windy Ryon Memorial Roping in Saginaw, TX in 2019. Finished second in the Texas High School finals in barrel racing in 2020.
Personal
---
Single…father is four-time National Finals Steer Roping qualifier Shay Good and mother is Amy…Bradi bought Rango from Wrangler NFR tie-down roper Timber Moore. Tyler Milligan rode Rango at the 2020 NFR in Arlington, TX.
​
Martha AngeloneCareer Earnings - through 2023 regular season (includes all WPRA roping disciplines) $132,865 2023 Earnings3rd 2023 World Standings Born: May 13, 1995 in Cross Junction, VAResidence: Stephenville, TXJoined WPRA: 2018Horse: Spots Lil Legend "Legend"...
(719) 447-4627
(719) 447-4631 (fax)

431 South Cascade
Colorado Springs, CO 80903
DIRECTIONS
(719) 447-4627 | (719) 447-4631 (fax)
WORLD CHAMPIONSHIP BARREL RACING — Where the Elite Compete®
WORLD CHAMPIONSHIP
BARREL RACING
Where the Elite Compete®