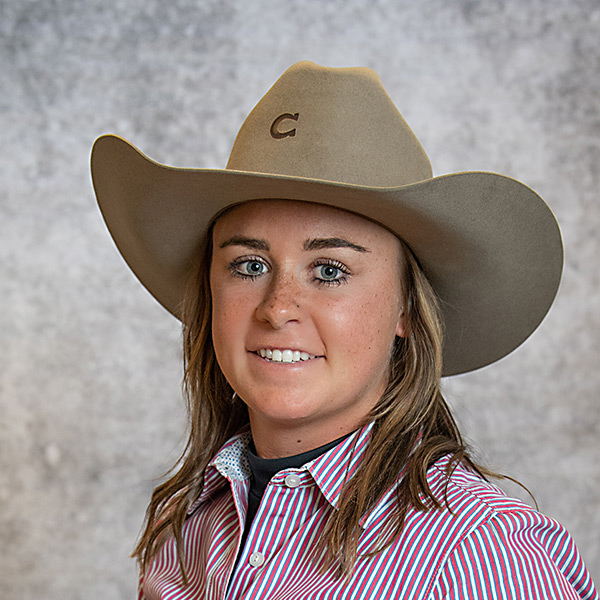 Career Earnings – through 2022 season
---
Born: April 6, 1997
Residence: Spearfish, SD
Joined WPRA: 2020
Horses: Lavaca Sting "Rollo" (21-year old gelding) – Sire: Zan Parr Junior/Dam: Jolly Miss Vestor; Okie Colours "Copper" (25-year old gelding) – Sire: Hot Colours/Dam: Oklahoma Hanka
World titles: 0
Wrangler NFBR qualifications: 1 (2022)
NFR Open qualifications (competed year following qualification): 1 (2021)
Education: Tarleton State University (Stephenville, TX)
Professional
---
2022 Highlights 
• Finished the year ranked 9th with $73,325 after finishing 10th in the average at her first NFBR and placed in five out of 10 rounds including winning the fifth round in a time of 2.1 seconds.
• Won Greeley (CO) Independence Stampede
• Co-Champion Rancho Mission Viejo (San Juan Capistrano, CA)
• Co-champion at Horse Heaven (Kennewick, WA)
• Co-champion at Killdeer (ND) Mountain Roundup Rodeo
• Finished second at NFR Open – Pikes Peak or Bust Rodeo (Colorado Springs, CO)
• Tied for second at Cave Creek (AZ) Fiesta Days Rodeo
• Tied for second the Wild Rides Rodeo (Dickinson, ND)
• Tied for second at the Dacotah Stampede Rodeo (Aberdeen, SD)
Career Highlights
• 2021 – Won the year-end title in the Badlands Circuit and finished second in the average at the circuit finals. Finished the year ranked 26th with $17,892.
Personal
---
Single…Parents are, Shorty and Punky Engesser, older Sister, Taylor Engesser – works as a traveling nurse; younger brother, Jace…In high school competed in breakaway roping, barrel racing, pole bending, goat tying and team roping.
​
Martha AngeloneCareer Earnings - through 2022 season (includes all WPRA roping disciplines) $130,304 2022 Earnings1st 2022 World Standings Born: May 13, 1995 in Cross Junction, VAResidence: Stephenville, TXJoined WPRA: 2018Horse: Spots Lil Legend "Legend" (14-year old...
(719) 447-4627
(719) 447-4631 (fax)

431 South Cascade
Colorado Springs, CO 80903
DIRECTIONS
(719) 447-4627 | (719) 447-4631 (fax)
WORLD CHAMPIONSHIP BARREL RACING — Where the Elite Compete®
WORLD CHAMPIONSHIP
BARREL RACING
Where the Elite Compete®