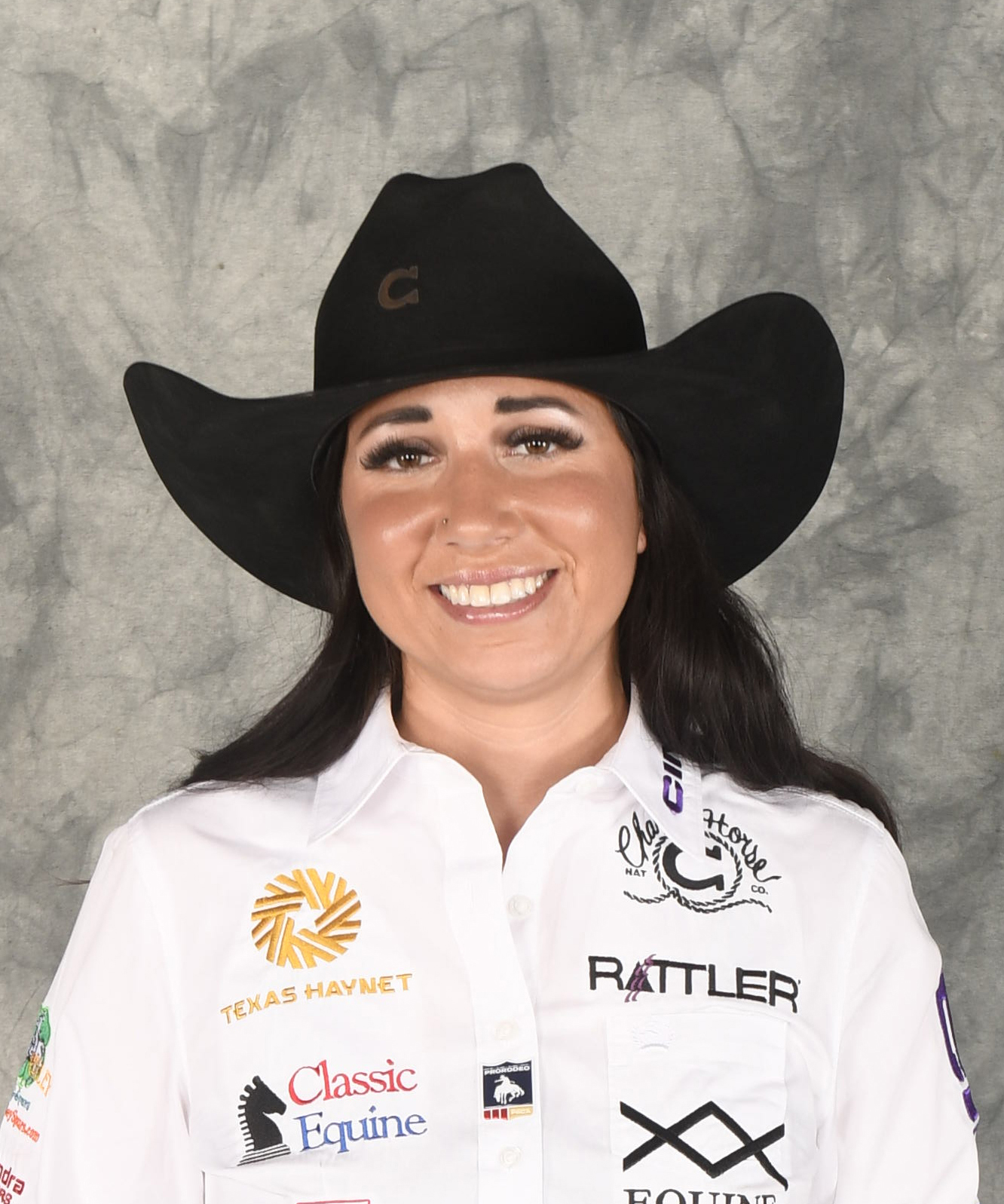 Career Earnings – through 2022 season (includes all WPRA roping disciplines)
---
Born: May 13, 1995 in Cross Junction, VA
Residence: Stephenville, TX
Joined WPRA: 2018
Horse: Spots Lil Legend "Legend" (14-year old gelding) – Sire: Spots Hot/Dam: HR Playin Legend; Gunna Shock Ya "Jesse James" (8-year old sorrel gelding) – Sire: Gunnatrashya/Dam: Electrical Flash; WR Class Whiskey "Simba" (10-year old gelding) – Sire: WR Smooth Whiskey/Dam: FF Class Lena
World titles: 1 (2022)
Wrangler NFBR qualifications: 3 (2020-22)
NFR Open qualifications: (actual rodeo season-event a year later) 1 (2021)
NFR Open titles: 1 (2022)
Education: Weatherford (TX) College and Northwestern Oklahoma State University (Alva)
Professional
---
2022 Highlights 
• Won her first WPRA World Champion Breakaway Roping title, becoming just the second WPRA member from the State of Virgina to win a world title, the first being her younger sister, Sarah Angelone, who won the WPRA All-Around title two weeks before Martha won her world title. Turned in the fastest time of the 2022 Wrangler National Finals Breakaway Roping with a 1.8 in the eighth round. Won a total of $21,207 after winning the eighth round and tying for the win in the ninth round. Finished 10th in the average.
• Finished as the reserve world champion All-Around cowgirl in the WPRA behind her sister Sarah at the WPRA World Finals.
• Won the NFR Open (Colorado Springs, CO)
• Won the Reno (NV) Rodeo
• Won the San Antonio (TX) Stock Show and Rodeo
• Won the Mineral Wells (TX) PRCA Rodeo
• Co-champion at Home of Champions (Red Lodge, MT)
• Co-champion at Goliad (TX) County Fair & PRCA Rodeo
• Finished second at Helotes (TX) Festival Association Rodeo
• Finished second at Riverton (WY) Rodeo
• Tied for second at Tri-State Rodeo (Amarillo, TX)
• Tied for second at Sisters (OR) Rodeo
Career Highlights
• 2021 – Entered NFBR ranked 9th and finished the year ranked 11th with $43,962. Won the seventh round in a time of 1.8 seconds and tied for the win with Cheyanne Guillory in the ninth round in a time of 1.8 seconds. Finished the year ranked 5th in the WPRA co-approved breakaway standings with $25,956. Was third in the WPRA all-around race, fifth in the tie-down roping and 16th in team roping heeling final standings. won the year-end title in the Texas Circuit and qualified for NFR Open, the Yakima Valley Fair & Rodeo (Grandview, WA), the Cassia County Fair & Rodeo (Burley, ID), the Johnson County Sheriff's Posse Rodeo (Cleburne, TX) and the Rio Grande Valley Livestock Show & Rodeo (Mercedes, TX). co-champion at the Ute Stampede (Nephi, UT), tied for second at the Hugo (OK) Pro Rodeo, at the Atoka (OK) Pro Rodeo and tied for third at West of the Pecos (TX) Rodeo; won the Three-Star Memorial Title.
• 2020 – Inaugural event winner at the first National Finals Breakaway Roping, winning the final round in a time of 2.3 seconds. Placed in 6 out of 10 rounds, winning Rd 2, 8 and tied for first in rd 7. Also tied for the win in the semifinal round. Won $29,343 at inaugural NFBR. WPRA Reserve World Champion with $45,261. Finished third at the Fort Worth (TX) Stock Show and Rodeo. Texas Circuit Champion breakaway roper
• 2019 – Finished the year ranked 30th with $7,348
• 2018 – Finished her rookie year in the WPRA ranked 11th overall with $8,591
• Four-time WPRA World Finals contestant
• Two-time U.S. Finals Champion
Awards
---
Spots Lil Legend "Legend" finished second in the 2022 Nutrena Horse of the Year Awards presented by AQHA and was voted by other Top 15 as the WPRA Horse With The Most Heart. Won the Betty Gayle Cooper Fast Time Award, presented by the National Cowgirl Museum and Hall of Fame stopping the clock in 1.8 seconds during the 2022 National Finals Breakaway Roping.
Personal
---
Single…Mother, Carrie Stanovick; sister, Sarah Angelone…Also competes in team roping and tie-down roping…Fort Worth in 2020 was her horse Simba's first rodeo to compete in…Worked as a bartender when she first moved to Texas to pay the bills but now she ropes full-time and trains colts on the side…Grew up in Virginia but knew if she wanted to be a world class roper she needed to move to Texas. Was the first WPRA breakaway roper to be officially recognized on the world champions stage following the 10th round of the NFR at the Thomas and Mack in Las Vegas in 2022.
​
Shelly AnzickCareer Earnings - through 2021 season Born: August 24, 1961, Livingston, Mont.Residence: Shepherd, Mont.Joined WPRA: 2002Horse: Scooten ta Fame "Scooter" (16-year old gelding) – Sire: Dash ta Fame/Dam: The Buzz MachineWorld titles: 0Wrangler NFR...
(719) 447-4627
(719) 447-4631 (fax)

431 South Cascade
Colorado Springs, CO 80903
DIRECTIONS
(719) 447-4627 | (719) 447-4631 (fax)
WORLD CHAMPIONSHIP BARREL RACING — Where the Elite Compete®
WORLD CHAMPIONSHIP
BARREL RACING
Where the Elite Compete®