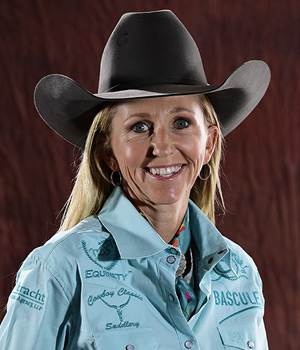 Career Earnings – through 2021 season
---
13th
2021 World Standings
---
Born: November 10, 1975
Residence: Stephenville, Texas
Joined the WPRA: 1987
Horses: VQ Sucker Punch "Rocco" (11-year old gelding), Sire: Dash Ta Fame/Dam: Honor This Nonstop; Dash Ta Suz "Smooch" (11-year old mare); Sire: Dash Ta Fame/Dam: Six Moon Suz; Royal Blue Fame "Chewy" (8-year old gelding); Sire: Dash Ta Fame/Dam: Eyes Are Blue; KN Fabs Mist of Fame "Misty" (14-year old mare), Sire: Frenchmans Fabulous/Dam: Mistys Dash of Fame;
World titles: 0
Wrangler NFR qualifications: 5 (1997-98, 2019-21)
Education: Vernon (Texas) College and Tarleton State University (Stephenville) – graduated Summa Cum Laude with a degree in clinical rehabilitation and minor in nutrition
Professional
---
2022 Highlights 
• Won the Sandhills Stock Show and Rodeo (Odessa, TX)
2021 Highlights 
• Entered the Wrangler NFR ranked 6th and finished 13th. Tied for the win in the first round with Amanda Welsh with a 13.77.
• Won the Sheriff's PRCA Rodeo (San Bernardino, CA)
• Won Marysville (CA) Stampede
• Won the Gem State Stampede (Coeur d'Alene, ID)
• Won the ABC Pro Rodeo (Levelland, TX)
• Won the Longview (TX) PRCA Rodeo
• Won the Angelina Benefit Rodeo (Lufkin, TX)
• Finished second at Sheridan WYO Rodeo
• Finished second at Days of '76 Rodeo (Deadwood, SD)
• Finished second at Nebraska's Big Rodeo (Burwell)
Career Highlights
• 2020 – Finished the year ranked 11th with $94,693. Won $47,654 at the NFR and placed in three rounds. Won Woodward (Oklahoma) Elks Rodeo and Mandan (N.D.) Rodeo Days. Finished second at Sikeston (Missouri) Jaycee Bootheel Rodeo, at Los Fresnos (Texas) Rodeo and at the Dixie National Rodeo (Jackson, Mississippi)
• 2019 – Placed in two out of 10 rounds at the Wrangler NFR and was seventh in the average. Finished the year ranked 13th with $127,861. Won the Kitsap Stampede (Bremerton, Washington), the Horse Heaven Roundup (Kennewick, Washington), the Omak (Washington) Stampede, the Missoula (Montana) Stampede, the Spokane (Washington) Interstate Rodeo and the IPE and Stampede (Armstrong, British Columbia). Finished second at California Rodeo Salinas, at Gem State Stampede (Coeur D'alene, Idaho) and at Moses Lake (Washington) Round-up Rodeo
• 1998 – Finished the year ranked 14th in the world with $45,627. Biggest check in 1998 came in Calgary totaling $3,860. Fastest run in the 1998 NFR was 14.22 seconds where she placed 5th in the 5th round.
• 1997 – Qualified for her first NFR aboard her main mount April Hemp (April). Placed in seven out of 10 rounds.
• 1987 – Won the WPRA Rookie of the Year title in the Turquoise Circuit at the age of 12.
• 1986 – Filled her permit at the New Mexico State Fair and Rodeo in Albuquerque at age 11 and then bought her rookie card for the 1987 season.
Amateur
AJRA World Champion
Personal
---
Single…Parents are M.L and Christi…She put barrel racing on the sideline following her NFR in 1998 and moved to Florida for four years serving as an insurance adjuster before moving back to Texas and investing her time in flipping houses to keep up her income. As a result, she got her real estate license in 2003 and CW Horse Properties was born in Texas in 2006. She keeps the business alive today. She specializes in farm and ranch but mainly horse properties. Her other business is Cowboy Classic Saddlery where she works alongside her parents, ML and Christi Wimberley. Together the family produces and ships out between 900 and 1100 saddles every year. Biggest portion of their business is trophy saddles…Her dad worked at the racetrack in El Paso, Texas, the same track Tuff Hedeman grew up around so Tuff became Cheyenne's childhood brother since she was an only child…KN Fabs Mist of Fame is owned by Robin Weaver and a full sister to Ivy Conrado's mount KN Fabs Gift of Fame "JLo." Weaver also offered Wimberley VQ Sucker Punch to ride in 2019 as well…In addition to real estate and the saddle making company, Wimberley also trains futurity horses and after training and selling a full sibling to the mare Dash Ta Suz, the opportunity to own Dash Ta Suz came around with a good friend and fellow Wrangler NFR Lee Ann Guilkey, said the mare was too turn-y for her. Wimberley partnered with Steve Hulbert to buy the horse and the rest is history and now has the blonde cowgirl back at the Wrangler NFR after 21 years.
​
Martha AngeloneCareer Earnings - through 2023 regular season (includes all WPRA roping disciplines) $132,865 2023 Earnings3rd 2023 World Standings Born: May 13, 1995 in Cross Junction, VAResidence: Stephenville, TXJoined WPRA: 2018Horse: Spots Lil Legend "Legend"...
(719) 447-4627
(719) 447-4631 (fax)

431 South Cascade
Colorado Springs, CO 80903
DIRECTIONS
(719) 447-4627 | (719) 447-4631 (fax)
WORLD CHAMPIONSHIP BARREL RACING — Where the Elite Compete®
WORLD CHAMPIONSHIP
BARREL RACING
Where the Elite Compete®