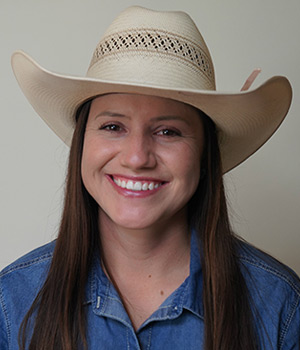 Career Earnings – through 2021 season
---
not ranked
2021 World Standings
---
Born: June 6, 1997
Residence: Grantsville, UT
Joined WPRA: 2018
Horse: Smokey (8-year old gelding)
World titles: 0
Wrangler NFBR qualifications: 1 (2020)
Professional
---
Career Highlights
• 2020 – Won $10,203 at inaugural NFBR and won the sixth round in a time of 1.7 seconds, the fastest of the event. Tied for the round 7 win in 2.2 seconds. Finished the year ranked 9th with $20,732 in earnings. Won the first round in Bracket 5 at the Fort Worth (TX) Stock Show and Rodeo with a 2.6-second run; tied for the win in semifinal B in a time of 2.3 seconds and finished fourth overall in a time of 2.8 seconds.
• 2019 – Won the Wilderness Circuit Breakaway Roping, just 30 cents more than older sister Cassie. Finished the year ranked 26th in the WPRA Breakaway World Standings with $8,248, just behind sister Cassie in 25th position with $8,249.
• 2018 – Finished her rookie year in the WPRA ranked 21st overall with $4,759
Awards
Her horse Roy (12-year old sorrel gelding) was named the Wilderness Circuit Breakaway Horse of the Year, 2019.
Personal
---
Pronounced Ba-He…Single…Sister, Cassie Bahe Latham…Qualified for her first National Finals Breakaway Roping in 2020 aboard a horse named Roy (a 13-year old sorrel gelding) owned by her dad (Francis) that she shared with her older sister, Cassie. Horse was born on her grandparents' and uncle's ranch in Idaho. Francis had an old head horse that was perfect for Anna's uncle's kids so her dad traded that horse for Roy, who was a yearling at the time. Unfortunately on Oct. 18, 2020 the horse underwent colic surgery and following another complication after surgery was put down on Oct. 28, 2020…Learned to rope from her dad.
​
Martha AngeloneCareer Earnings - through 2021 season $43,962 2021 Earnings 11th 2021 World Standings Born: May 13, 1995Residence: Stephenville, TXJoined WPRA: 2018Horse: WR Class Whiskey "Simba" (10-year old gelding) – Sire: WR Smooth Whiskey/Dam: FF Class LenaWorld...
(719) 447-4627
(719) 447-4631 (fax)

431 South Cascade
Colorado Springs, CO 80903
DIRECTIONS
(719) 447-4627 | (719) 447-4631 (fax)
WORLD CHAMPIONSHIP BARREL RACING — Where the Elite Compete®
WORLD CHAMPIONSHIP
BARREL RACING
Where the Elite Compete®