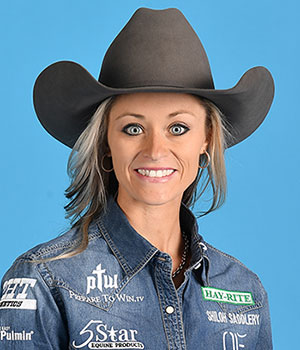 Career Earnings – through 2021 season
---
Born: Oct. 29, 1986
Residence: Weatherford, Texas
Joined the WPRA: 2012
Horses:  Cuatro Fame "Cuatro or Truck" (15-year old gelding) – Sire: Dash Ta Fame/Dam: Princess Streaks; Famous Lemon Drop "Lemon Drop" (6-year old palomino mare) Sire: First Down French/Dam: A Famous Lady; Makana (7- year old sorrel mare), Sire: Slick By Design/Dam:Rods Last Ladybug 
World Titles: 0
Wrangler NFR Qualifications: 6 (2016-21)
RNCFR Qualifications: 0
Education: Will Rogers State University (now Rogers State University) in Claremore, Okla., and Weatherford (Texas) College, degree in Radiology
Professional
---
2021 Highlights 
• Entered the Wrangler NFR ranked 11th and finished the year ranked sixth. Crossed the $1 million mark in career earnings at the Wrangler NFR after wining $111,892. Placed in five out of 10 rounds, winning the third round in 13.70 seconds and tied with Jordon Briggs in the ninth in a time of 13.48. Finished tied for fourth in the average in a time of 146.83.
• Co-champion at the Sheridan County Fair & Rodeo (Gordon, NE)
• Finished second at Magic Valley Stampede (Filer, ID)
• Finished second at the Sanders County Fair & PRCA Rodeo (Plains, MT)
• Finished second at Ellensburg (WA) Rodeo
• Finished second at Laramie (WY) Jubilee Days
• Finished second at Buffalo Bill Rodeo (North Platte, NE)
Career Highlights
• 2020 – Finished the year ranked sixth with $137,273. Won $84,885 at the NFR after placing in seven rounds including winning the final round in a time of 16.79 seconds. Won La Fiesta de los Vaqueros (Tucson, Arizona), Eastern Montana Fair Rodeo (Miles City, Montana) and Cache County Fair & Rodeo (Logan, Utah). Finished second at Spanish Fork (Utah) Fiesta Days Rodeo
• 2019 – Entered the Wrangler NFR ranked 6th. Won Rd. 9 at the 2019 Wrangler NFR in a time of 13.53 seconds, the fastest of the 2019 event. Finished the year ranked 10th with $157,219. Won the Santa Rosa Roundup (Vernon, Texas), the High Prairie Elks Pro Rodeo (High River, Alberta), the Gladewater (Texas) Round-Up Rodeo, Walla Walla (Washington) Rodeo and the Magic Valley Stampede (Filer, Idaho). Finished second at the Caldwell (Idaho) Night Rodeo, Clark County Fair & Rodeo (Logandale, Nevada), That Famous Preston (Idaho) Night Rodeo, the Parker County Sheriff's Posse Frontier Days Rodeo (Weatherford, Texas) and at Missoula (Montana) Stampede
• 2018 – Finished the year ranked 9th. Won the Caldwell (Idaho) Night Rodeo, the final round at the Cheyenne (Wyo.) Frontier Days Rodeo, the Guy Weadick Days Rodeo (High River, Alberta), Eugene (Ore.) Pro Rodeo, Ponoka (Alberta) Stampede, Santa Rosa Roundup (Vernon, Texas), Goliad (Texas) County Fair PRCA Rodeo and Los Fresnos (Texas) PRCA Rodeo
• 2017 – Finished the year ranked 8th in the world with $199,619. Placed in only one round at the Wrangler NFR. Won the Wrangler Champions Challenge (Sioux Falls, S.D.) and finished second at the second Champions Challenge in Sioux Falls, S.D. Won the Caldwell (Idaho) Night Rodeo and set an arena record en route to that title, the Cheyenne (Wyo.) Frontier Days Rodeo, the Spanish Fork (Utah) Fiesta Days Rodeo, the Livingston (Mont.) Roundup, the Black Hills Roundup (Belle Fourche, S.D.), the Rodeo de Santa Fe (N.M.), the Rodeo of the Ozarks (Springdale, Ark.), the Buffalo Bill Rodeo (North Platte, Neb.), the Wrangler Champions Challenge (Spanish Fork, Utah), the Red Bluff (Calif.) Round-Up, La Fiesta de los Vaqueros (Tucson, Ariz.), the Walker County Fair & Rodeo (Huntsville, Texas) and the San Patricio County PRCA Rodeo (Sinton, Texas)
• 2016 – Entered her first Wrangler NFR ranked 6th; placed in 5 rounds at the Wrangler NFR. Finished the year ranked 11th with $156,528. Was 10th in the average and won $51,885 in Las Vegas. Won the All-American Finals (Waco, Texas), the Cowboy Capital of the World Rodeo (Stephenville, Texas), the Pendleton (Ore.) Round-Up, her first Wrangler Champions Challenge in Pueblo, Colo., the Jayhawker Roundup Rodeo (Hill City, Kan.), the Central Wyoming Rodeo (Casper), the Home of Champions Rodeo (Red Lodge, Mont.), the Black Hills Roundup (Belle Fourche, S.D.), the Reno (Nev.) Rodeo, the Bennington (Kan.) PRCA Rodeo, the Crockett (Texas) Lions Club PRCA Rodeo and the Jasper (Texas) Lions Benefit Rodeo; Finished second in the average at the California Rodeo Salinas and second in the WPRA Slot Race at the 2016 WPRA World Finals in Waco aboard Martini
• 2015 – Finished the year ranked 175th with $6,522.
• 2013 – Finished the year ranked 301st with $2,536.
• 2012 – Finished second in the WPRA Rookie of the Year standings with $28,181. Emily Efurd won the Rookie title with $42,837. Won the Young County Rodeo (Graham, Texas), the Butterfield Stage Days PRCA Rodeo (Bridgeport, Texas), the Crockett (Texas) Lions Club PRCA Rodeo, the Parker County Sheriff's Posse Frontier Days Rodeo (Weatherford, Texas), and the Deadwood (S.D.) Days of '76 Rodeo.
Awards
MCM ImASharpGuy "Sharpie" finished second in the AQHA/WPRA Barrel Racing Horse of the Year voting, 2017. Won the Jerry Ann Taylor Best Dressed Award at the Fort Worth Stock Show and Rodeo, 2019.
Personal
---
Husband, Ty…Stepfather, Dave Salzbrenner…Was named after Stevie Nicks. Grew up in Ordway, Colo., and looked up to barrel racers like Rachael Myllymaki…Family was not involved in rodeo but learned valuable lessons from her step-father about training horses including the importance of good foundation. Didn't have the money to buy the good ones with good breeding so trained young horses…Serves as a radiologic technician, taking -x-rays, CT scans and working in surgery. ..Cuatro Fame is owned by Jason and Melissa Mouton of Scott, La., has had since end of 2014 when the Moutons sent him to her to sell. Mouton initially bought Cuatro as a 4-year old after she was diagnosed with Lupus. She wanted a project horse to occupy her time. Hillman asked if she could rodeo season him before selling and they all agreed. Then they decided to let Stevi try to make the NFR on him…In 2017, she rode Morning Traffic is owned by Cody and Michelle Darling and Sharpie who was owned by Matt and Bendi Dunn and out of Mulberry Canyon Moon, a mare that carried Angie Meadors to the Wrangler NFR in 2011…Favorite rodeo is Salinas because you can get fresh fruit and the ocean all in one; if she wasn't a barrel racer she would probably be a pediatrician; actress that would play her in a movie is Reese Witherspoon because people say she looks like her…In 2020, won the non-sanctioned RFD-TV's The American in Arlington, TX…Sponsored by Nutrena, 5-Star Pads, MVP, Shiloh Saddlery, Rock N Roll Cowgirl, Team PHT, Flair Strips, EquiPulmin, Outlaw Equine, Mouton Sand and Gravel, Dunn Ranch, Merhow Trailers, FlexiNeb, HayRite Alfalfa Cubes, PrepareToWin.tv…At 2021 Wrangler NFR plans to take Emma Charleston's horse Makana that Emma bought from Michele McLeod and Baby Flash owned by the Dunns.
​
Martha AngeloneCareer Earnings - through 2021 season $43,962 2021 Earnings 11th 2021 World Standings Born: May 13, 1995Residence: Stephenville, TXJoined WPRA: 2018Horse: WR Class Whiskey "Simba" (10-year old gelding) – Sire: WR Smooth Whiskey/Dam: FF Class LenaWorld...
(719) 447-4627
(719) 447-4631 (fax)

431 South Cascade
Colorado Springs, CO 80903
DIRECTIONS
(719) 447-4627 | (719) 447-4631 (fax)
WORLD CHAMPIONSHIP BARREL RACING — Where the Elite Compete®
WORLD CHAMPIONSHIP
BARREL RACING
Where the Elite Compete®