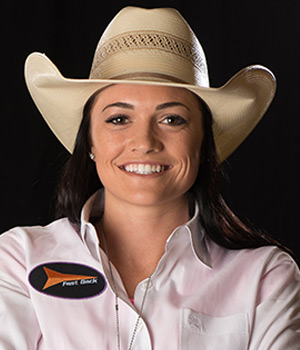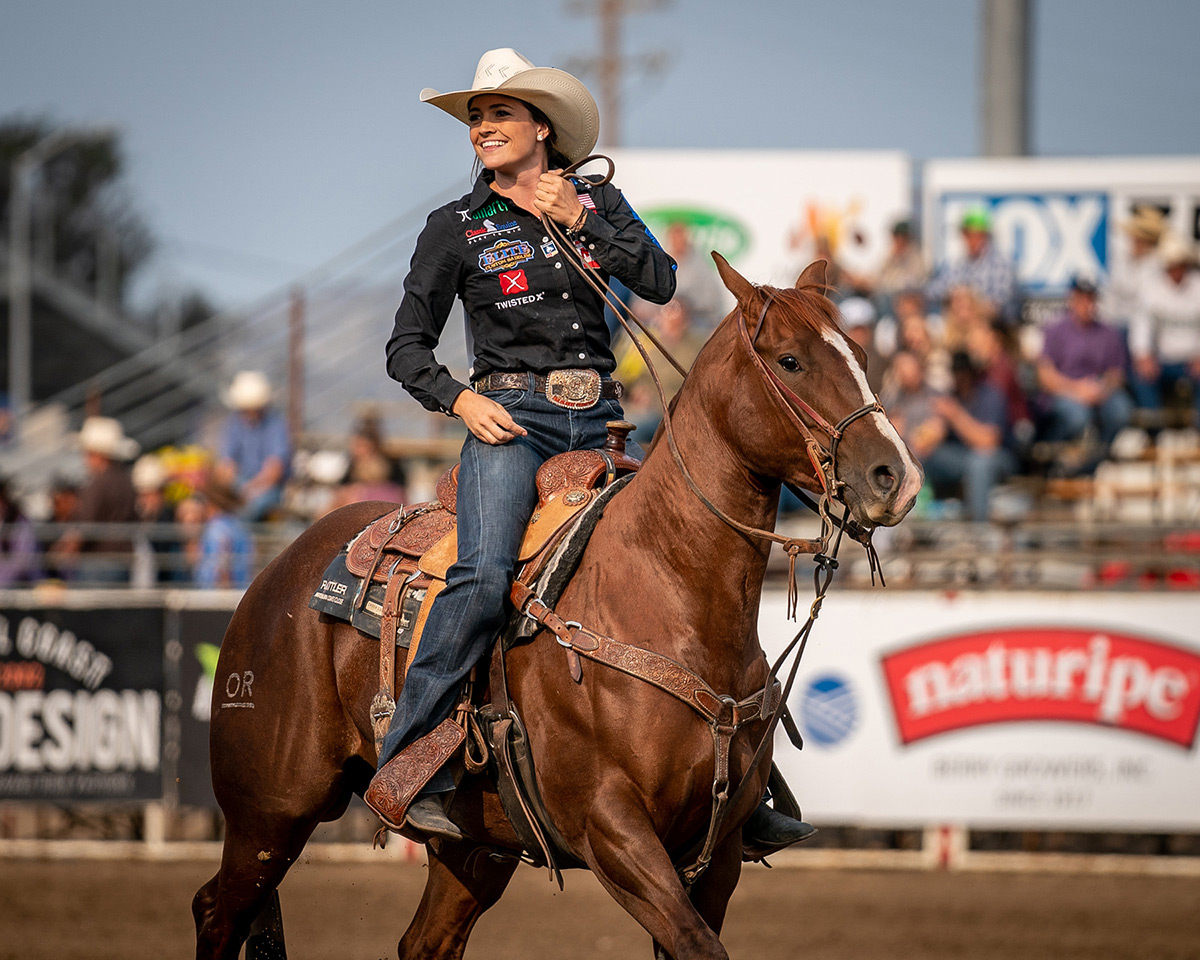 Boisjoli Ready to Back in the Box as No. 1 Breakaway Roper
By Ann Bleiker
Photo by Fernando Sam-Sin
12/1/2021-Breakaway roping in the Women's Professional Rodeo Association saw its biggest year yet in 2021. Over the last five years the WPRA has seen the event grow at ProRodeos from less than 30 events in 2019 to 54 in 2020 and an astonishing 214 in 2021. December will also mark another milestone with the Wrangler National Finals Breakaway Roping (NFBR) being held in Las Vegas at the Orleans Arena during the Wrangler National Finals Rodeo (NFR).
Shelby Boisjoli loves the ride of this new excitement for women ropers, having qualified for the NFBR both years she has been a members of the WPRA. After finishing the 2020 season ranked eighth, the Canadian who now calls Stephenville, Texas, home made it a goal of hers to finish the 2021 regular season as the No. 1 ranked roper. Mission accomplished.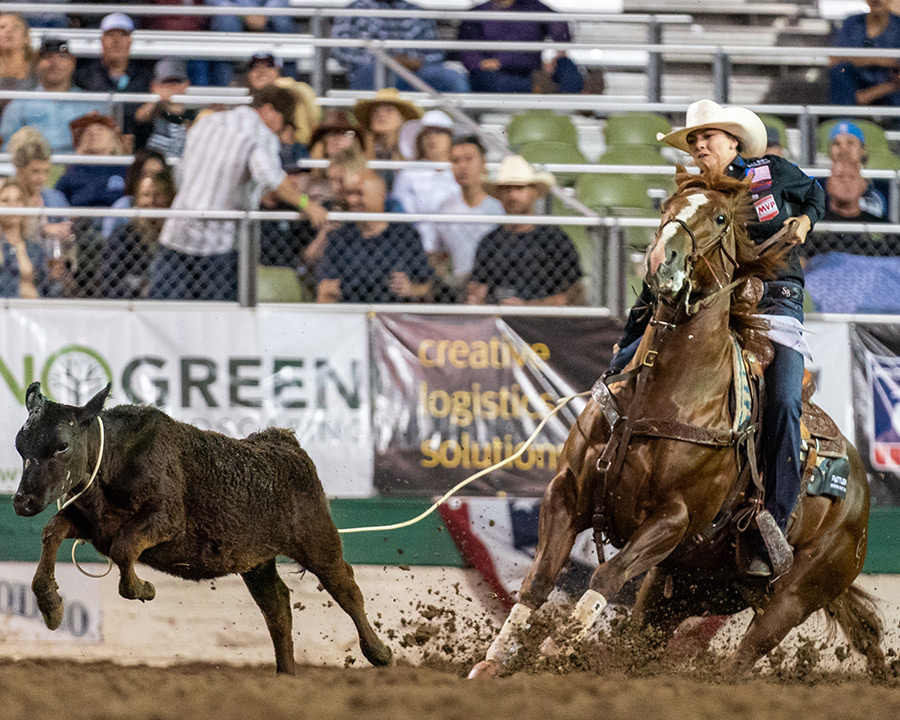 Shelby Boisjoli
WPRA photo by Fernando Sam-Sin
"I had gotten bumped out of first place in the standings after Pendleton and I was going to Salinas about $2,500 behind Sawyer Gilbert," said Boisjoli about the ProRodeo Tour Finale during the last weekend of the regular season. "My main goal for the season was to win season leader and so it was really stressful because Sawyer and I both made it and literally went head to head all the way to the end. It came down to us two and Sawyer had caught and I was the last girl to rope in the four-man round.
"It was a battle all the way through until the very last calf. It was stressful and nerve racking."
With one goal met for 2021, Boisjoli now turns her focus to the next big carrot out in front of her.
"It would literally mean everything," said Boisjoli, when asked about winning a WPRA World Title. "That has been a goal of mine. We eat, sleep and breathe wanting to win a world championship one day, so it would be every dream come true."
It won't be an easy task with Gilbert hot on her heels, just $1,364 out of the top spot. Gilbert will be making her first appearance at the NFBR along with eight other NFBR rookies in the field of 15. In fact, Gilbert is the only NFBR rookie ranked inside the Top 5 but she has already proven she can handle the pressure after winning two of the biggest events in 2021 – Cheyenne and Pendleton.
"I live one day at a time and try to be in the present," said Gilbert. "My goal is to do my job every time with whatever they run and let the chips fall."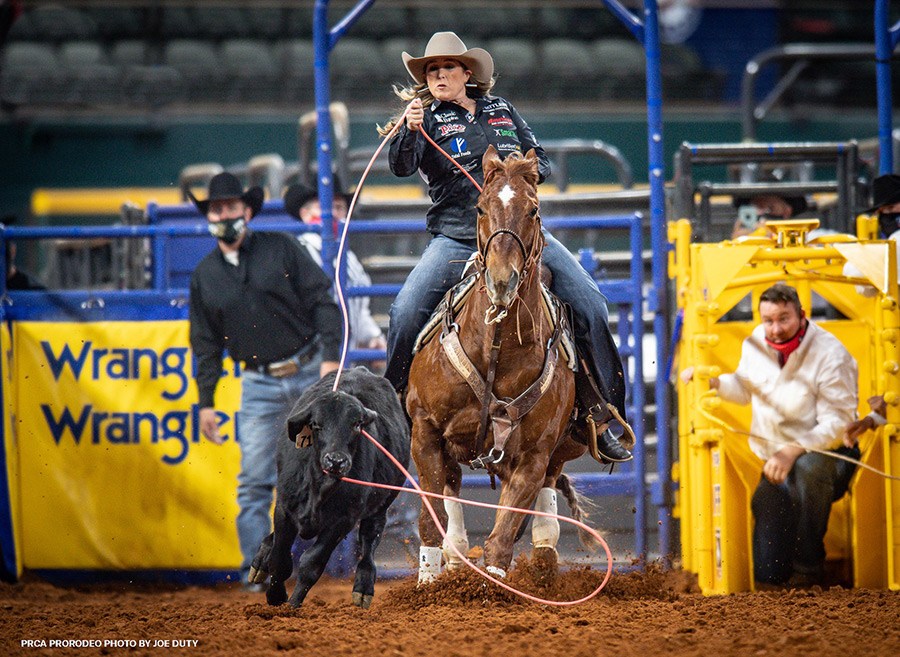 Jackie Crawford

WPRA photo by Joe Duty
Reigning world champion Jackie Crawford will back in the box at the Orleans Arena looking to defend her title from a year ago but she will have an uphill climb as she enters the event ranked seventh with $36,318. In 2020, Crawford won her third breakaway world title and 20th WPRA world title overall while six months pregnant with her daughter Journey. This December, Journey, along with brother, Creed, will no doubt be their mom's biggest fans in the stands.
Kelsie Chace narrowly missed qualifying for the NFBR a year ago so you can bet the newlywed has a thing or two to prove this year on breakaway's biggest stage. Chace, who married Ryan Domer in October, enters the finals ranked 10th but is no stranger to WPRA breakaway world titles having won three straight (2017-2019). So while she might be an NFBR rookie, she is far from a rookie in the sport of breakaway roping.
Making a little history of her own is Taylor Jacob, now Taylor Hanchey after marrying PRCA World Champion Shane Hanchey. Hanchey secured the 15th and final spot in this year's NFBR field and in so doing became the first WPRA member to ever qualify in two events. She previously qualified for the NFR in barrel racing in 2013 and 2015. She is now looking forward to making a name for herself as a roper.
It is a stacked field now matter how you slice it for this year's Wrangler National Finals Breakaway Roping and all the action can be seen LIVE for FREE on the Wrangler Network.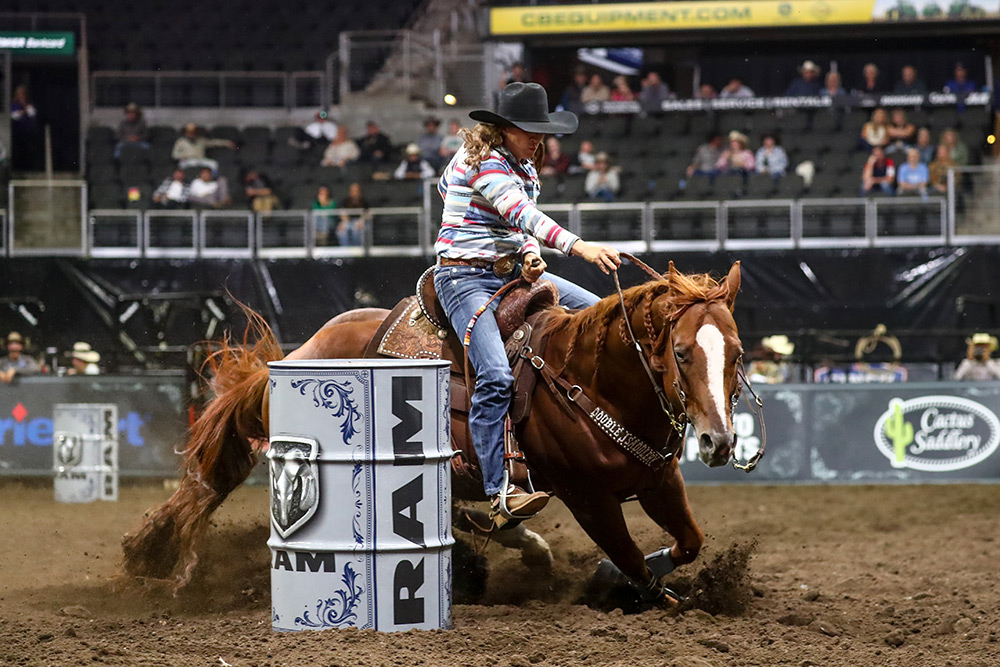 Brittany Pozzi Tonozzi Member Spotlight Pozzi Tonozzi Sets New WPRA Regular Season Earnings Record By Ann Bleiker Photo by Roseanna Sales Brittany Pozzi Tonozzi officially set a new WPRA regular season earnings record during the first round of the inaugural Cinch...
(719) 447-4627
(719) 447-4631 (fax)

431 South Cascade
Colorado Springs, CO 80903
DIRECTIONS
(719) 447-4627 | (719) 447-4631 (fax)
WORLD CHAMPIONSHIP BARREL RACING — Where the Elite Compete®
WORLD CHAMPIONSHIP
BARREL RACING
Where the Elite Compete®