RodeoHouston
Briggs, Williams Adds to Family Legacy in Rodeo
Ann Bleiker
PHOTO Courtesy RodeoHouston by Impulse Photography
---
The apple doesn't fall far from the tree and that saying couldn't be more accurate when talking about the 2023 WPRA champions at RODEOHOUSTON.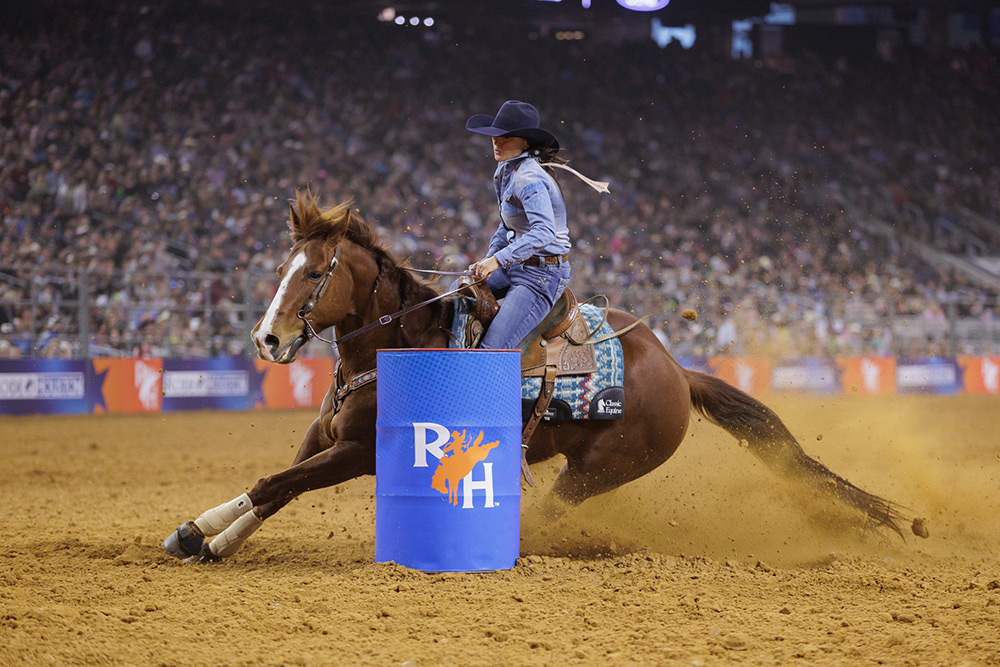 Jordon Briggs
Photo Courtesy RodeoHouston by Impulse Photography
Jordon Briggs, the daughter of ProRodeo Hall of Famer and four-time WPRA world champion barrel racer Kristie Peterson, and Hali Williams, the daughter of ProRodeo Hall of Famer and eight-time PRCA world champion team roper Speed Williams, were crowned the 2023 champions in barrel racing and breakaway roping respectively. While Briggs has one WPRA world title on her resume, Williams is looking to qualify for her first National Finals Breakaway Roping in 2023 and add a gold buckle to the family collection.
Briggs defended her title in Houston after stopping the clock in 14.73 seconds in the Championship Shootout round. Ironically enough that was the exact time she ran earlier in the day to advance to the shootout round.
"Rollo is just so honest and without a doubt this is our favorite rodeo," said Briggs. "This win just sets us up so great for the rest of the year with all the money."
Briggs and Rollo has capitalized on big opportunities over the last couple of years allowing both of them to have a more relaxed rodeo schedule and keeps Briggs in the mix for more world titles. With the win Briggs will vault to No. 1 in the world adding $58,000 to $23,467 she had already won to date for 2023.
Briggs was third out on the ground in the shootout round. Jessica Routier set the bar with a 14.79 as the first gunner out. Molly Otto ran second stopping the clock in 14.75 seconds to up the ante. Briggs and Rollo then laid down a run of 14.73 seconds with one runner left. Sissy Winn was last out but after a downed barrel, Briggs landed in the winner's circle for the second consecutive year.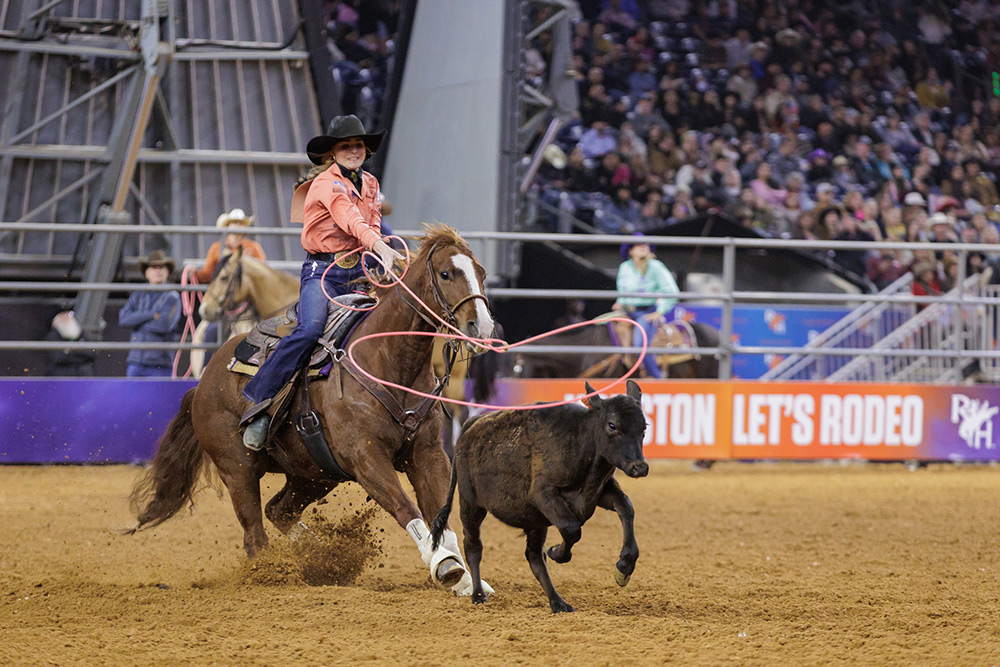 Hali Williams
Photo Courtesy RodeoHouston by Impulse Photography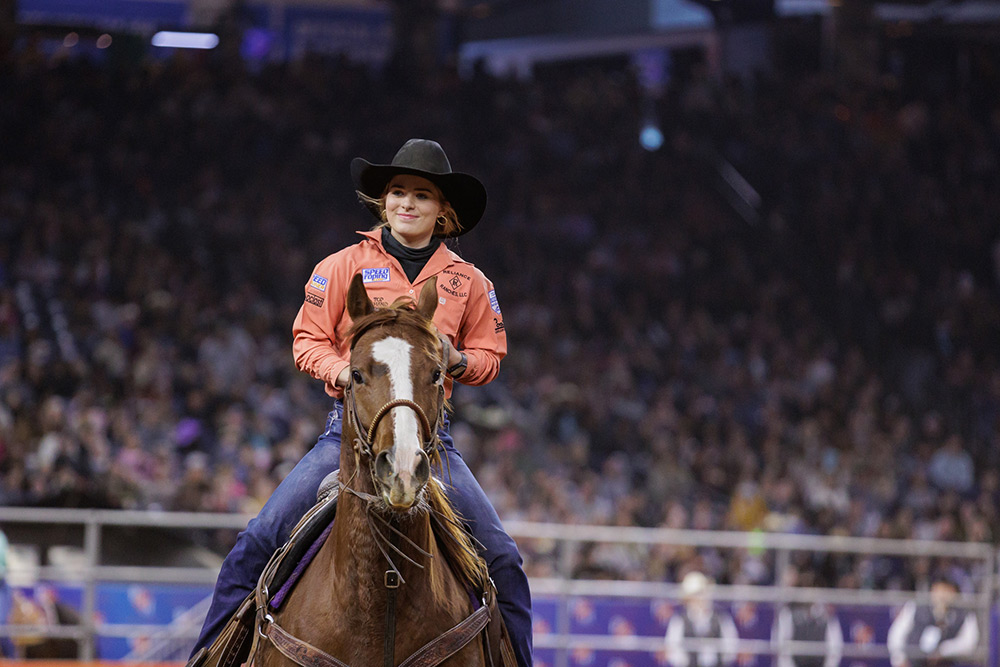 Hali Williams
Photo Courtesy RodeoHouston by Impulse Photography
In 2022, Williams finished her WPRA rookie year ranked 28th in the breakaway roping with $31,976 in earnings for the whole year. On Sunday, March 19, 2023, she won $50,000 for one 3.6 second run at RodeoHouston. Having finished fourth in the final round on Sunday with a 3.3-second run to advance to the shootout round, she was the first breakaway roper in the final round with $50,000 on the line. She set the bar at 3.6 seconds and then had to wait it out to see if it would be good enough.
"I didn't think it would be good enough to win but it worked out," said Williams. "I got out late and just wanted to get a time. I am truly blessed today."
Williams would have to sweat out two veterans in the game – JJ Hampton and Joey Williams – as well as Tiffany Schieck, who was a rookie last year with Hali Williams. Joey Williams was the first to try to beat Hali's time and while it briefly looked like she had done it a broken barrier would crush her hopes of the title ending with a 12.5-second run. Schieck would also incur a speeding ticket finishing with a 12.2 and Hampton would come up empty with a no time.
Hali Williams was ranked No. 1 coming in and will now extend her lead adding $53,750 to her earnings. She has won over $87,500 thus far in 2023 and you can bet she will keep the pedal to the medal as she searches for her first world title.
Both ladies no doubt making their families proud while carrying on their legacy in the rodeo industry.
RodeoHouston
Championship Field Taking Shape at RODEOHOUSTON
Ann Bleiker
PHOTO Courtesy RodeoHouston by Impulse Photography
---
RODEOHOUSTON will crown their 2023 champions on Sunday, March 19 and will dole out $50,000 to the winners. The winners will no doubt jump aboard the fast track for an NFR/NFBR qualification at season's end.
Molly Otto, who qualified for her first NFR in 2021, leads the way in total earnings among barrel racers at RodeoHouston heading into the championship round having collected $8,500 after a strong showing thus far. Otto of Grand Forks, N.D., competed in the final Super Series and won two out of the three rounds. She won the first round of the series in a time of 14.75 seconds, tied for second in the second round with a 14.76 and won the third round in 14.55 seconds. She competed in the second semifinals held on March 16 to finish third in a time of 14.58 seconds.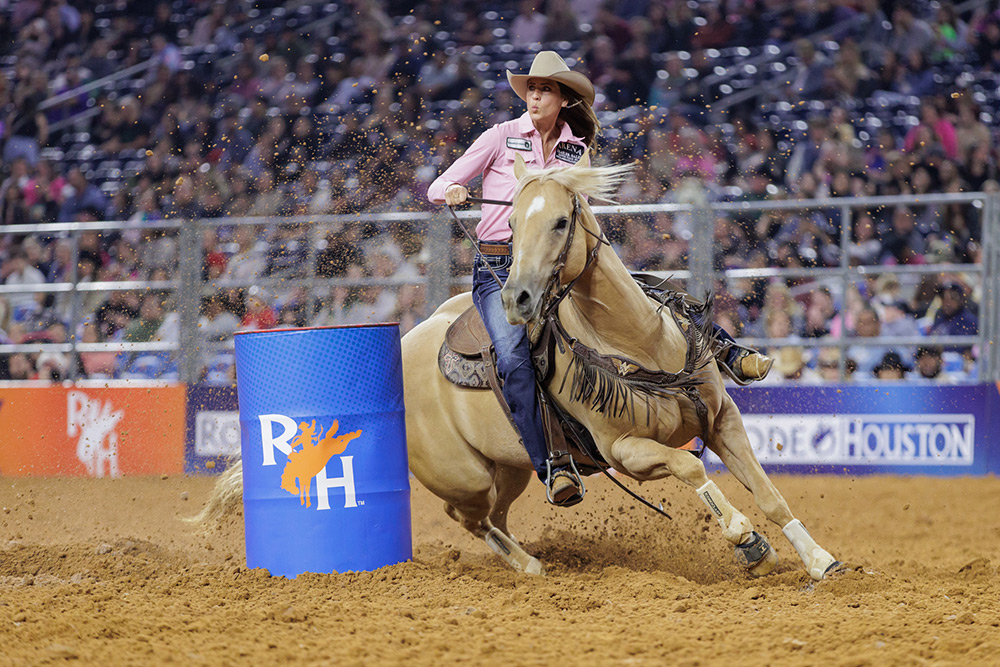 Molly Otto
Photo Courtesy RodeoHouston by Impulse Photography
Jordon Briggs, the 2021 WPRA World Champion Barrel Racer and defending RodeoHouston Champion, turned in the fastest time of the 2023 edition during the Super Series Semifinal 2 with a time of 14.35 seconds. She enters the championship round looking to defend her title with a total of $8,000 in earnings thus far. In 2022, Briggs won the championship shootout round in a time of 14.33 seconds to win $50,000. If her semifinal run is any indication, Briggs and Rollo seem to be right on track.
Barrel racers who have secured their spot in the championship round with hopes of advancing to the Shootout round and eventually adding a RodeoHouston title to their resume include:
Shelley Morgan
Sissy Winn
Kassie Mowry
Summer Kosel
Sarah Rose Waguespack
Hailey Kinsel
Molly Otto
Jordon Briggs
Two additional individuals will punch their ticket via the two Wild Card rounds slated for March 17 and 18.
Leading the way on the breakaway roping is 2022 WPRA All-Around Champion Sarah Angelone who has pocketed $8,000 thus far. This is the first year WPRA breakaway ropers have competed side by side all the other events for equal opportunities (rounds) and equal money. In 2022, Erin Johnson won the title and walked away with $53,750.
While Sarah Angelone has punched her ticket to her first championship round of RodeoHouston, Johnson will have to win her Wild Card Round for a shot at defending her title.
Those who have secured their spot and moved one step closer to a $50,000 payday include:
Jackie Crawford
Jordan Jo Hollabaugh
Tiffany Schieck
JJ Hampton
Joey Williams
Cheyanne Guillory
Hali Williams
Sarah Angelone
The Final field will be set following the second wild card round on March 18. Visit www.rodeohouston.com for more information.
RodeoHouston
Angelone Sisters All The Talk in Houston
Ann Bleiker
WPRA PHOTO BY DAN LEVOSKY
---
The Angelone sisters are making headlines at RodeoHouston. Both WPRA reigning world champions Sarah (all-around champion) and Martha (breakaway roping champion) finished first and second in money won during Super Series III in Houston.
Sarah put on a clinic in the first two rounds, winning both in times of 3.0 and 3.4 seconds, respectively. She would come up empty in the third round with a no time, but she still garnered the lion's share of the money in the super series collecting $6,000.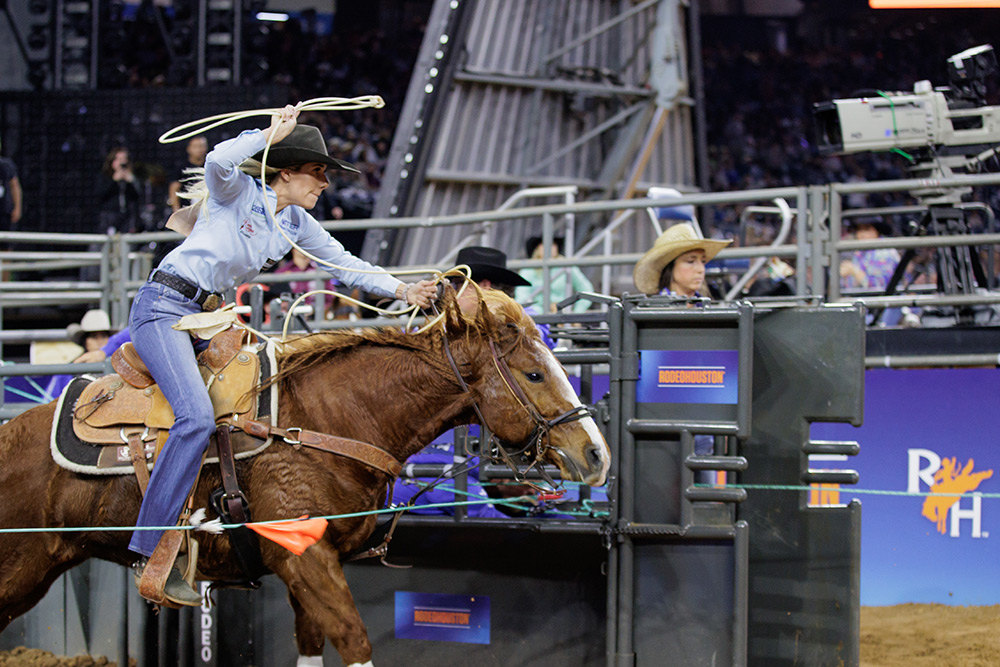 Sarah Angelone
RodeoHouston photo by Impulse Photography
Martha finished second in the first round in a time of 4.2 seconds, took a no time in the second round but bounced back in the third round for another second place finish in 3.3 seconds for a total of $4,000.
Tiffany Schieck, who won the Cheyenne Frontier Days Rodeo in 2022, had to win the third round to have a chance at advancing to the semifinal round. Schieck had taken two no-times in the first two rounds, so as the final gunner out on Wednesday night (March 8) she had to be faster than 3.3 seconds to keep her hopes alive of a RodeoHouston title. She came out and stopped the clock in 3.2 seconds to grab $3,000 for the win to advance. The fourth roper moving on to the semifinals out of Super Series III was Canadian Kendal Pierson with a third place finish in the first round and a second in the second round for $3,000.
Defending RodeoHouston champion Erin Johnson got things started in the breakaway roping during Super Series I finishing with $5,000 over three rounds. This is the first year that the ropers are competing in every round like all the rest of the athletes and for equal money. Jackie Crawford and Joey Williams finished in a tie for second with $3,750 won, while Kelsie Domer finished fourth with $3,500 to advance to the semifinal round.
Super Series II was led by NFBR average champion Cadee Williams with $5,000 after placing in all three rounds. Joining Williams in advancing from this bracket was Amber Crawford ($4,000), Cheyanne Guillory ($3,750) and Amanda Coleman ($3,000).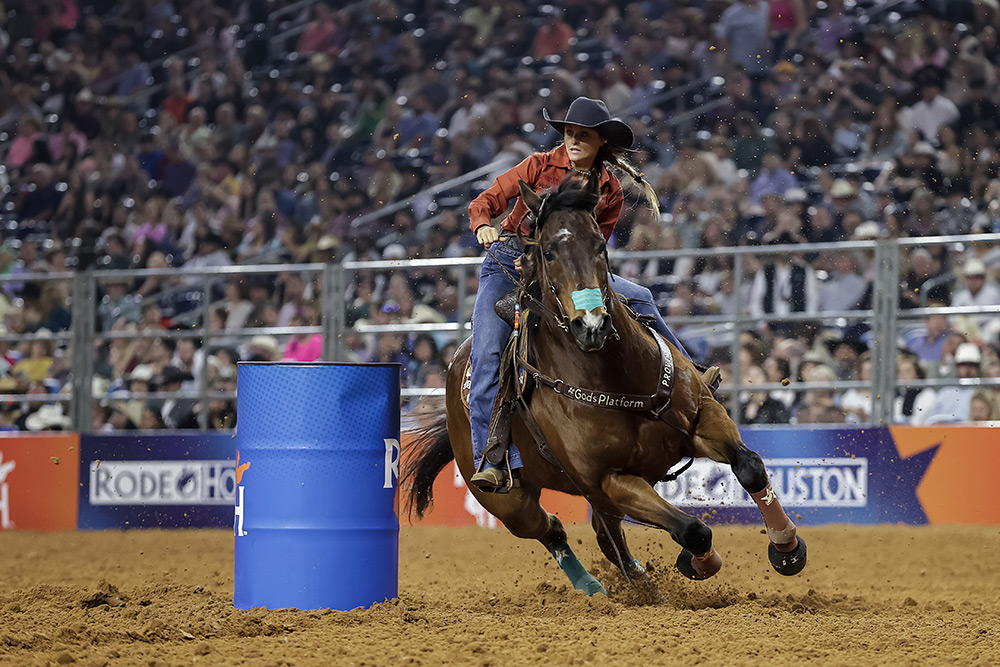 Stevi Hillman
Photo Courtesy RodeoHouston by Impulse Photography
On the barrel racing side Stevi Hillman collected the RodeoHouston guitar awarded to the top money winner from each Super Series. Hillman dominated Super Series III aboard her big bay gelding Cuatro Fame "Truck" winning two rounds and finishing second to pocket $8,000, the most of any barrel racer thus far.
Sissy Winn finished second after winning the final round in a rodeo best run thus far of 14.51 seconds. Winn placed in all three rounds good for $4,000. Ilyssa Riley and Kelly Allen both call Texas home – Riley from Hico and Allen from Stephenville, will also advance to the semifinals with $3,250 and $3,000 in RodeoHouston earnings thus far.
Andrea Busby and 2021 WPRA World Champion Barrel Racer Jordon Briggs tied for most money won in Super Series I with $5,000. Briggs won the first round in a time of 14.93 seconds, while Busby took the win in the second round in 14.79 seconds. Kricket Ginter won the third round in 14.69 seconds to finish third in total money won with $4,250 to advance along with Jessica Routier with $3,750.
Shannon Griffin was the top money winner in Super Series II after a smoking fast run of 14.53 seconds to win the second round. Advancing along with Griffin from the second Super Series was NFR average champion Shelley Morgan and Tarryn Lee with $5,000 each and four-time and reigning world champion Hailey Kinsel with $3,000.
Super Series IV gets underway on March 9 followed by Super Series V on March 12. The first semifinals round will be contested on March 15.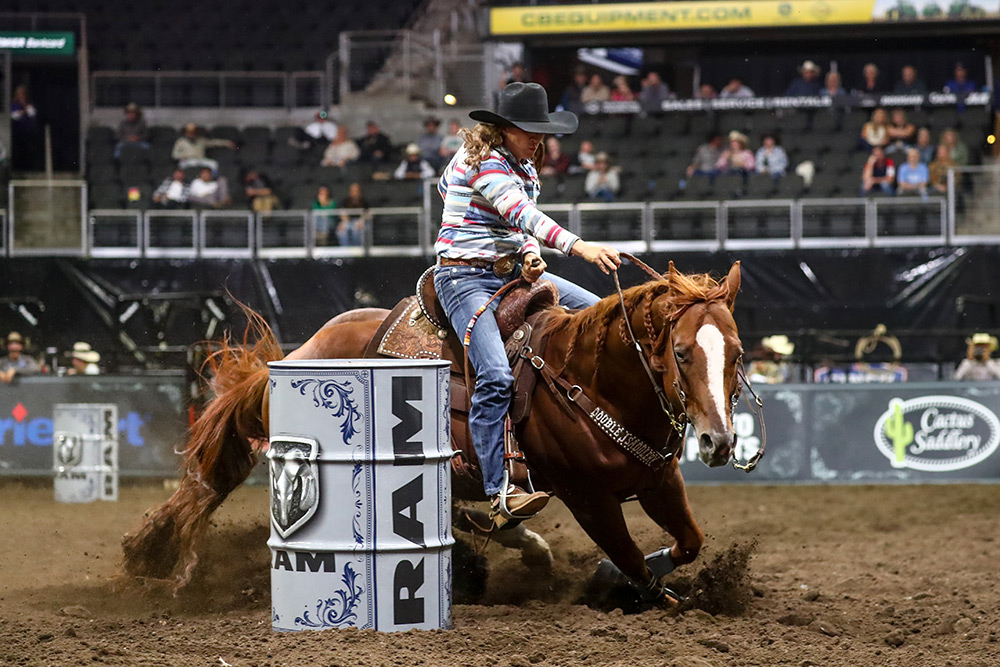 Brittany Pozzi Tonozzi Member Spotlight Pozzi Tonozzi Sets New WPRA Regular Season Earnings Record By Ann Bleiker Photo by Roseanna Sales Brittany Pozzi Tonozzi officially set a new WPRA regular season earnings record during the first round of the inaugural Cinch...
(719) 447-4627
(719) 447-4631 (fax)

431 South Cascade
Colorado Springs, CO 80903
DIRECTIONS
(719) 447-4627 | (719) 447-4631 (fax)
WORLD CHAMPIONSHIP BARREL RACING — Where the Elite Compete®
WORLD CHAMPIONSHIP
BARREL RACING
Where the Elite Compete®