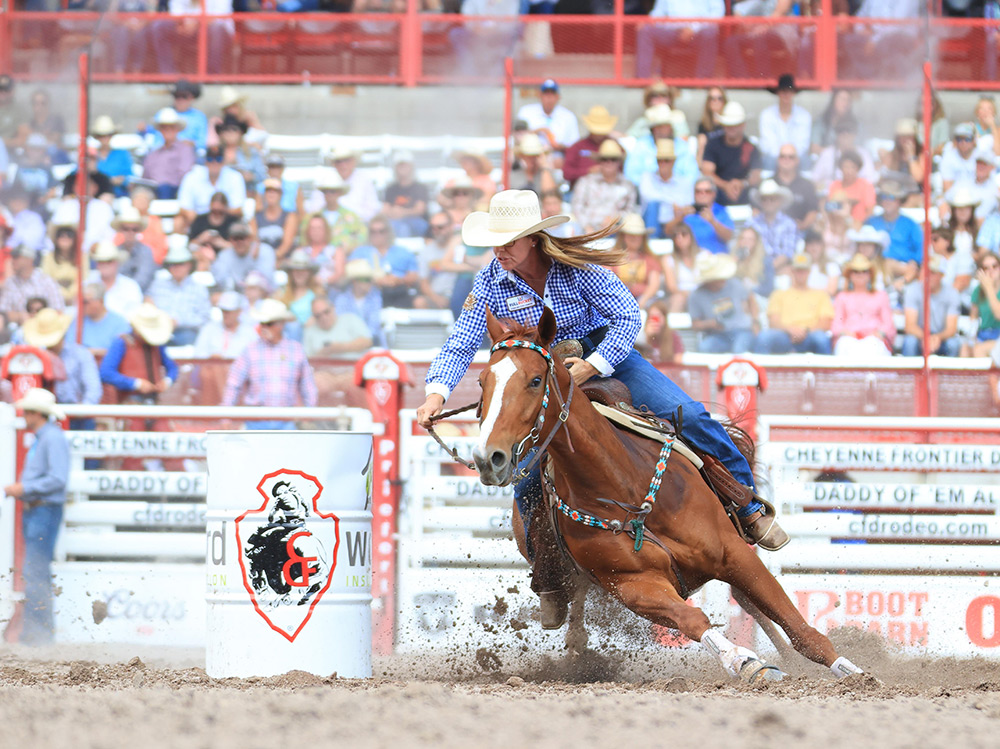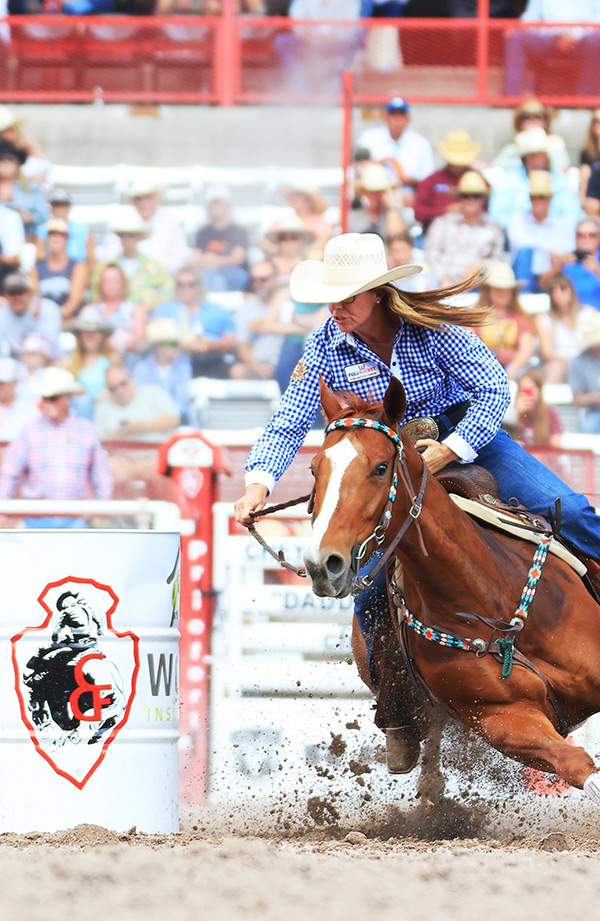 Champions Crowned at 126th Cheyenne Frontier Days
By Susan Kanode
---
CHEYENNE, Wyo. (July 31, 2022) –The 126th Cheyenne Frontier Days Rodeo (CFD) crowned a mixture of repeat and new champions on Sunday, July 31.
Andrea Busby, a Wyoming native who now lives in Brock, Texas, was the final barrel racer to compete. Five previous racers had stopped the clock in less than 17.3 seconds when Busby rode her mare Tito (registered name Blazin With My Dude) into the arena. Tito, who was making just her fifth run in a professional rodeo, crossed the finish line in a time of 17.13 seconds to win the title.
Busby, whose Wyoming roots are deep, grew up on a ranch near Lusk that has been in her family for more than a century. She made the 140-mile trip to Cheyenne many times growing up. She said that she always hoped she would ride and win at CFD, so this title made a childhood dream a reality.
"Growing up near here I drove by this place a thousand times with the goal to win it one day," stated Busby following her win. "This is just my mare's fifth rodeo but I guess she likes Cheyenne, which is a good thing. Thank you Lord."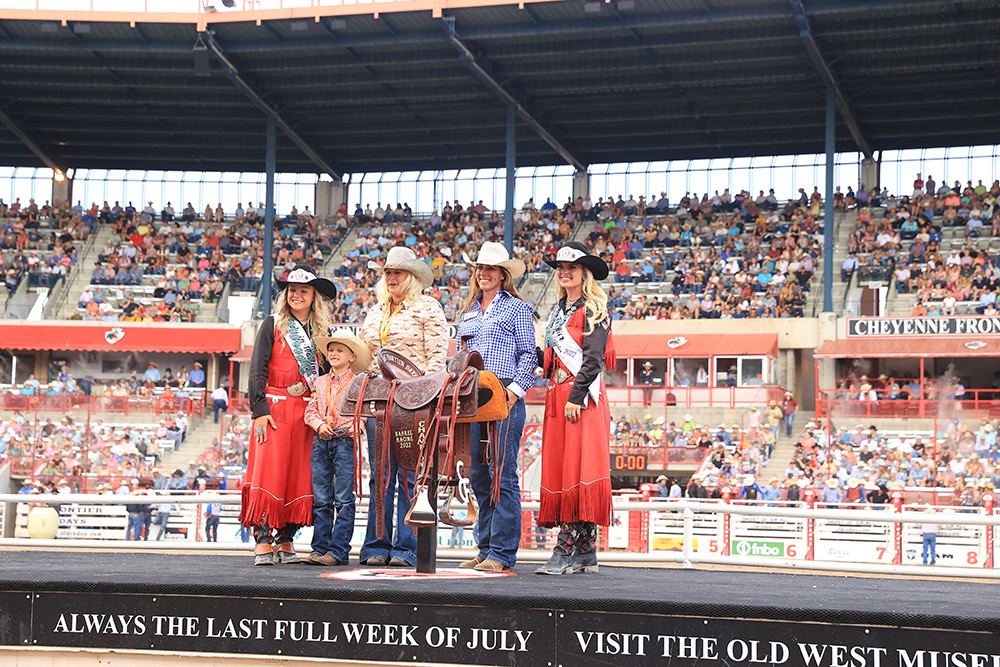 In breakaway roping Macy Young of Wittmann, Arizona, and Tiffany Schieck of Floresville, Texas, both caught their calves in 4.0 seconds. This was Young's first time to compete in Cheyenne. She was not part of the invitational field when the event first was introduced in 2019; there was no CFD in 2020 due to the pandemic, and last year she was pregnant with her daughter Hadley. Schieck was roping here for the first time since 2019.
Schieck took home $18,078 while Young left town with $15,497. Busby took $15,948 back to her home in Texas.
Full coverage of all three winners will be available in the WPRA News.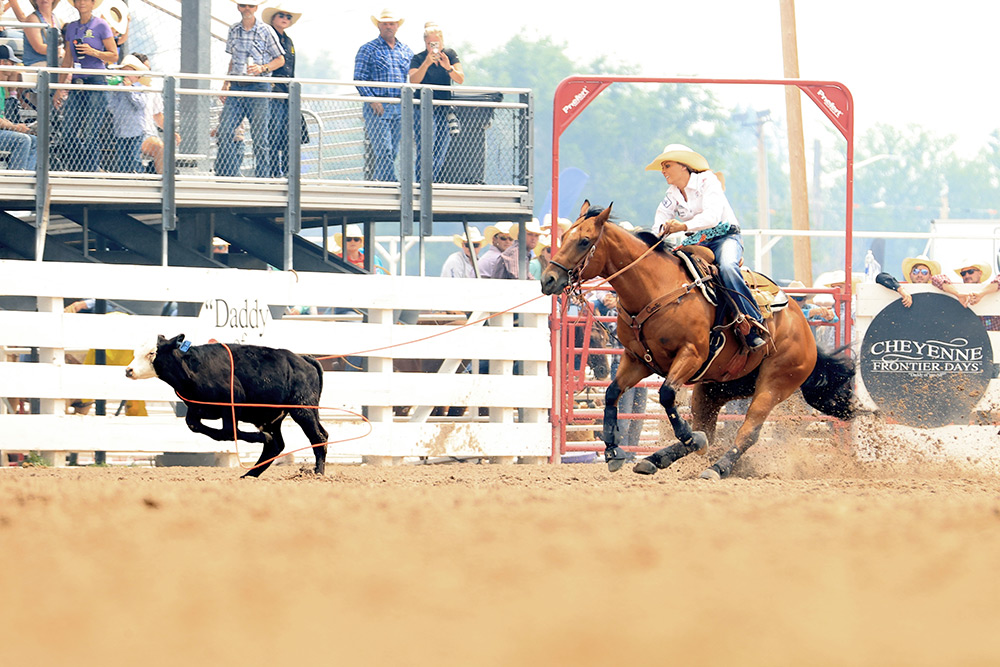 Macy Young
Photo by Jackie Jensen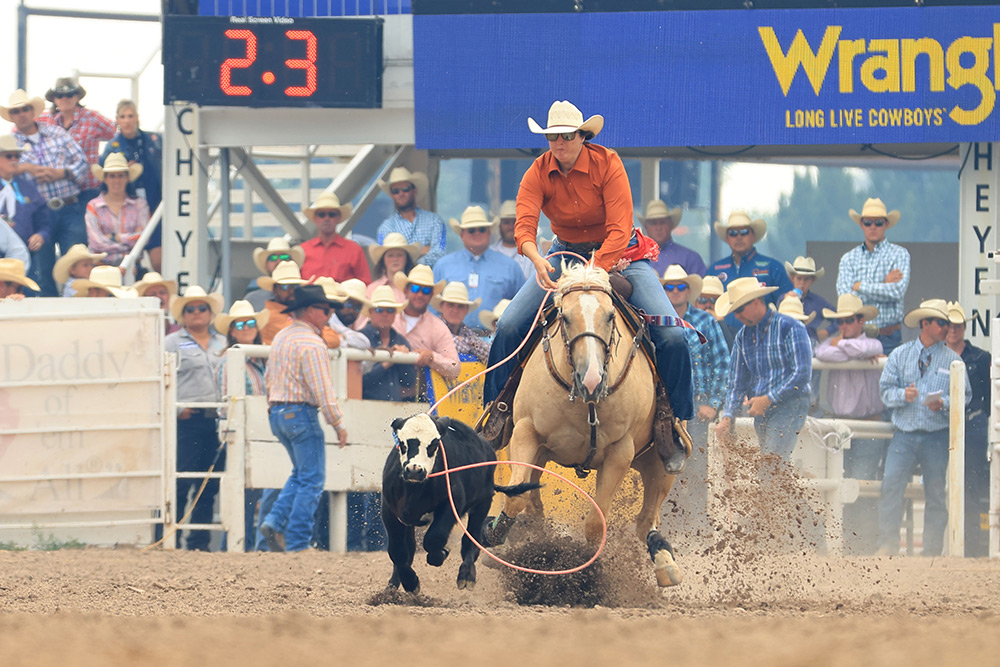 Tiffany Schieck
Photo by Jackie Jensen
Other highlights for WPRA members in Cheyenne included:
On July 22, during the qualifier round Summer Kosel of Glenham, South Dakota, set a new arena record at Frontier Park in a time of 17.02 seconds. The mother of four rode Apollo to post the lightening fast time in their first trip to Cheyenne. Kosel was a WPRA rookie competitor in 2019. The duo returned during the sixth performance to spot an 18.00 and advance to the semifinal round. They stopped the clock in 17.34 seconds to win the first semifinal with Andrea Busby taking third in a time of 17.57 seconds. Unfortunately, they ran into some bad luck in the final round knocking over a barrel taking them out of a chance at the sudden death championship.
The previous barrel racing record in Cheyenne was set by four-time world champion and now ProRodeo Hall of Famers Kristie Peterson and Bozo in 1996 with a time of 17.03 seconds.
On July 20 WPRA breakaway roper Peggy Garman of Sundance, Wyoming, won the wildcard round in record breaking fashion stopping the clock in 3.0 seconds with Martha Angelone right on her heels in 3.1 seconds. Dual event competitor Emma Charleston also turned in a 3.1 to win the fourth performance in Cheyenne.
The previous breakaway roping record was set by Carol Hollers at 3.4 seconds in 2021.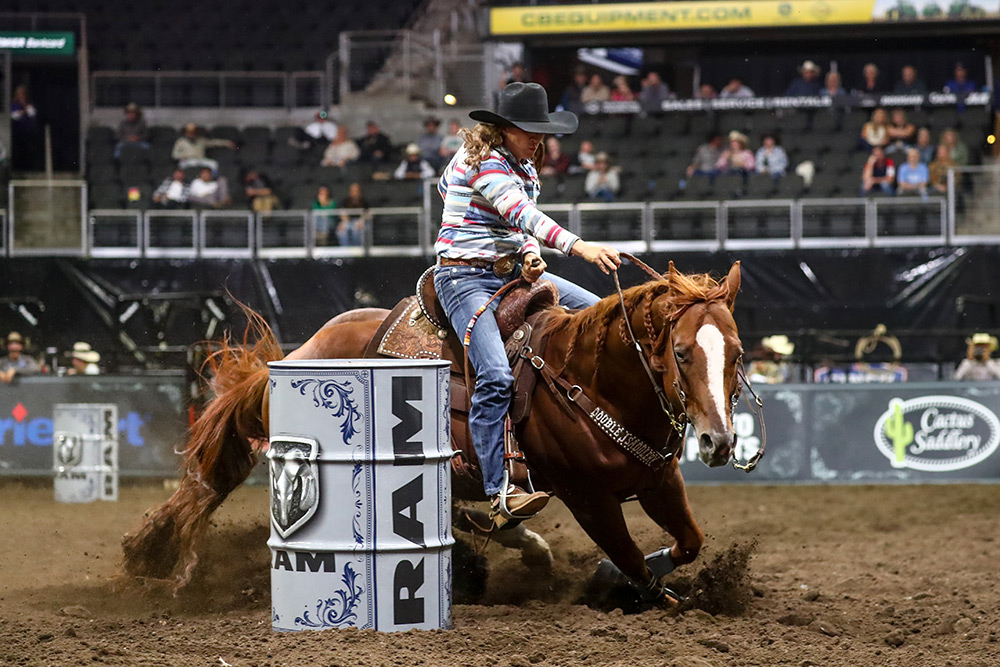 Brittany Pozzi Tonozzi Member Spotlight Pozzi Tonozzi Sets New WPRA Regular Season Earnings Record By Ann Bleiker Photo by Roseanna Sales Brittany Pozzi Tonozzi officially set a new WPRA regular season earnings record during the first round of the inaugural Cinch...
(719) 447-4627
(719) 447-4631 (fax)

431 South Cascade
Colorado Springs, CO 80903
DIRECTIONS
(719) 447-4627 | (719) 447-4631 (fax)
WORLD CHAMPIONSHIP BARREL RACING — Where the Elite Compete®
WORLD CHAMPIONSHIP
BARREL RACING
Where the Elite Compete®