Hanchey Making Headlines
in Breakaway Roping
By Ann Bleiker
---
Taylor Hanchey used to make headlines in the barrel racing as Taylor Jacob, but now with a new last name and new WPRA event of breakaway roping at ProRodeo's from coast to coast, she is back to making headlines. This past weekend she landed atop the leaderboard in the two head average in the breakaway roping at the Dodge City (KS) Roundup Rodeo. This was the first year Dodge City has featured breakaway roping.
"Holy moly! I was able to walk away from Dodge City with the buckle," wrote Hanchey on her Facebook page. "After messing up in the semifinals at Cheyenne, I was really wanting to capitalize on good draws at Dodge City.
"Shane (Hanchey) told me before I roped, he had always wanted a Dodge City buckle and that I was in charge of making it happen."
Riding her great horse Pam Pam, who is 19 years young this year, she won the average in a total time of 5.3 seconds ahead of Loni Kay Lester with a 5.4. Hanchey won the first round in a time of 2.5 seconds ahead of Bradi Good (2.6) and Lester (3.0).
She returned to the Sunday night finals to stop the clock in 2.8 seconds. Lester won the final round in a time of 2.4 and Tacy Kay Webb and Mable McAbee tied for second in 2.6 seconds. Although the finals didn't go exactly as planned it all worked out in the end for Hanchey.
"I had a different game plan (on that last calf) but it all worked out," noted Hanchey during her interview on the Cowboy Channel. "I drew two great calves. My first one was in the slack Saturday morning and he was phenomenal. I was really close to the barrier too, so that helped. I also knew I had a good calf tonight so I drew good."
Hanchey, who made history last year by being the first WPRA member to qualify for the NFR as a barrel racer and breakaway roper, is well on her way to her second NFBR qualification as she is currently ranked fifth in the world with $49,705.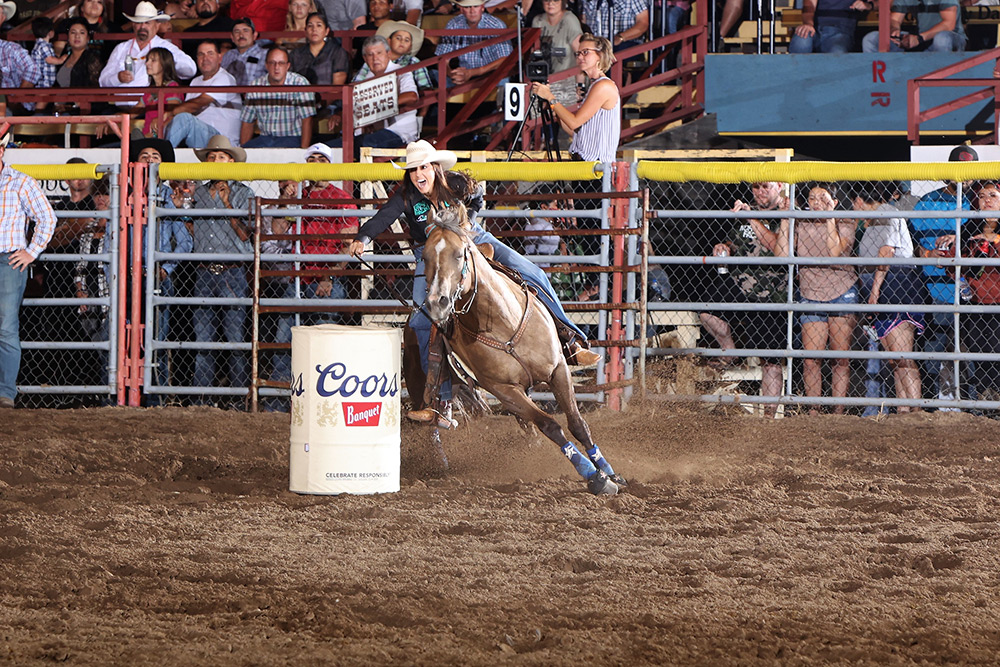 Michelle Darling
Photo by David Seymore
Michelle Darling and Martini (Morning Traffic) captured a big win in June in Reno and has now followed it up with a big win for the second time in her career in Dodge City, outrunning reigning WPRA World Champions Jordon Briggs and Rollo. Darling captured the Reno title just ahead of Briggs by just one-one hundredth of a second but had a bit more separation in Dodge City. Briggs won the first round in Dodge in a time of 16.96 seconds to Darling's 17.22 but Briggs would finish out of the money in the final round as the last barrel racer out. Stevi Hillman, who used to jockey Martini, won the final round in a quick time of 17.34 seconds, while Darling finished second in 17.37. Darling won the two-run average in a total time of 34.59 to Hillman's 34.71 aboard Truck.
Darling last won the Dodge City Roundup in 2019 when it was a three run average. She is looking for her first trip to the Wrangler National Finals Rodeo and after her win in Dodge City she is currently ranked 12th with $67,331. Cheyenne Wimberley is currently 15th with $59,779.
Read Darling's story on her win in Reno here: https://online.flippingbook.com/view/241947470/28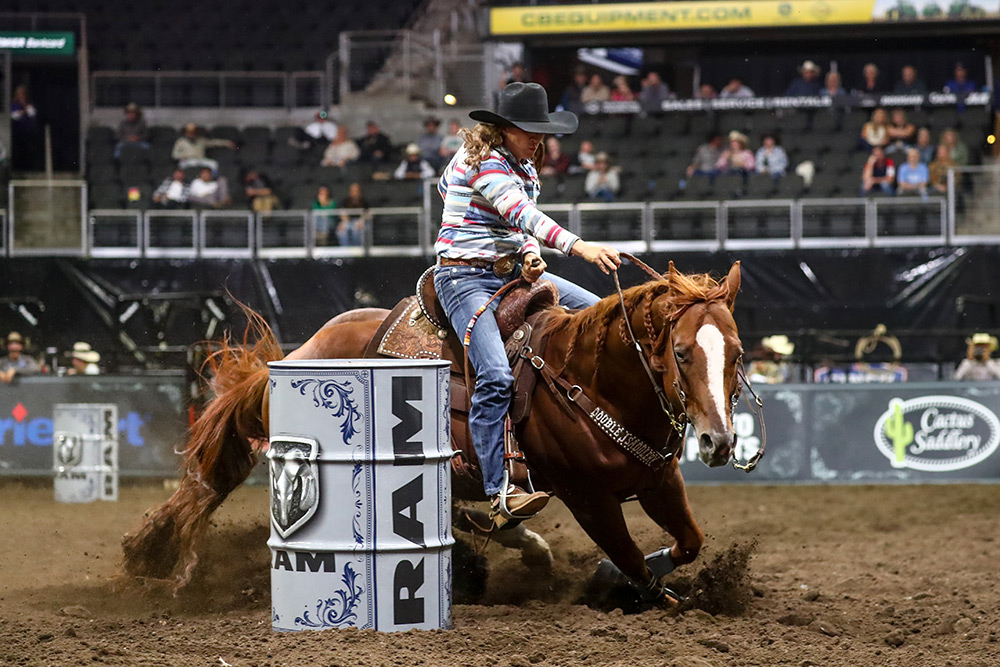 Brittany Pozzi Tonozzi Member Spotlight Pozzi Tonozzi Sets New WPRA Regular Season Earnings Record By Ann Bleiker Photo by Roseanna Sales Brittany Pozzi Tonozzi officially set a new WPRA regular season earnings record during the first round of the inaugural Cinch...
(719) 447-4627
(719) 447-4631 (fax)

431 South Cascade
Colorado Springs, CO 80903
DIRECTIONS
(719) 447-4627 | (719) 447-4631 (fax)
WORLD CHAMPIONSHIP BARREL RACING — Where the Elite Compete®
WORLD CHAMPIONSHIP
BARREL RACING
Where the Elite Compete®