National Western Stock Show & Rodeo
Jimmie Smith Tew Saves Best For Last, Takes Title in Denver
By Ann Bleiker
Photos by Ric Andersen
---
Jimmie Smith Tew saved the best for last at the 117th National Western Stock Show and Rodeo (NWSSR) in Denver, Colorado. In a stacked field of barrel racers that included 16-time NFR qualifiers Brittany Pozzi Tonozzi and Lisa Lockhart, the 2018 WPRA Rookie of the Year came out on top with the fastest time turned in during the 2023 edition.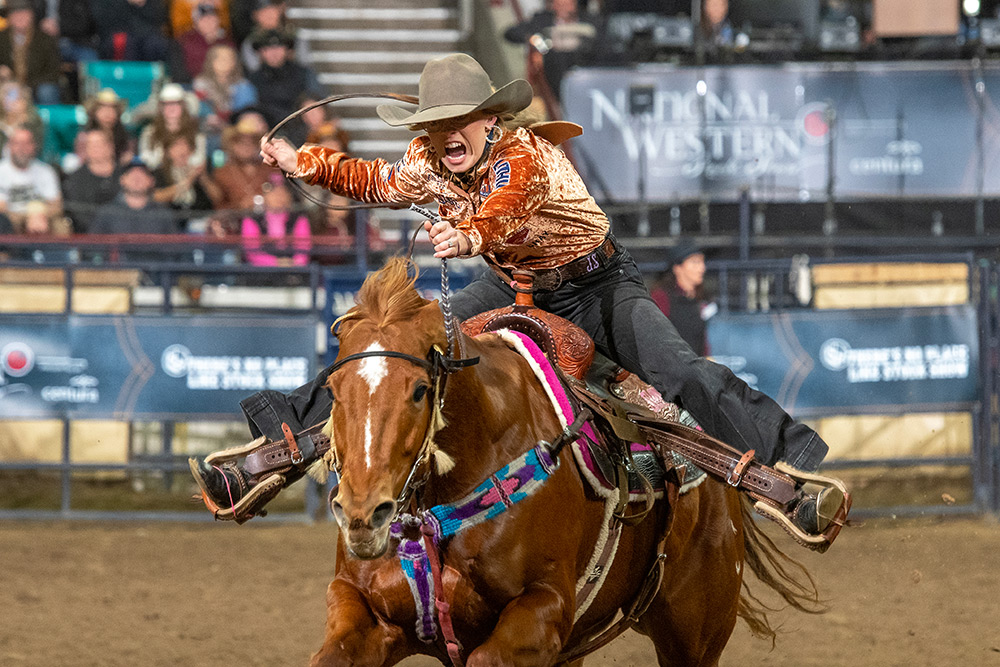 Jimmie Smith Tew
Photo by Ric Andersen
Smith Tew stopped the clock in a time of 14.83 seconds to bump the five-time and defending champion at the NWSSR Brittany Pozzi Tonozzi from the top spot. Pozzi Tonozzi, who was third out on the ground, set the bar at 14.96 but Smith Tew blew that out of the water as the seventh barrel racer out. Kalli McCall, who ran 10th, would stop the clock in 14.95 seconds to finish second to Smith Tew. Lockhart finished fourth in a time of 15.04 seconds on the bottom of the ground.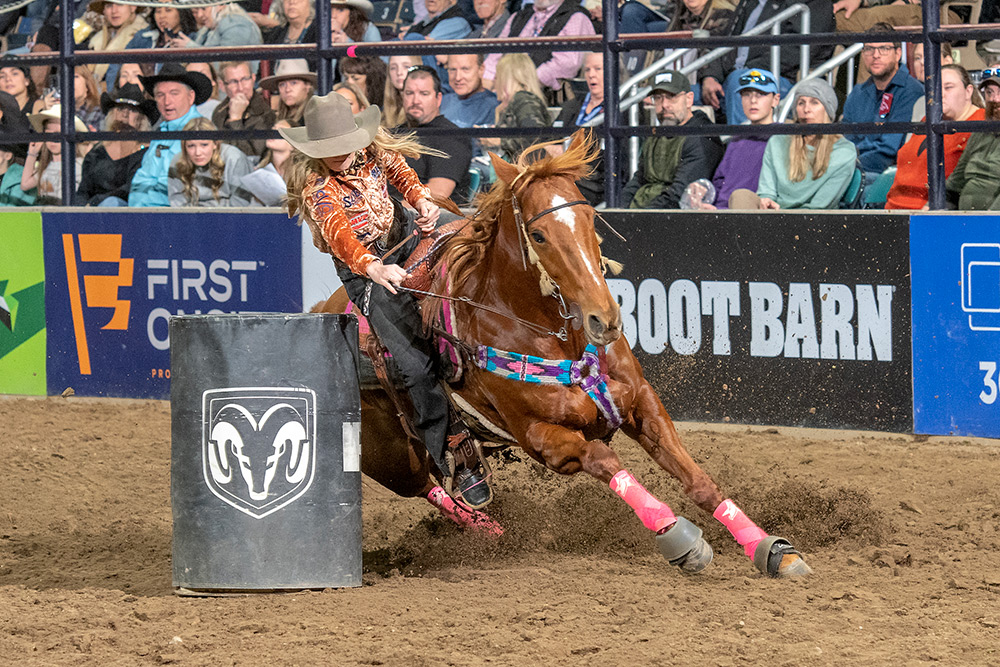 Jimmie Smith Tew
Photo by Ric Andersen
While Smith Tew had not planned to ride A Valiant Nicky in Denver, it all worked out in the end. Prior to the Finals she posted the following on her Facebook page: "A Valiant Nicky making the Finals at the National Western Stock Show! Our runs haven't been perfect but no matter what happens today we have gained so much confidence in a building pen. Nicky was definitely not the plan, but we decided to just make it fun."
The duo turned in a pretty perfect run Sunday afternoon nailing the first barrel to walk away with the first major rodeo win of the 2023 rodeo season. Smith Tew is hoping this will be her year to make it back to the Wrangler National Finals Rodeo having qualified for her first in 2020. She would love the opportunity to run down the alleyway at the Thomas and Mack, as the 2020 NFR was held in Arlington, Texas, at Globe Life Field.
"I thought I had no chance of making the semifinals so I got on Nicky to give her a chance which is funny because I wasn't even going to come if I had to run a horse that was more an outside pen horse but she just got better and better for me here in Denver," said Smith Tew following her big win. "I knew she was capable of being fast it was just if I could stay on her."
Smith Tew won a total of $4,782 at Denver and made a big jump from 123rd in the standings to inside the Top 35 as the new season gets underway.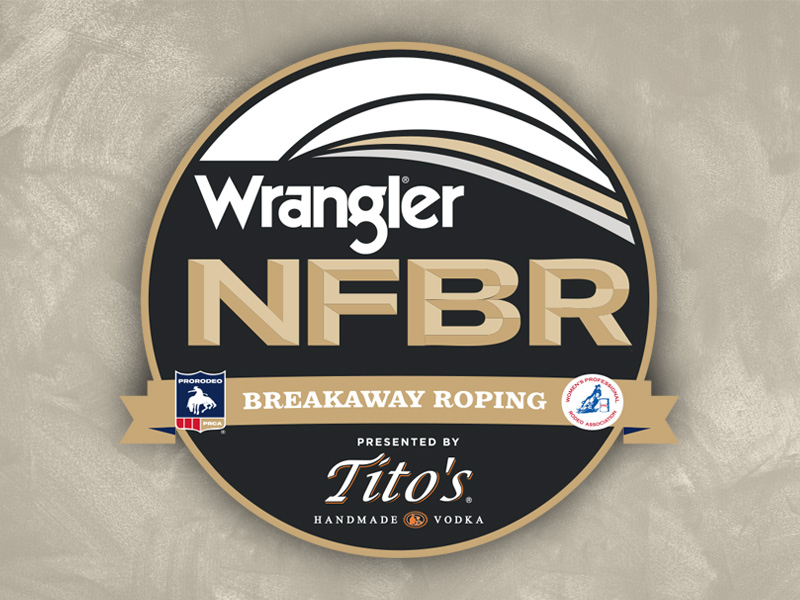 Nominations for Outstanding Committee Woman of the Year Tito's Handmade Vodka Named Official Vodka Sponsor of the WPRA Sponsorship Includes Presenting Sponsor for 2023 Wrangler National Finals Breakaway Roping By Ann Bleiker COLORADO SPRINGS, Colo. (November 21, 2023)...
(719) 447-4627
(719) 447-4631 (fax)

431 South Cascade
Colorado Springs, CO 80903
DIRECTIONS
(719) 447-4627 | (719) 447-4631 (fax)
WORLD CHAMPIONSHIP BARREL RACING — Where the Elite Compete®
WORLD CHAMPIONSHIP
BARREL RACING
Where the Elite Compete®