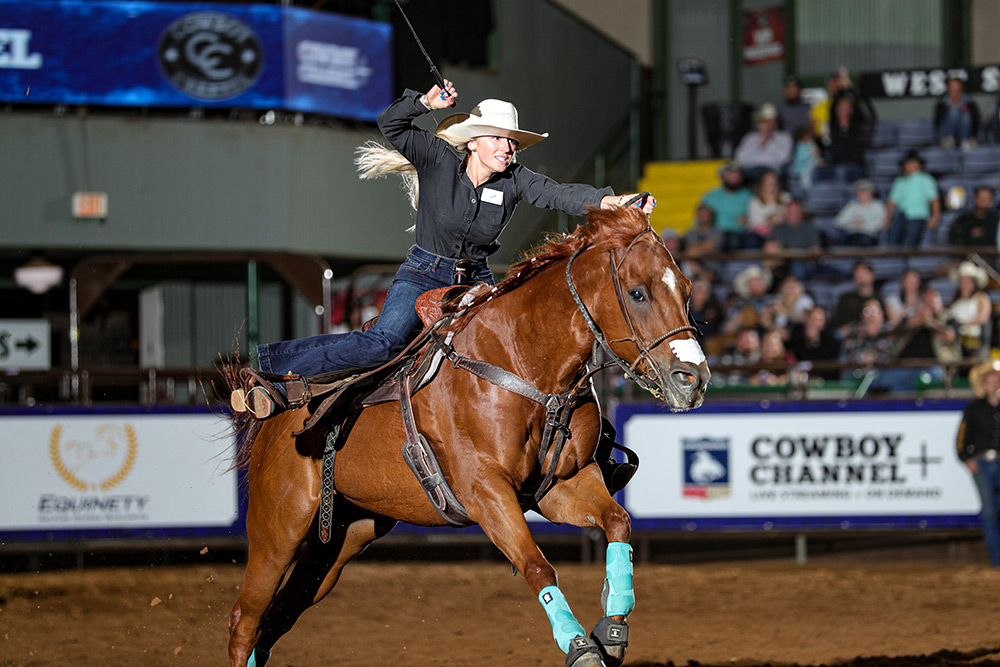 Kalli McCall
Rookie Barrel Racer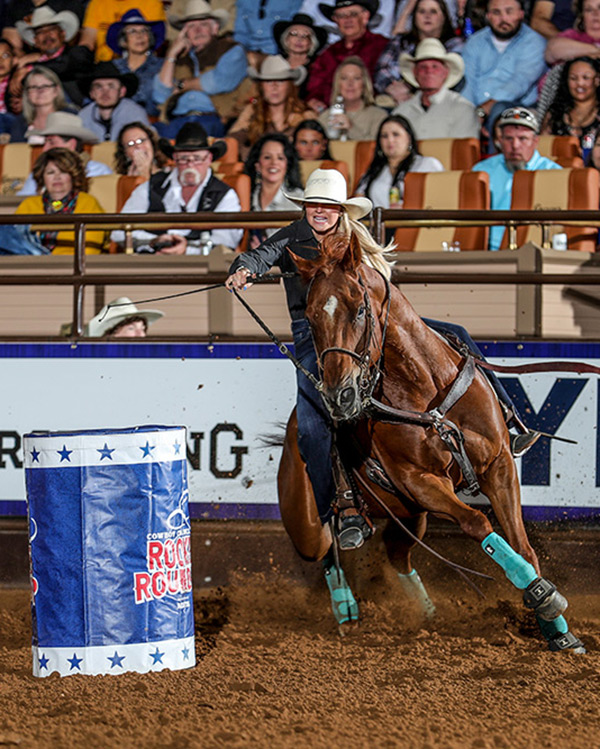 Member Spotlight
Kalli McCall Has Eyes Set on Resistol Rookie Title
Tim Gentry
Photo by Roseanna Sales
---
Nineteen-year-old rookie barrel racer Kalli McCall rode to victory aboard "Mohawk" (Dr Nicks Cash) at the Resistol Rookie Roundup, presented by The Cowboy Channel at the end of April. Already leading the Resistol Rookie Standings coming into the Roundup, McCall added $3,656 in earnings over the two-day, three-run event, held at Ft. Worth's historic Cowtown Coliseum.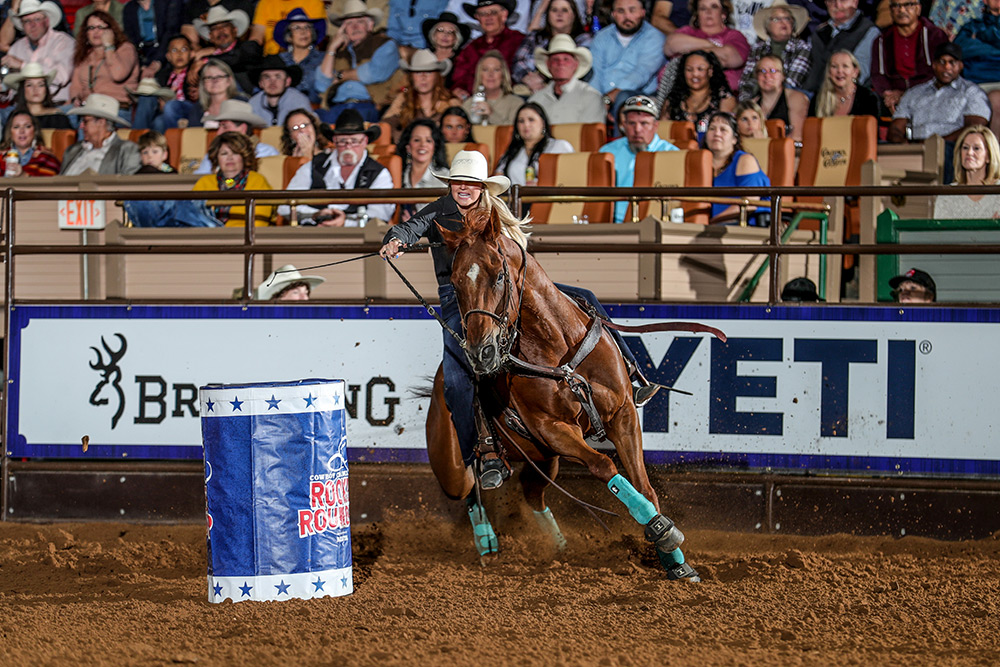 Kalli McCall
Photo by Roseanna Sales
"First run, I was just going in, making a clean run," explained McCall. "I knew he would clock and we would be fine. From there on out, I knew to just go in there and do the same thing. I knew he was going to do his job no matter what. I just trusted him on that, we made our clean runs and it paid off in the end."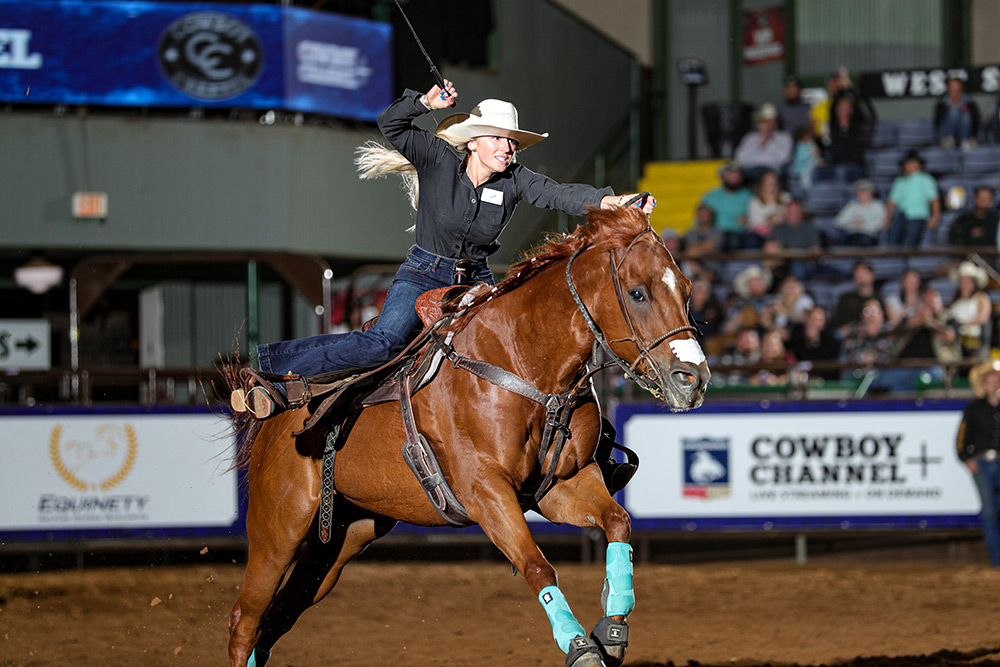 Kalli McCall
Photo by Roseanna Sales
Her total earnings for the season are currently $16,560, more than $5,000 clear of second place Victoria Procter, and she intends to go hard the rest of the season. The cheerful young cowgirl from Lufkin, Texas, has had her eyes set on the Resistol Rookie title for a long time and her 2023 campaign is off to a great start.
            Turning pro isn't just the fulfillment of a lifelong dream for McCall, it's also the culmination of a career's worth of effort she's put into Mohawk, a sixteen-year-old gelding purchased for her when he was five and she was eight. A head horse when he joined the family, young McCall put the pattern on Mohawk, despite being quite intimidated at first.
            "I was terrified of horses," said McCall with a hearty laugh. "So scared. I literally trotted the pattern on him for three years. I would ask my mom and dad, [Mendi and Kelby McCall], if I won a check from trotting the pattern."
            Eventually their speed began to pick up as McCall got more comfortable, but Mohawk developed a nasty habit of ducking barrels. He spent the next five years as her brother's go-to heading horse. She didn't run barrels on him again until high school when her primary mount was injured. The pair won that rodeo and have been winning together ever since.
            "Lots of hard work has been put into that horse," said a grateful McCall, "but it's been well worth it."
            Currently on the college rodeo team in barrels and breakaway for Hill College in Hillsboro, Texas, it still doesn't always register that she's actually running as a pro. After having wanted it for so long, it's taking some time to sink in.
            "It doesn't seem real. I haven't accepted that I'm turning pro," she confessed. "I was talking to my boyfriend the other day and I said, 'The pro girls are going to be here,' and he said, 'Kalli, what do you not understand? You're a pro girl now.' I said, 'Oh, yeah. You're right. I am!'"
            Mohawk is clearly a special horse and keeping him sound through the stress of his first full year on the Pro Rodeo circuit is obviously a top priority for McCall. Thankfully, she's found a great partner in Dr. Cameron Stoudt at Equine Sports Medicine and Rehab in Pilot Point, Texas.
            "She is the absolute best," said McCall, "and has helped since day one on keeping him going and feeling good."
            McCall has her schedule all mapped out through Cowboy Christmas and beyond, but it's her first time hauling hard and there's lots to learn. Thankfully she's still got Mohawk with her after all these years. They've grown up in rodeo, bonded through time and toil and triumph. Whatever challenges come their way this year, they'll overcome like they always have: together.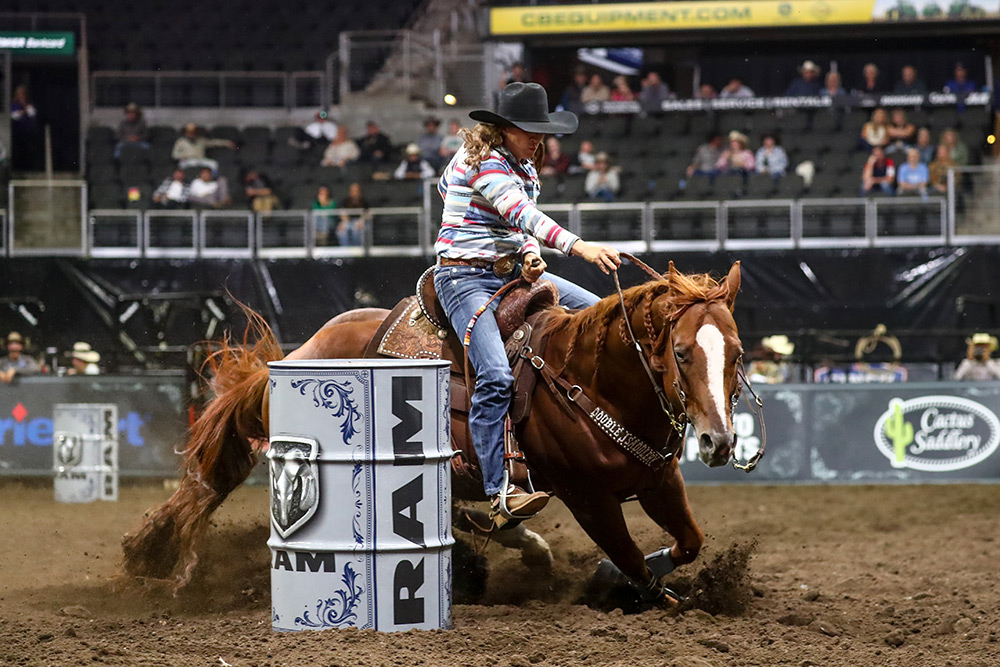 Brittany Pozzi Tonozzi Member Spotlight Pozzi Tonozzi Sets New WPRA Regular Season Earnings Record By Ann Bleiker Photo by Roseanna Sales Brittany Pozzi Tonozzi officially set a new WPRA regular season earnings record during the first round of the inaugural Cinch...
(719) 447-4627
(719) 447-4631 (fax)

431 South Cascade
Colorado Springs, CO 80903
DIRECTIONS
(719) 447-4627 | (719) 447-4631 (fax)
WORLD CHAMPIONSHIP BARREL RACING — Where the Elite Compete®
WORLD CHAMPIONSHIP
BARREL RACING
Where the Elite Compete®