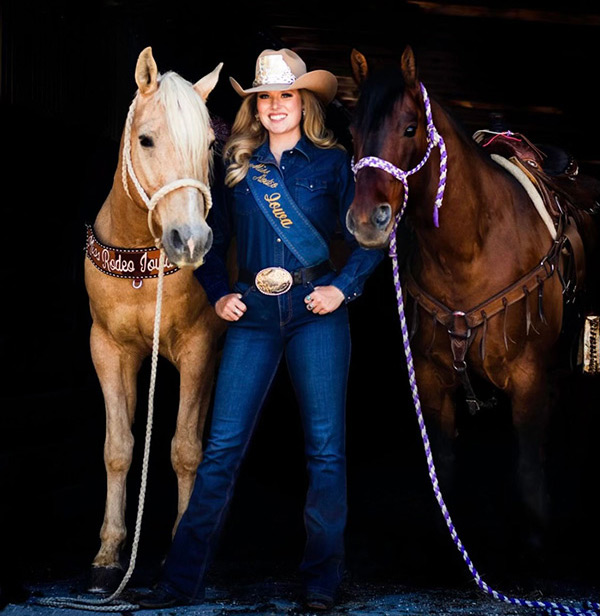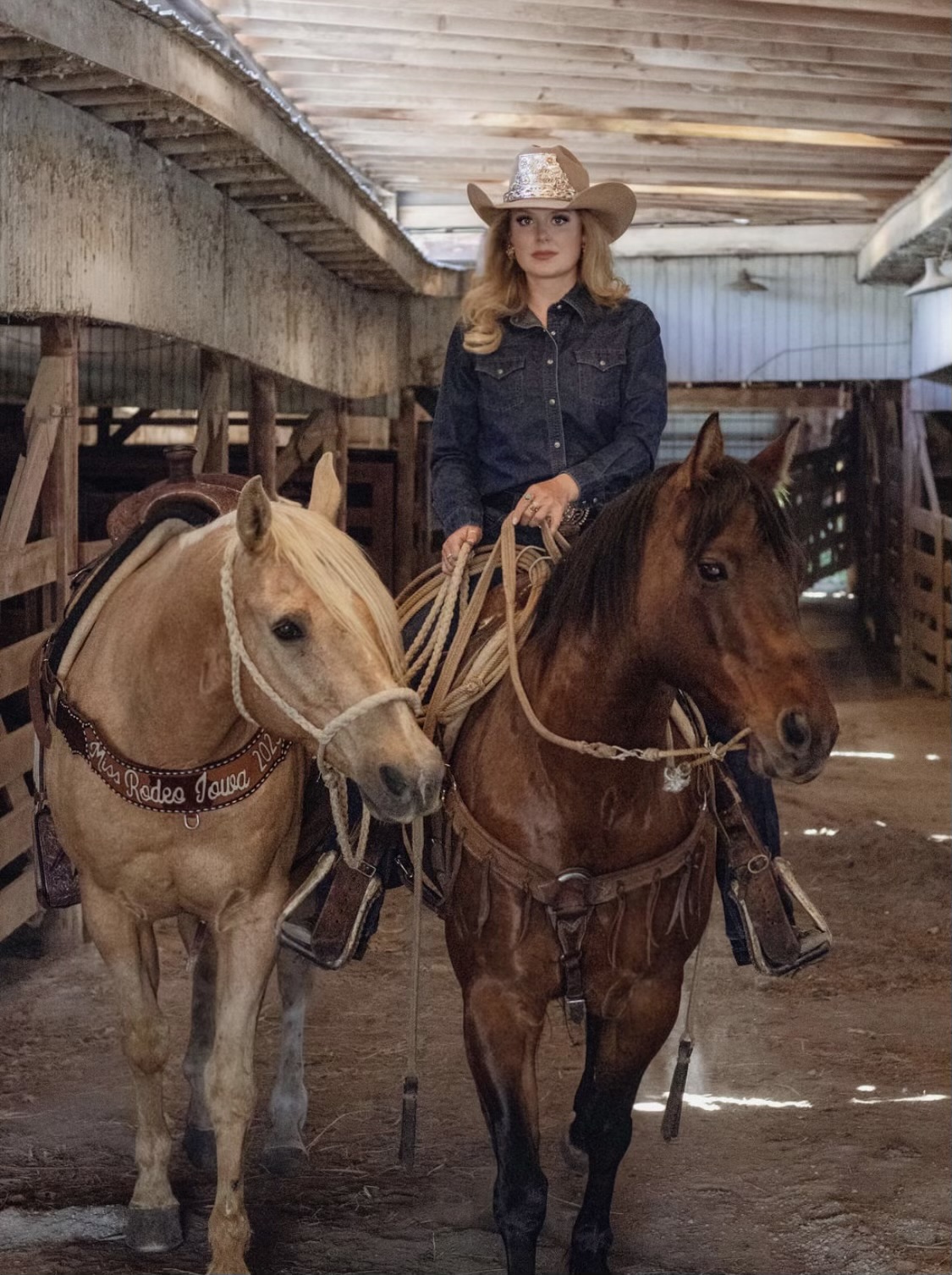 Permit Spotlight
Miss Rodeo Iowa Micah Barnes Stays True to Her Rodeo Roots
Courtesy Brittany Gunn
Photo Courtesy Kiowa Western Images
---
Peterson, Iowa – Micah Lynn Barnes is the daughter of Marty and Kendall Barnes. As a valuable member of the Barnes PRCA Rodeo Company, she has been immersed in rodeo her entire life.
As a young woman, she has traveled across the U.S. helping put on top-notch rodeos. From working the roughstock end to the timed event end, to roping as a Women's Professional Rodeo Association (WPRA) member, she has been no stranger to the greatest sport on dirt.
She has represented the state of Iowa with class, grace, beauty and professionalism; but above all, she has been nothing but herself.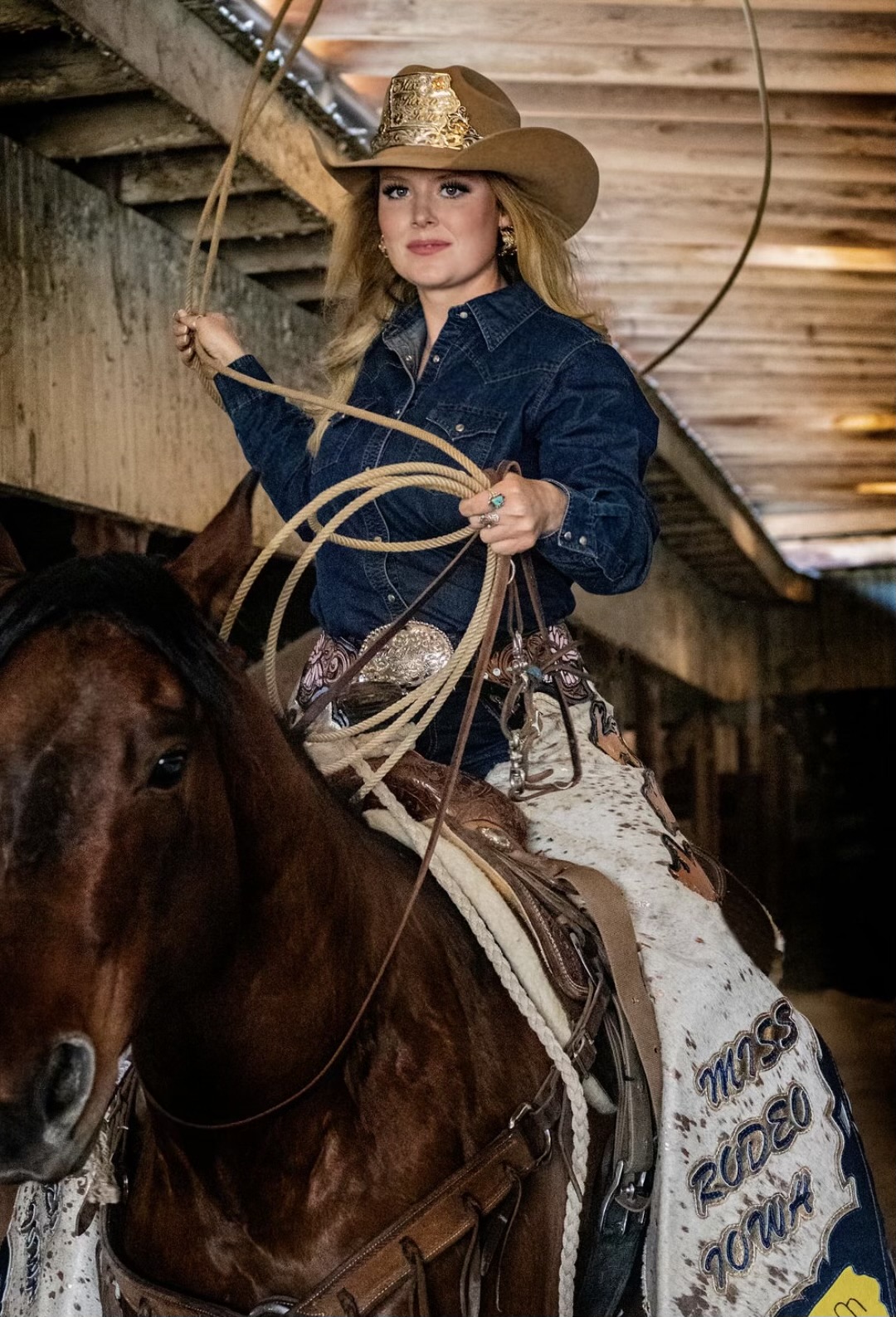 Micah Lynn Barnes
Photo Courtesy Kiowa Western Images
Getting started
            On Jan. 1 Micah began her duties as Miss Rodeo Iowa. Prior to, she held the title of Miss Days of ʻ56 in 2017-18. She notes she was encouraged to run for the title after working alongside the rodeo committee.
             "We've put that rodeo on for a long time and they have been like a second family to me," she notes. "At the time I thought to myself, I've never been a rodeo queen before so thought I would try something different."
            Several years later, she was inspired to run for the state title after realizing the impact she can make to connect new fans of rodeo to the sport.
            "I really wanted to promote the sport I love so much – it has been my family's livelihood," Micah says. "I want to be able to set the precedent that you don't have to be just a queen or roper, you can be both."
            She adds, "You don't need to limit yourself to one title or one adjective. You can be all that God has called you to be in more ways than one."
Rodeo travels and appearances
            As a state titleholder, along with her counterparts, one of their duties is to be an ambassador for the sport of professional rodeo.
            She says one of her most memorable experiences thus far is being introduced as Miss Rodeo Iowa at her hometown rodeo, the Cherokee PRCA Rodeo on June 1-3.
            Another memorable experience was attending the Abbyville Frontier Days & PRCA Rodeo, which took place May 19-20, and participating in the ranch rodeo. In 2022, the rodeo was awarded the PRCA Small Rodeo of the Year.
"Bronc Rumford has been a dear family friend and he was awarded my grandma's award last year – the Donita Barnes Lifetime Achievement Award – and it was really neat to be able to hear the old-time stories about my grandparents and family," she explains. "As a part of his ranch rodeo team, we ended up placing third, so we had a little ceremony and awarded him with a medal, and he ended up hanging it on my grandma's award in his living room – it was a really special memory."
Inspiring others
            Micah says she aims to change the misconceptions those might have surrounding rodeo by sharing her experiences and education to inspire new rodeo fans and participants.
            Her post-secondary education includes receiving her masters in agriculture education from California Polytechnic State University while competing in goat tying and breakaway roping. Upon her graduation from Cal Poly, she returned home to serve as the assistant coach for the Buena Vista University rodeo team alongside her dad.
            Micah's platform for the year is "Be the Light." She notes this scripture comes from Matthew 5:16. She hopes to lead by example and leave a positive impact wherever she goes.
"Because God gave you a fingerprint no one else has, you can leave an impact that no one else can," she says.
            Additionally, she aims to encourage girls to not be afraid to try something outside of their comfort zone and hopes to be a role model for other girls competing in rodeo that have a desire to be a rodeo queen.
            "One of my goals is to change others' perceptions about being ʻranchy' or ʻpunchy.' I want to be someone others can relate to," she says. "As a rodeo queen, we can be both pretty and handy."
Rodeo family and lessons learned
            Micah says at the end of her rodeo queen journey, one of the most beautiful things about her year will be the family, friendships and experiences she will have gained.
Currently, some of her biggest cheerleaders are her mom Kendall and dad Marty.
"I fully and firmly believe in everything rodeo stands for, so watching my daughter serve the sport she loves in this role and do it so authentically and with such grace and beauty – it has been a joy of a lifetime," shares Kendall. "Micah has been given the opportunity to share her heart and nothing compares to seeing your daughter shine the light God created her to shine."
She adds, "I'm so lucky to be riding along in a front row seat."
Kendall jokes as a rodeo queen mom, she has gotten really good at sewing on a moment's notice, but all in all, she has learned to embrace every moment.
"Moments in life go by so fast," she says. "Rodeo takes blood, sweat and tears and it has all been worth it – to be able to watch her follow her dreams and share her love of rodeo with the world."
For Marty, owner of Barnes PRCA Rodeo Company, watching his daughter work hard towards her goals is what he is most proud of.
            "I'm really proud of her because she has taken opportunities to make a difference in everything she has done – from rodeo, to basketball or academics," says Marty. "It's her work ethic that makes me the proudest because she has accomplished so much despite some of the challenges she has faced."
            He adds, "She may have the title as the rodeo queen, but she is still just Micah – and that is the way she has stayed."
            In closing, Micah offers others some advice by saying, "Have faith in God – have that strong faith with Him and be okay with whatever His plan is."
            "We as humans like to think we can control our lives and destiny. Ultimately, we have a small hold in that, but in reality, His plan is greater than ours, and although what might be seen as a downfall or setback in one area is just a greater comeback in the end.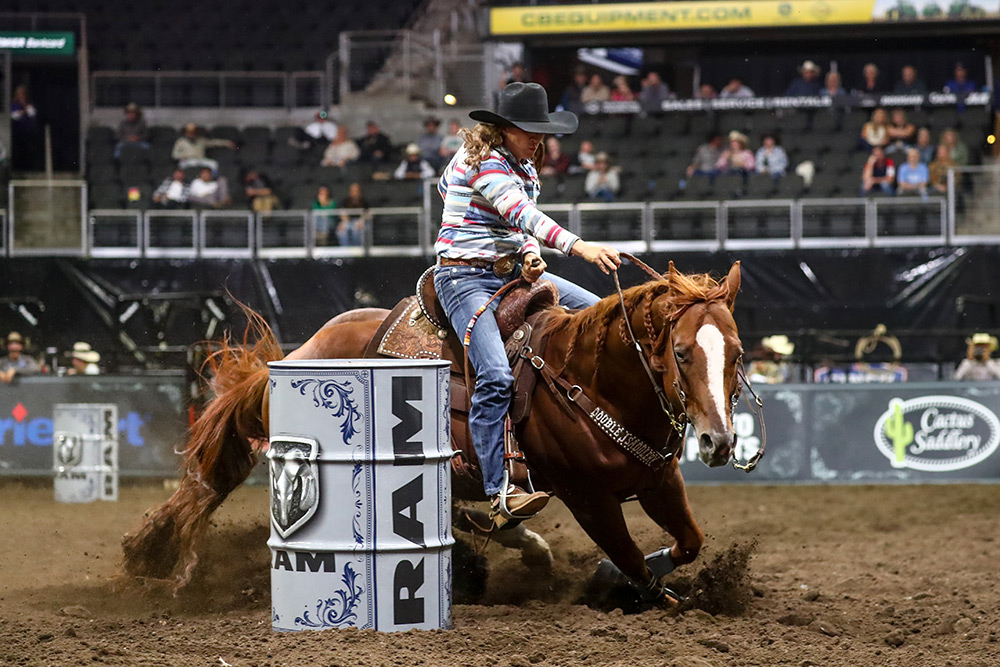 Brittany Pozzi Tonozzi Member Spotlight Pozzi Tonozzi Sets New WPRA Regular Season Earnings Record By Ann Bleiker Photo by Roseanna Sales Brittany Pozzi Tonozzi officially set a new WPRA regular season earnings record during the first round of the inaugural Cinch...
(719) 447-4627
(719) 447-4631 (fax)

431 South Cascade
Colorado Springs, CO 80903
DIRECTIONS
(719) 447-4627 | (719) 447-4631 (fax)
WORLD CHAMPIONSHIP BARREL RACING — Where the Elite Compete®
WORLD CHAMPIONSHIP
BARREL RACING
Where the Elite Compete®