Salt Lake City
Pozzi Tonozzi Crosses $3 Million in Career Earnings with Gold Medal Performance in Salt Lake City
By Ann Bleiker
Ric Andersen, Courtesy Utah Days of '47 Rodeo
---
Nothing is sweeter than Gold in the world of rodeo whether it be a gold buckle for world champions at season end or gold medals at the Only Gold Medal Rodeo in the World in the heart of Salt Lake City.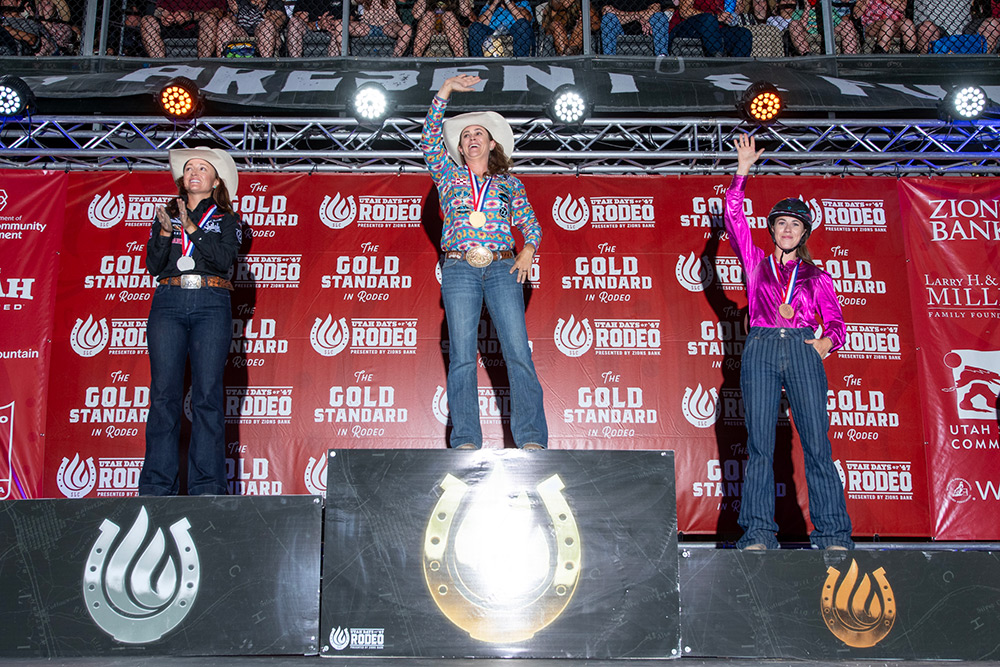 Barrel Racing Winners
Photo by Ric Andersen, Courtesy Utah Days of '47 Rodeo
For two-time world champion Brittany Pozzi Tonozzi she continues to add to her legacy and on Monday night, July 24 she added a Gold Medal to her collection and crossed the $3 million mark in career earnings as the cherry on top. Just this summer she has won Reno, Calgary and now the Utah Days of '47 Rodeo to extend her lead in the WPRA World Standings. She won a total of $17,688 in Salt Lake City that will not appear in the world standings until next week's standings are released since the rodeo ended on Monday.
Pozzi Tonozzi of Lampasas, Texas was the last barrel racer on the cloverleaf pattern and stopped the clock in a quick 16.79 seconds to earn her first gold medal.
"There are no words to describe what I am feeling right now," stated Pozzi Tonozzi just after coming off the medal stand. "This is definitely an exciting time for me. This win ranks right up there as this is a great rodeo and pays well. Plus, it is fun to win a gold medal. This summer has been incredible."
She captured the title aboard Jets Top Gun "Benny" owned by Busby Quarter Horses. Sired by Blazin Jetolena, Benny, has carried Pozzi Tonozzi to all her major wins this summer and hopes to carry her to a third gold buckle.
"I am so thankful for this horse. I have never felt a horse like this before and how he goes around the barrels. I am thankful for the Busby's, my husband and my daughter. This is so awesome," stated Pozzi Tonozzi.
Jordon Briggs, who won Gold in 2022 finished silver in a time of 16.91 seconds and Rachelle Riggers landed on the medal stand for the first time with a 17.19.
Pozzi Tonozzi bought her WPRA card 20 years ago, but she is experiencing a whole new list of new wins (Reno, Calgary, Salt Lake City) in 2023.
"I didn't realize I still had so many first left but it is fun."
Pozzi Tonozzi now joins Sherry Cervi and Lisa Lockhart as the only WPRA members to cross $3 million in career earnings.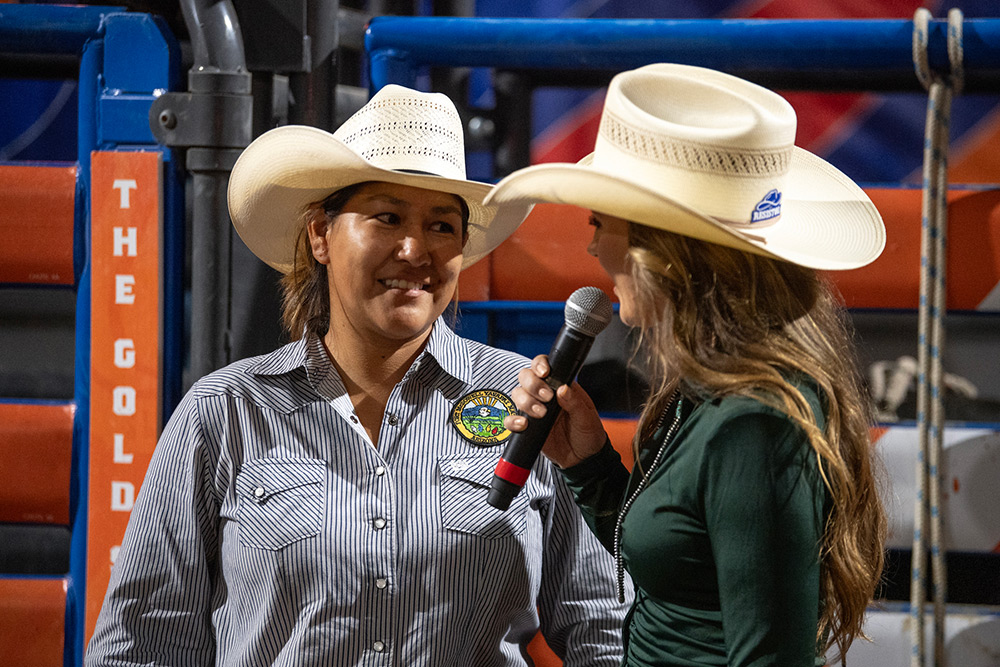 Justine Doka
Photo by Ric Andersen, Courtesy Utah Days of '47 Rodeo
In the breakaway roping Justine Doka, who is married to PRCA team roper Derrick Begay, finished atop the medal stand in a time of 2.0 seconds. Doka kicked off the Utah Days of '47 Rodeo performances on July 19 winning the performance in a time of 1.8 seconds to easily advance to the Gold Medal Round. Doka advanced for a shot at gold landing eighth in the progressive round held the week before. Doka will add $12,840 to her season earnings from Salt Lake alone and will definitely make a big jump in the standings. She entered Salt Lake ranked 94th with $7,591 so her gold medal performance should serve as a game changer for her career.
Zoie Bedke took silver in 2.3 seconds and Erin Johnson won bronze in 2.4 seconds in Salt Lake City.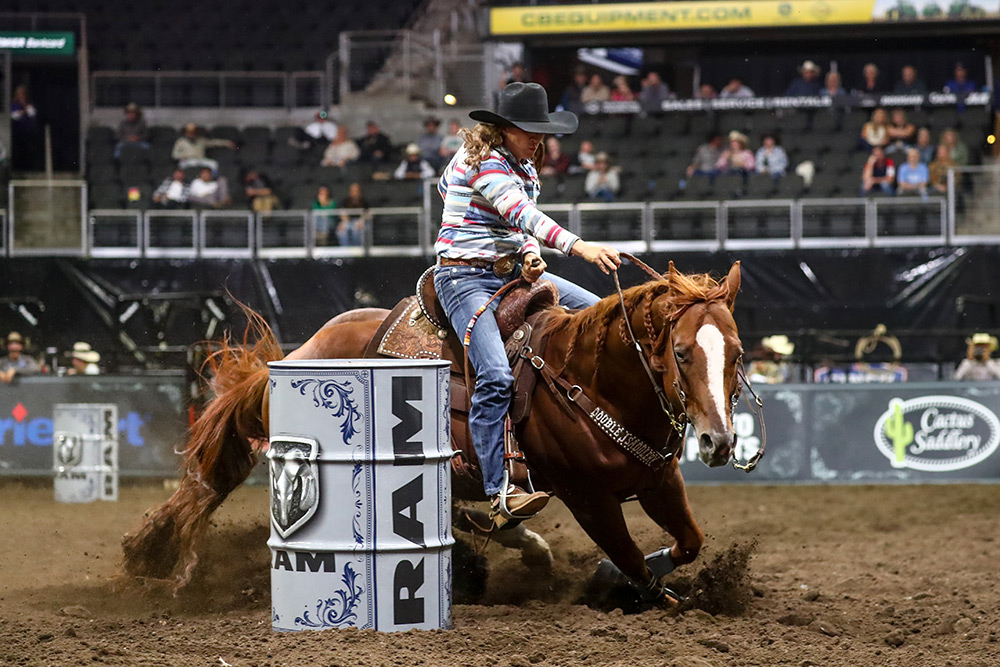 Brittany Pozzi Tonozzi Member Spotlight Pozzi Tonozzi Sets New WPRA Regular Season Earnings Record By Ann Bleiker Photo by Roseanna Sales Brittany Pozzi Tonozzi officially set a new WPRA regular season earnings record during the first round of the inaugural Cinch...
(719) 447-4627
(719) 447-4631 (fax)

431 South Cascade
Colorado Springs, CO 80903
DIRECTIONS
(719) 447-4627 | (719) 447-4631 (fax)
WORLD CHAMPIONSHIP BARREL RACING — Where the Elite Compete®
WORLD CHAMPIONSHIP
BARREL RACING
Where the Elite Compete®