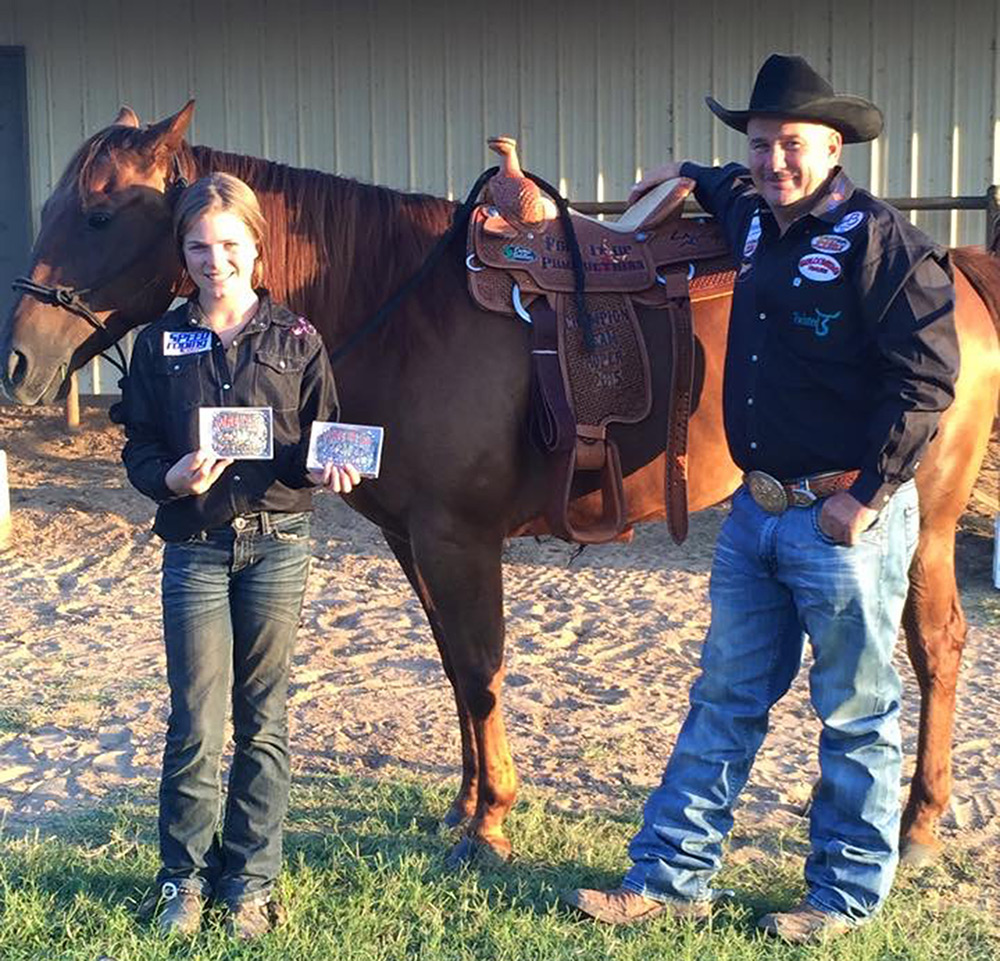 Speed Williams and Daughter Hali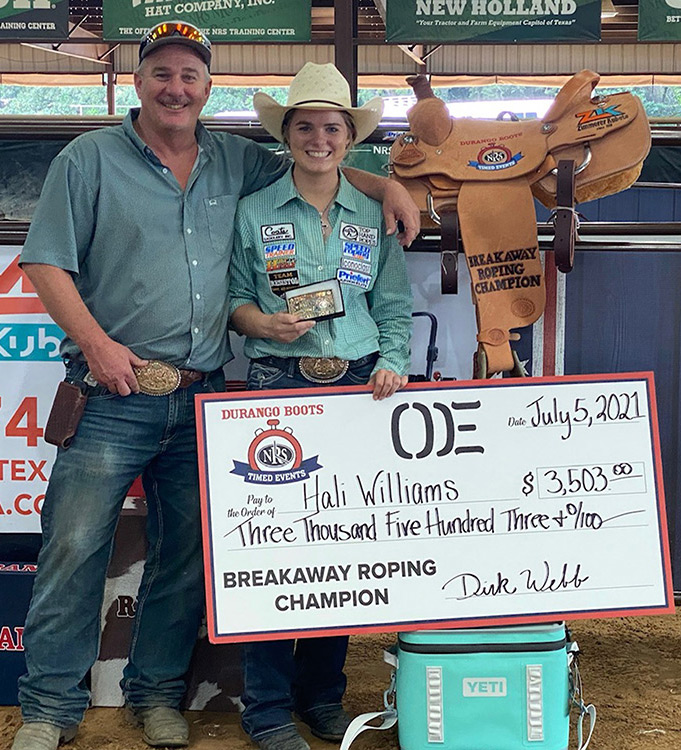 Father's Day
Speed Williams Seeing Fruits of his Labor Paying off Through His Daughter Hali
By Ted Harbin
Photo courtesy Hali Williams
---
Speed Williams had heard the stories from the previous generations about the biggest regrets in rodeo.
Oh, there was a passion for the game they played, and there was an on-again-off-again kinship with the road. They didn't anguish over the competition and the trips to the National Finals Rodeo. They had no remorse for battling to be the best the sport had to offer, but they had regrets.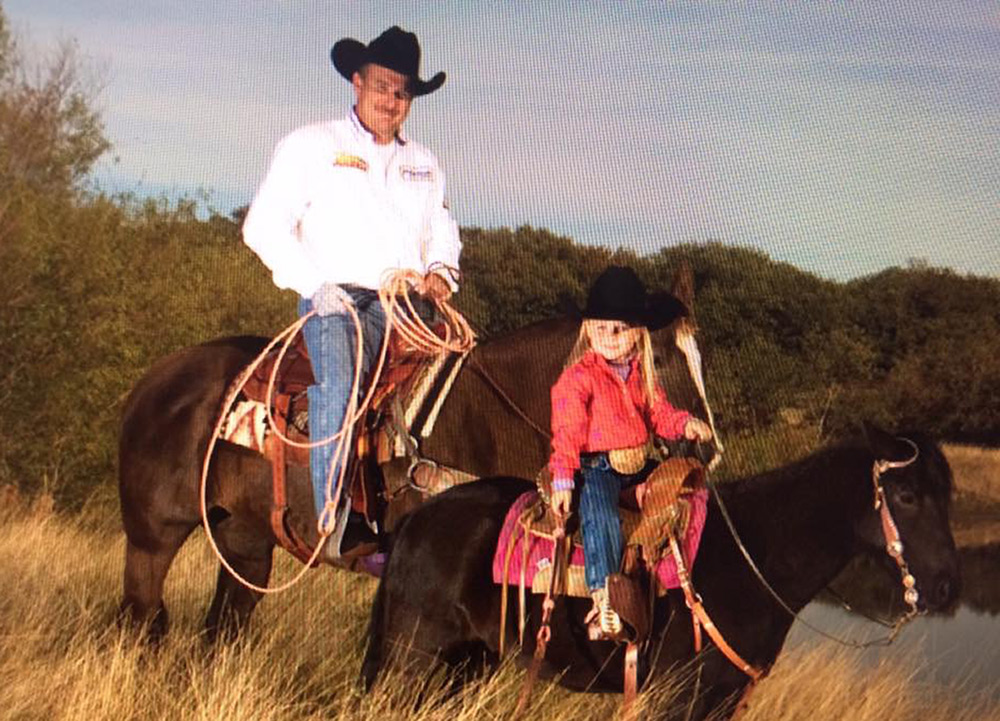 Hali and Speed Williams
Hali Williams has always enjoyed riding horses and having her dad, Speed, there by her side. Although both have had a few birthdays since this image was taken, they still enjoy riding through life together. Photo courtesy Hali Williams
"During mine and Rich's last world title," he said of his eight straight gold buckles earned with his heeling partner, Rich Skelton, "we both had babies on the ground, and both of my good horses had went down. It was a real different year, a struggle year. We went one more year and made the finals, and I got hurt.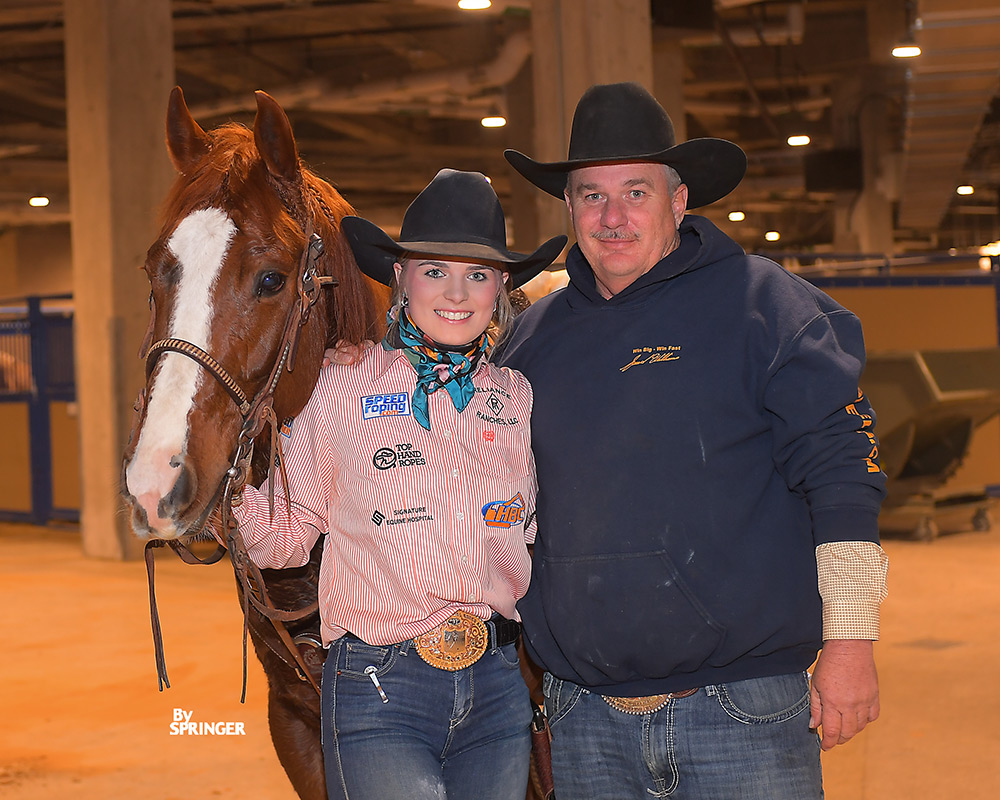 Hali and Speed Williams
Hali Williams has one of the best and most accomplished ropers in the sport of rodeo in her corner but the best part of that is she also gets to call him DAD. Speed Williams won eight consecutive world titles during his career before taking a back seat to competition so he could watch his children grow up. He is now reaping the fruits of his labors as Hali is ranked No. 1 in the WPRA. Photo by Kenneth Springer
"I visited with a lot of old-timers, and one of their big regrets was their kids were graduating high school, and they'd been on the road their whole career and missed a whole bunch."
He didn't want that to happen to him. From 1997-2004, Williams and Skelton knocked down the walls and set a new standard for winning team roping's top prize. Nobody could beat them over that stretch. No tandem has won more. It wasn't until Clay Tryan and Patrick Smith claimed rodeo's gold in 2005 that they were topped.
"I had a few clients that I'd done schools for, very wealthy people, and they'd been gone all the time and didn't have a relationship with their children," Williams said. "That was the burning of the fire behind me, trying to figure out how to make a living not rodeoing. The problem was, I had good money and was making $200,000 to $250,000 in sponsorships. It was hard not to rodeo.
"That's where I came up with my website, SpeedRoping.com, to teach people and my kids while I stayed home and let people see my journey. Now, that's what I do pretty much every day, that and private lessons."
Being a father meant that much to the world titlist. By the time he made his last of 15 NFRs in 2008, he and his wife, Jennifer, were the proud parents of two children, Hali and Gabe. Fifteen years later, the tides have changed and the tutelage he has issued over that time has been learned by his own flesh and blood.
The oldest is Hali, now 19 years old and the No. 1 cowgirl in the WPRA ProRodeo breakaway roping world standings. She's likely not in this position had her father not altered his life and way of living so many years ago. As the calendar now turns to Father's Day, it's a father-daughter tale that's hard to miss.
"I changed my whole projective in life," said Speed, a 2018 inductee into the ProRodeo Hall of Fame. "I wanted to raise my kids on my terms and give them an opportunity in life to make their own decisions. I didn't make my kids rope, but I made it fun. If the kids don't have fun and enjoy it, they're going to find something else to do."
The apples didn't fall far from a very respected tree. Hali is taking 19 years of lessons with her from one rodeo to another, and her season was presented a nice exclamation point with her victory at RodeoHouston in March. That shot her to the top of the money list, a position she won't give up any time soon. Meanwhile, the Comanche, Texas, teenager is trying to build on that status in just her sophomore season on the rodeo trail.
In all his years of battling for gold buckles, all Speed wanted was a chance. From that point, it was all on him if he succeeded or not. He wants those opportunities for the next generation.
"As a young child, she asked me if she could make a living roping," Speed said. "In the team roping world, for a girl that wins, it just raises your number. It's hard to make a living as a young child roping. For all the hours we have spent practicing, for all the hours I've spent to get her to swing a rope and do the things the way I feel needs to be done, she's getting the opportunity in life that breakaway roping has presented.
"Now, she has a chance to control her own destiny."
She's trying to do that and has been for a long time. When she was 7 years old, Hali tried her hand at gymnastics and found success. She was a member of the Junior Olympics team. When Gabe was 5 and started peewee baseball, Hali fell in love with the sport. She dropped gymnastics and traveled the world playing softball.
Back at home, there was always a horse to ride and something to rope. She's been involved in team roping since she could walk and been horseback long before that. She finally decided to forego travel ball by the time she was 12 and focus her athletic and genetic talents on roping. Last season, she finished 28th in the final world standings and fourth in the race for Resistol Rookie of the Year.
"Whatever we did, we were all in," Hali said. "If you did it, you had to strive to be the best at it. That's something both of my parents have instilled."
That's probably why she found success in so many facets of her young life. She had hoped for a better first year, but that's how the wagon rolls down the path sometimes. She learned to overcome challenges and what it's like being on the road.
Those have all been put into perspective in this sophomore campaign. In March, she'd earned just $3,750 while qualifying for the Championship Shootout at NRG Stadium in Houston. After posting a 3.6-second run, she added $50,000 to that and propelled to the breakaway roping mountaintop.
"That win has essentially changed my career," she said. "The winter rodeos were really good to me. They taught me a lot along the way. When it happened, I realized, 'You got your ticket punched to the NFR.' I didn't realize the effect it would have on my career.
"It's ironic, because I finished third at both San Antonio and Fort Worth. When you win something like that, your phone just blows up. It's crazy the difference in the opinions and sponsors we're seeing. Everybody tunes into the final short round at Houston. I was naive at what it meant, but it was a blessing in disguise and opened a lot of doors for me this year."
Those doors were agape decade and a half ago when her dad focused his attention to his kids. Like many little girls, she had big eyes for the big man in her life. She was and is a "Daddy's Girl;" he outfitted the tractor with a seat just for her when he was in it, and she'd ride her little black pony alongside Speed and his horse, even if the weather was less than optimum.
"Her mother would never tote a phone around, so when I was gone, I could never get ahold of my wife," Speed said. "I told Hali, 'If I could get you a phone, would you keep it charged so I could get ahold of you?' She said, 'Yes, Daddy.' She was 2 or 3 years old; she was always a little businesswoman, so I got her a phone.
"I raised my kids to try to think as adults and give them the opportunities to make mistakes while I was around to educate them through that and learning. She's been a very easy child."
There's a no-nonsense way of handling things around the Williams home, but nonsense seems to find its way in. Take Gabe, Hali's little brother. He tends to keep things light. There's not really any pressure to live up to Speed Williams' name; it's all she's ever known. Jennifer is the encourager, the person with the strong hand to keep Hali lined out, while Dad offers his wisdom.
He also keeps things light in his own way. One of Hali's cherished moments came when Jennifer and Gabe were gone, and it was just Hali and her dad.
"He comes in there and asks if I wanted anything for dinner," she said, a smile cracking through her voice. "He was going to make spaghetti. He's got noodles on the stove. No meat. No sauce. Just noodles. I had all this excitement, and I realized that I could make noodles myself."
She will tell that story the rest of her life, and she'll laugh at the comedy of plain spaghetti noodles for dinner. Mostly, though, Hali Williams will honor her father for the lessons he has provided to her and the love he continues to share with her.
"I think the thing that makes him the most special is his try," Hali said. "He gave up his career for me and my brother. He raised us the way he wanted to. I think that means a lot."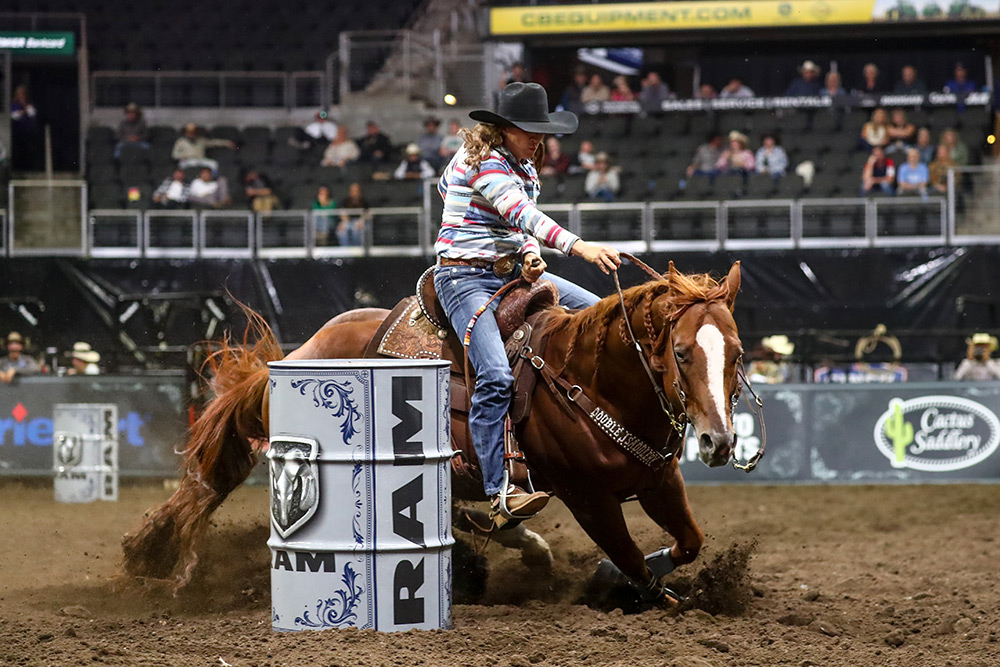 Brittany Pozzi Tonozzi Member Spotlight Pozzi Tonozzi Sets New WPRA Regular Season Earnings Record By Ann Bleiker Photo by Roseanna Sales Brittany Pozzi Tonozzi officially set a new WPRA regular season earnings record during the first round of the inaugural Cinch...
(719) 447-4627
(719) 447-4631 (fax)

431 South Cascade
Colorado Springs, CO 80903
DIRECTIONS
(719) 447-4627 | (719) 447-4631 (fax)
WORLD CHAMPIONSHIP BARREL RACING — Where the Elite Compete®
WORLD CHAMPIONSHIP
BARREL RACING
Where the Elite Compete®