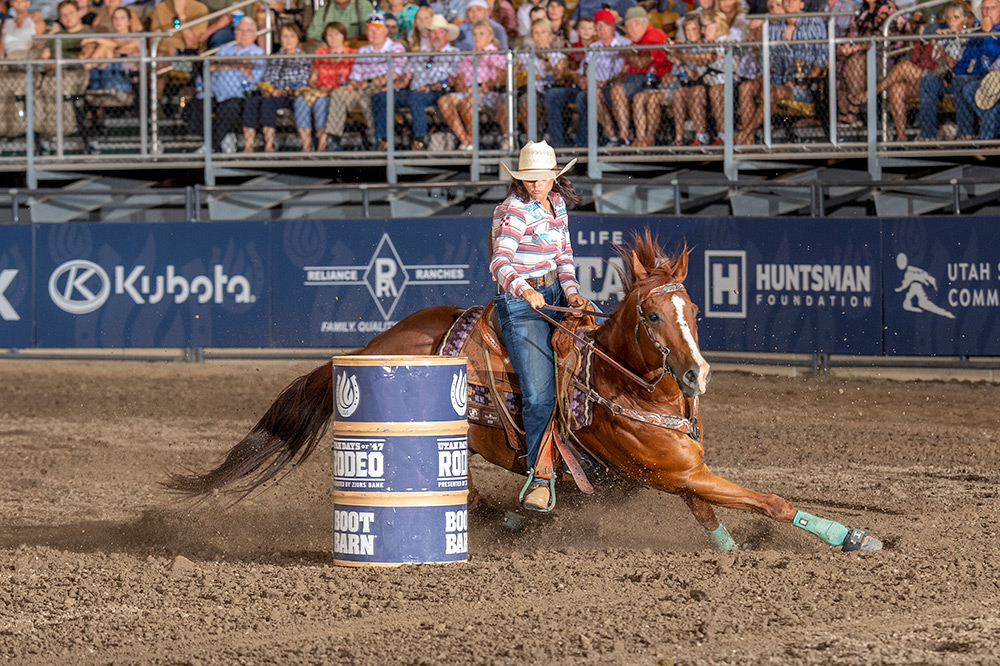 Jordon Briggs

Utah Days of '47 Rodeo
Utah Days of '47 Rodeo Will Be a Stop on the 2023 PRCA Playoff Series
By Ann Bleiker
Photo by Ric Andersen
---
SALT LAKE CITY — The Utah Days of '47 Rodeo in Salt Lake City takes pride in setting the Gold Standard in rodeo and in 2023 they will bring that standard to the ranks of the Professional Rodeo Cowboys Association (PRCA) and the Women's Professional Rodeo Association (WPRA).
The 2023 event will payout an estimated $750,000 and will play an important role in determining Wrangler National Finals Rodeo (NFR) qualifiers and eventual world champions. Not only will PRCA and WPRA contestants have a chance to walk away with a pocket full of cash but they will get the opportunity to win a gold, silver or bronze medal, a staple at this rodeo since 2017, making it the only Gold Medal Rodeo in the world.
"We are excited to once again partner with the PRCA, WPRA and their members that dream of qualifying for the NFR each year," stated Dan Shaw, Utah Days of '47 Rodeo President & CEO. "It is our hope we can make that dream come true for a number of contestants, while also bringing world class rodeo action to our fans here at the Days of '47 Arena. July has always been a profitable month for rodeo athletes and we are honored to now elevate that even more and put Utah on the map among top paying ProRodeos."
The 2023 Utah Days of '47 Rodeo presented by Zions Bank, is slated for July 19-22, 24 and will take place at the $17.5 million state-of-the-art Days of '47 Arena at the Utah State Fairpark, custom designed and built for rodeo. The venue—an outdoor arena located in the heart of Salt Lake City—features over 10,000 stadium-style seats.
"We are excited to have the Utah Days of '47 Rodeo return as a PRCA rodeo and it will offer contestants a great opportunity to win even more money and capture a gold medal as they chase their NFR goals," PRCA CEO Tom Glause said. "It also will be a key rodeo for contestants as part of the lucrative PRCA Playoff Series presented by Pendleton Whisky."  
Beginning in 2023, the Utah Days of '47 Rodeo will be the largest paying professional rodeo in the State of Utah. It will also be a stop on the PRCA Playoff Series where contestants earn points to compete at the Cinch Playoffs in Puyallup, Washington in September. Only the top 60 regular season rodeos are part of this televised series.
"This is exciting news for our members and we are thrilled to have the Utah Days of '47 Rodeo back on the WPRA schedule," stated Jimmie Munroe, WPRA President. "This will be the first time we will sanction the breakaway roping at this prestigious event and what a great opportunity for our breakaway ropers to compete for equal money similar to the barrel racers. I have no doubt that many of our members will be adding this to their scheduled stops in 2023."
The 2023 edition marks only the eighth time in the history of rodeo where riders will have an opportunity to compete for Gold, Silver or Bronze Medals. The first two times were in conjunction with the Olympic Winter Games in Calgary (1988) and Salt Lake City (2002), when rodeo was part of the Cultural Olympiad and the other five times being what is now known as the Utah Days of '47 Rodeo (2017-2019, 2021-22). Breakaway roping was added for the first time in 2019, so 2023 will mark only the fourth year for them to compete for medals. The medals that will be awarded at the Utah Days of '47 Rodeo will be produced by OC Tanner, the same company that made the Olympic medals for the champions of the 2002 Olympic Winter Games.
For more information on the event and when tickets will go on sale visit www.utahdaysof47rodeo.com.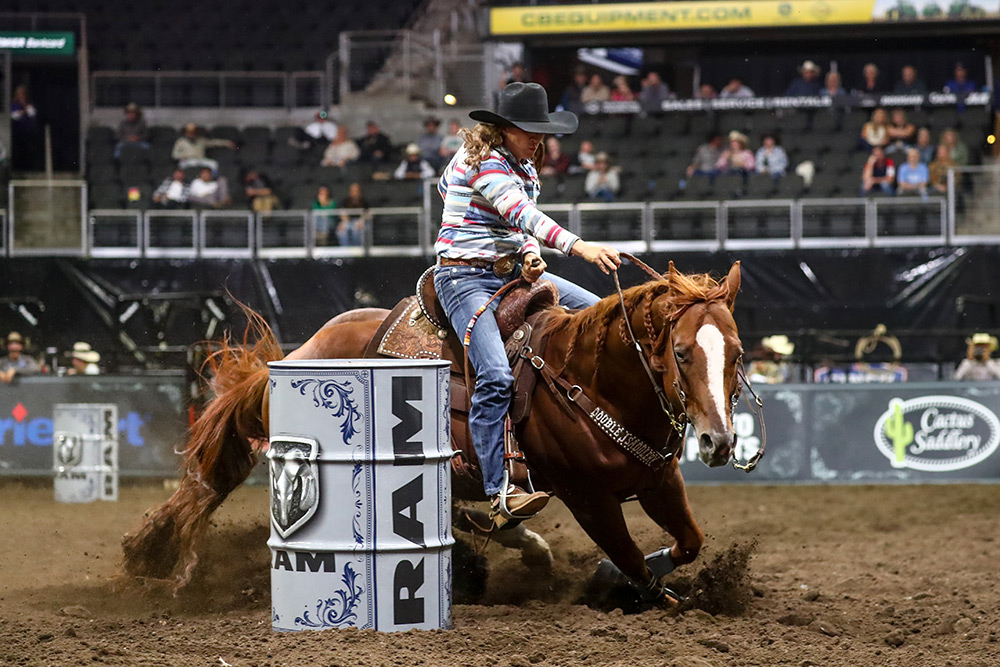 Brittany Pozzi Tonozzi Member Spotlight Pozzi Tonozzi Sets New WPRA Regular Season Earnings Record By Ann Bleiker Photo by Roseanna Sales Brittany Pozzi Tonozzi officially set a new WPRA regular season earnings record during the first round of the inaugural Cinch...
(719) 447-4627
(719) 447-4631 (fax)

431 South Cascade
Colorado Springs, CO 80903
DIRECTIONS
(719) 447-4627 | (719) 447-4631 (fax)
WORLD CHAMPIONSHIP BARREL RACING — Where the Elite Compete®
WORLD CHAMPIONSHIP
BARREL RACING
Where the Elite Compete®