Calgary Stampede
When Its Good, It is Good
By Ann Bleiker
Photo by Fernando Sam-Sin
---
There is no hotter barrel racer right now in the Women's Professional Rodeo Association than Brittany Pozzi Tonozzi. Pozzi Tonozzi of Lampasas, Texas, who now sets No. 1 in the world standings began her hot streak in June winning the Reno (Nevada) Rodeo for the first time in her 20-year WPRA career and setting a new arena record. She followed that up with another title that has eluded her thus far during her career at the Calgary Stampede.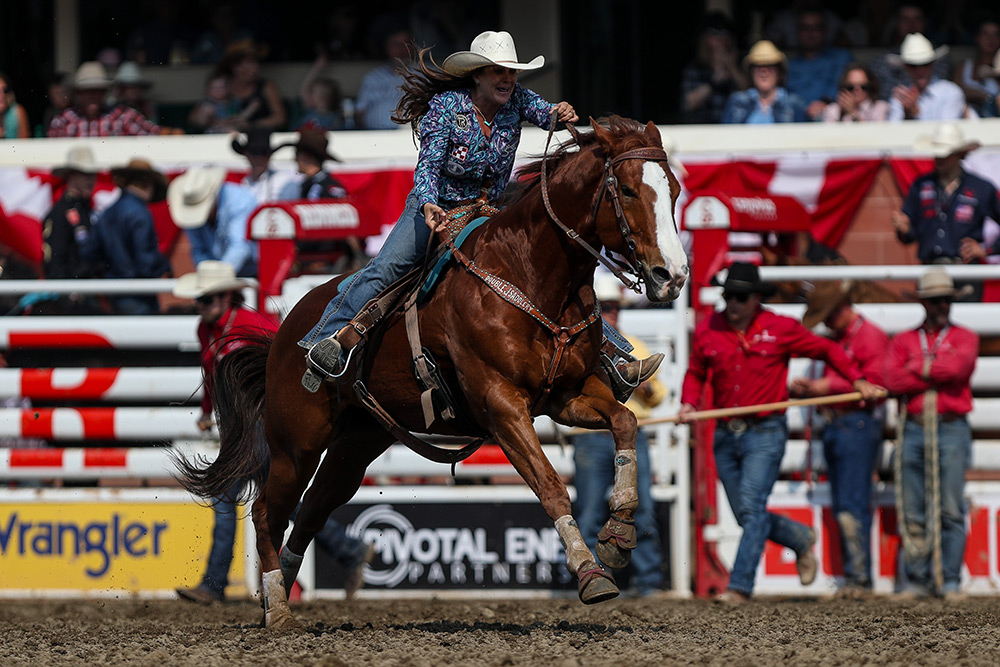 Brittany Pozzi Tonozzi
Photo by Covy Moore
In Calgary, Pozzi Tonozzi outran Lisa Lockhart, Emily Beisel and Taycie Matthews for the title finishing in a time of 17.113 seconds. Both Pozzi Tonozzi and Lockhart have qualified for 16 Wrangler NFRs and both are in position to make it 17 by seasons end. Not only that but Pozzi Tonozzi is positioning herself for a run at a third gold buckle.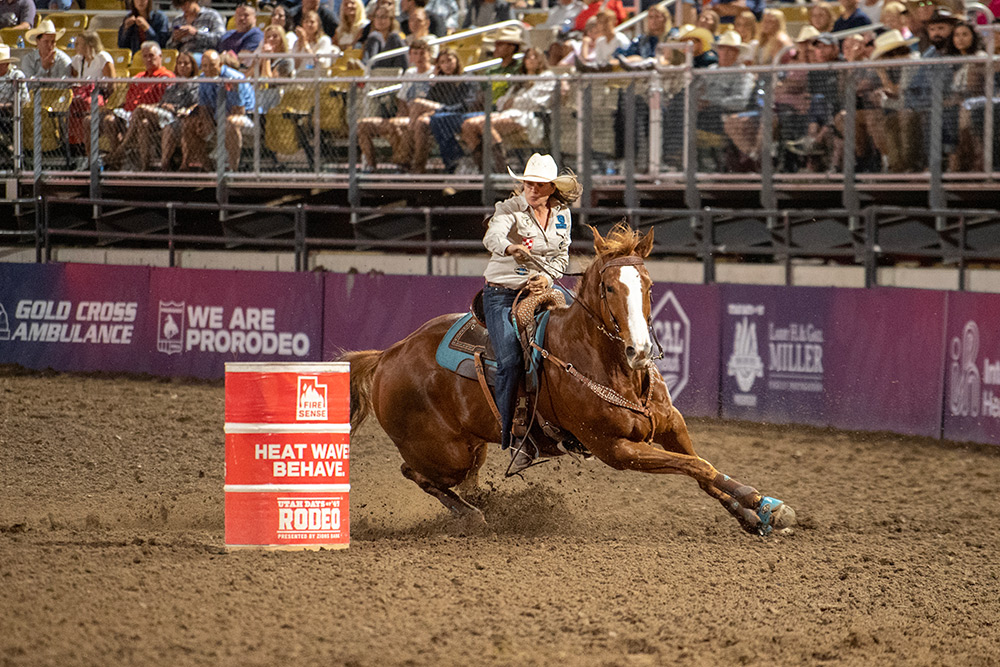 Brittany Pozzi Tonozzi
Photo by Ric Andersen
"In the 19 years I have been coming to this rodeo, dreams do finally come true," Pozzi Tonozzi told the nearly 23,000 fans at the Calgary Stampede on Sunday after picking up the win.
She captured the title aboard Jets Top Gun "Benny" owned by Busby Quarter Horses. Sired by Blazin Jetolena, Benny is definitely making his mark on the barrel racing world.
"Benny may be one of the best I've ever seen play this game and so is Brittany Pozzi Tonozzi," wrote horse owner Andrea Busby on Facebook. "She rode him to absolute perfection. Two incredible athletes stepped up to the plate today when it was all on the line and delivered!"
Following the Calgary Stampede, Pozzi Tonozzi continued their dominance kicking of the Utah Days of '47 Rodeo on July 19 with a winning run as she searches for her first gold medal to add to her two gold buckles. The duo stopped the clock in a time of 17.17 seconds. Pozzi Tonozzi won a bronze medal in Salt Lake City in 2018 and will hope to stand atop the podium on Monday as the fastest barrel racer at the Utah Days of '47 Rodeo.
Pozzi Tonozzi has won $135,974 at 39 rodeos and leads Jordon Briggs who is ranked second with $108,703 at 17 rodeos. Lockhart is now third in the world, searching for her first world title and has won $98,157 at 31 events.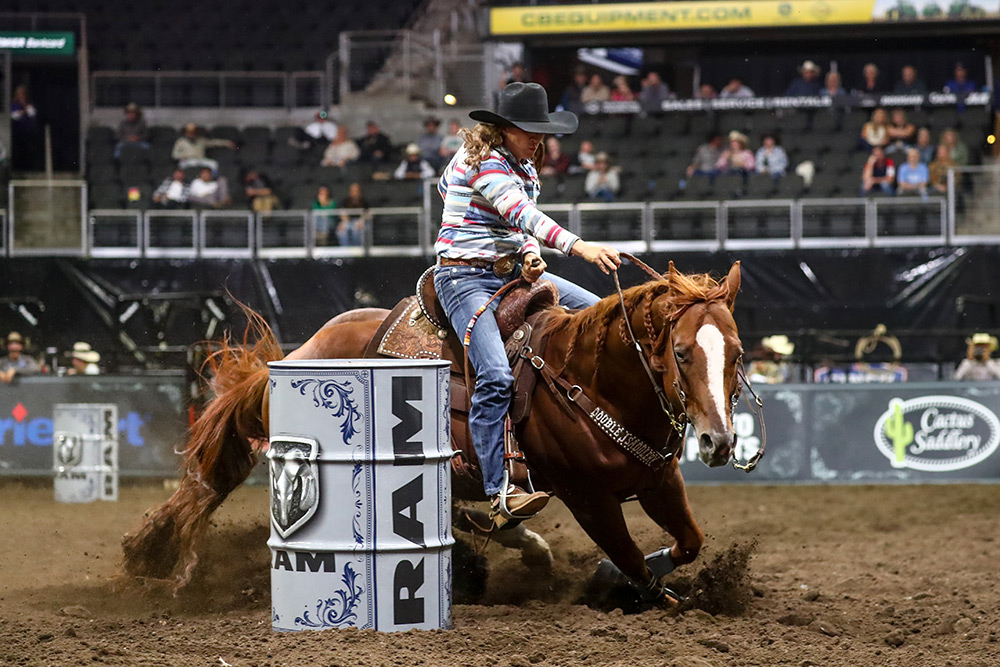 Brittany Pozzi Tonozzi Member Spotlight Pozzi Tonozzi Sets New WPRA Regular Season Earnings Record By Ann Bleiker Photo by Roseanna Sales Brittany Pozzi Tonozzi officially set a new WPRA regular season earnings record during the first round of the inaugural Cinch...
(719) 447-4627
(719) 447-4631 (fax)

431 South Cascade
Colorado Springs, CO 80903
DIRECTIONS
(719) 447-4627 | (719) 447-4631 (fax)
WORLD CHAMPIONSHIP BARREL RACING — Where the Elite Compete®
WORLD CHAMPIONSHIP
BARREL RACING
Where the Elite Compete®