2022 Nutrena Horse of the Year Winners Announced
By Ann Bleiker
---
COLORADO SPRINGS, Colo. – Success in the sport of rodeo doesn't fall on just the human athlete. Their horses play just as big of a factor when they step foot in the arena. The Nutrena Horse of the Year presented by AQHA awards provides recognition to ProRodeo's top horses. Making the award extra special to each WPRA member is the fact that their fellow competitors are the ones that vote on this prestigious award.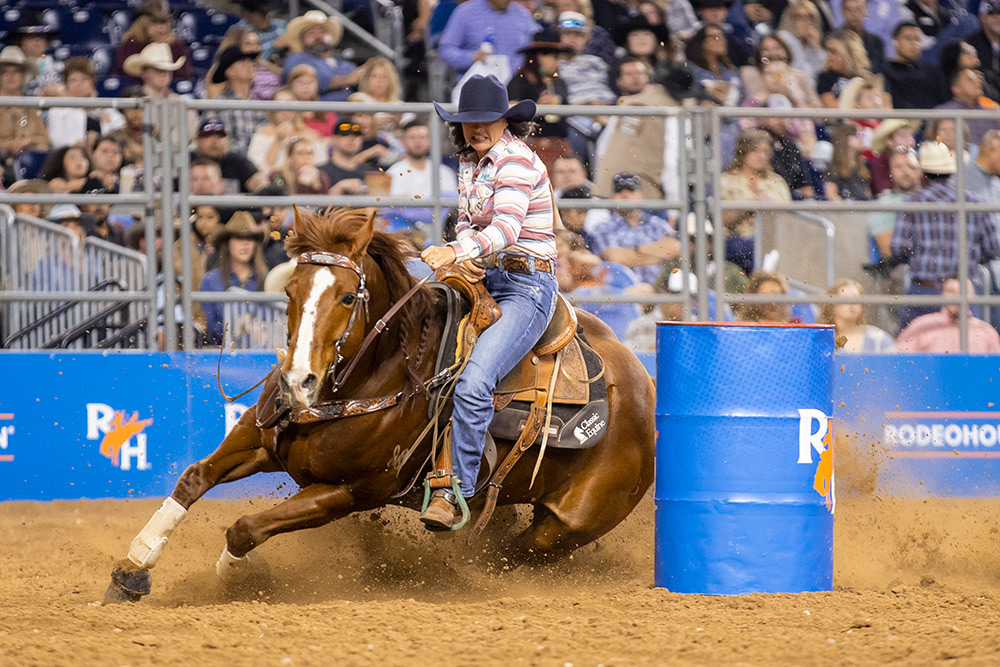 Jordon Briggs
Photo Courtesy RodeoHouston
The 2022 Nutrena Horse of the Year presented by AQHA awards were unveiled Oct. 10. Winning for the second consecutive year in the barrel racing category was Famous Lil Jet "Rollo" ridden by Jordon Briggs and owned by she and her husband, Justin. In 2021, Rollo carried Jordon into the history books winning her first world title and joining her mother, Kristie Peterson, in the elite group of WPRA world champions. This year the 8-year old sorrel gelding has carried Briggs to No. 1 in the world standings with a $50,337 cushion over Dona Kay Rule and High Valor.
"That is so amazing!" said Briggs upon learning the news. "Last year winning this was my favorite title and to win it again is amazing. It's such a compliment that my fellow competitors think Rollo is as great as I do."
Valor and Dona Kay Rule finished second in the 2022 voting after winning the title in 2019 and 2020. Finishing 3rd in the voting was Cuatro Fame "Truck" ridden by Stevi Hillman and owned by she and her husband, Ty.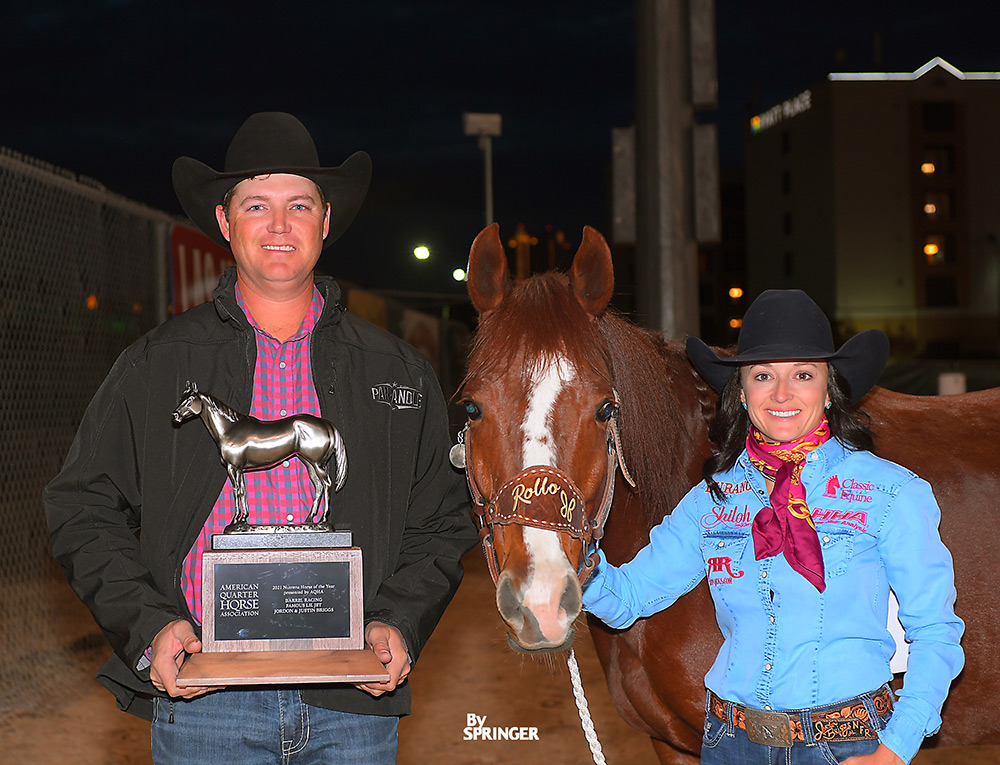 Jordon Briggs
Photo by Kenneth Springer
For the second year, a breakaway roping horse has received recognition in this category as well. Joey Williams' 11-year old bay mare Baybe Bullet "Baybe" captured the title in 2022. Williams and Baybe will be making their second National Finals Breakaway Roping appearance, Nov. 29-30 at the South Point Arena. Baybe is owned by Joey and her husband, Taylor. In fact, Baybe was raised on the family's ranch and was trained by Taylor. Baybe's full sister, J-Lo helped PRCA team roper Clay Tryan qualify for the 2021 Wrangler NFR.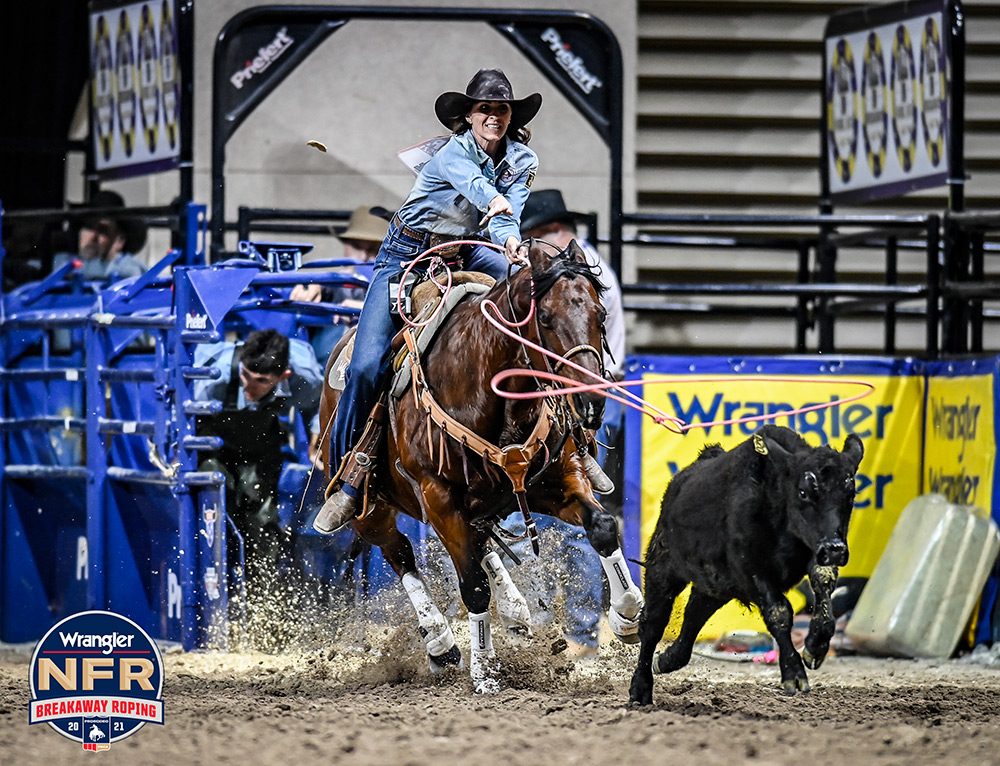 Joey Williams
Photo by Joe Duty
Martha Angelone enters her third NFBR as the No. 1 ranked breakaway roper and that is largely credit to the horse she has ridden this year, Spots Lil Legend "Legend" owned by Tanner Green. Legend and Angelone finished second in the Horse of the Year voting but are looking to cap the year off with a world title.
Rounding out the top 3 on the breakaway side is Stylish Drifter "Dutch" who has carried his owner Josie Conner to the WPRA Rookie of the Year title and her first NFBR qualification. Conner and her 13-year old gelding are looking to write their own headlines for years to come.
The top three horses in each WPRA category are listed below.
Barrel Racing
FAMOUS LIL JET, "Rollo", ridden by Jordon Briggs – owned by Jordon and Justin Briggs
HIGH VALOR, "Valor," ridden by Dona Kay Rule – owned by Dona Kay Rule
CUATRO FAME, "Truck," ridden by Stevi Hillman – owned by Ty and Stevi Hillman
Breakaway Roping
BAYBE BULLET, "Baybe," ridden by Joey Williams – owned by Taylor and Joey Williams
SPOTS LIL LEGEND, "Legend," ridden by Martha Angelone – owned by Tanner Green
STYLISH DRIFTER, "Dutch," ridden by Josie Conner – owned by Josie Conner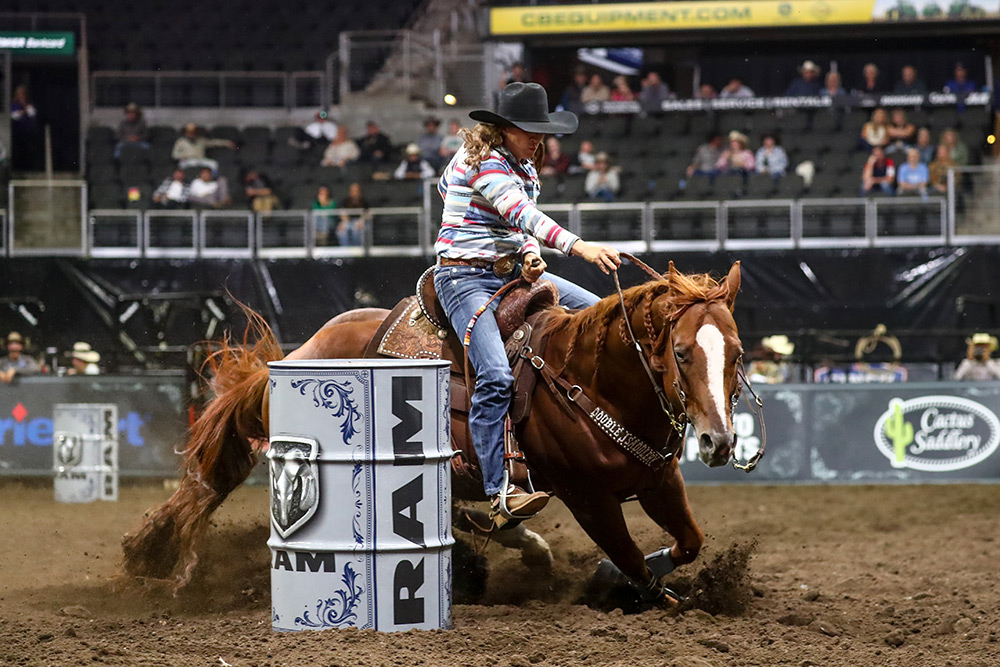 Brittany Pozzi Tonozzi Member Spotlight Pozzi Tonozzi Sets New WPRA Regular Season Earnings Record By Ann Bleiker Photo by Roseanna Sales Brittany Pozzi Tonozzi officially set a new WPRA regular season earnings record during the first round of the inaugural Cinch...
(719) 447-4627
(719) 447-4631 (fax)

431 South Cascade
Colorado Springs, CO 80903
DIRECTIONS
(719) 447-4627 | (719) 447-4631 (fax)
WORLD CHAMPIONSHIP BARREL RACING — Where the Elite Compete®
WORLD CHAMPIONSHIP
BARREL RACING
Where the Elite Compete®