2022 ProRodeo Hall of Fame Class Announced
By Ann Bleiker
---
COLORADO SPRINGS, Colo. – The Class of 2022 ProRodeo Hall of Fame inductees were announced on Tuesday, April 12 and will mark the 43rd annual induction. A total of 11 will be inducted including two representatives from the Women's Professional Rodeo Association (WPRA) on July 16.
1964 WPRA World Champion Ardith Bruce will be inducted into the WPRA Barrel Racing category, while Cindy Rosser will be inducted as a WPRA notable. Bruce and Rosser will join the following on the PRCA side – Trevor Brazile (all-around), Bobby Mote (bareback riding), Bobby Harris (team roping), Jake Beutler (stock contractor), Rick Young (contract personnel – clown), Mel Potter (notable), Medicine Woman (livestockstock – saddle bronc), Whiskey (livestock – steer wrestling horse), and Burwell, NE (rodeo committee). John Van Cronkhite will also be honored with the Ken Stemler Pioneer Award during the Cowboy Ball on July 15.
Ardith Bruce, who was born July 22, 1931 and currently resides in Fountain, Colorado, has been a member of the WPRA since 1960, reaching the pinnacle of the sport in 1964 when she won the world title aboard a horse known as Red, registered as Straws Kingwood Snip. The duo won $6,510 that year, edging Sissy Thurman by $400 to win the title. That same year, Red was the AQHA Reserve World Champion Barrel Horse and in 1965 was the first GRA/WPRA barrel horse to ever be featured in color on the cover of the Quarter Horse Journal.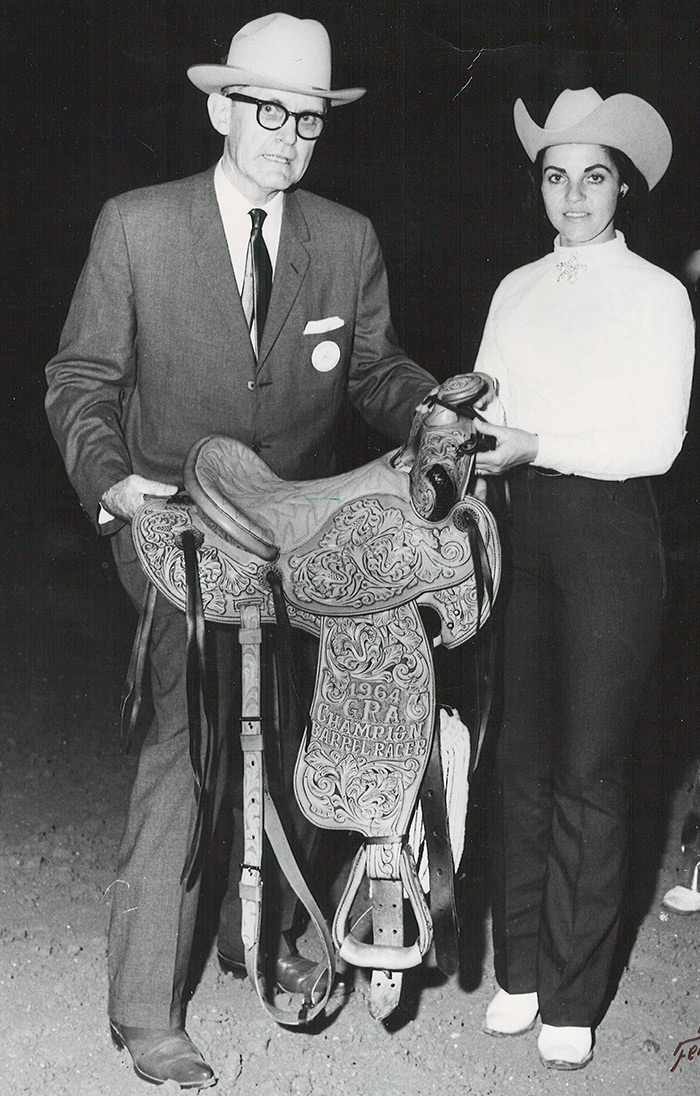 Ardith Bruce
1964 WPRA World Champion
"Oh wow," said Bruce upon learning of her induction into the ProRodeo Hall of Fame. "This is a surprise to me but I feel deserving of this recognition. I am honored to be joining an elite group of hard working ladies that have received this honor before me."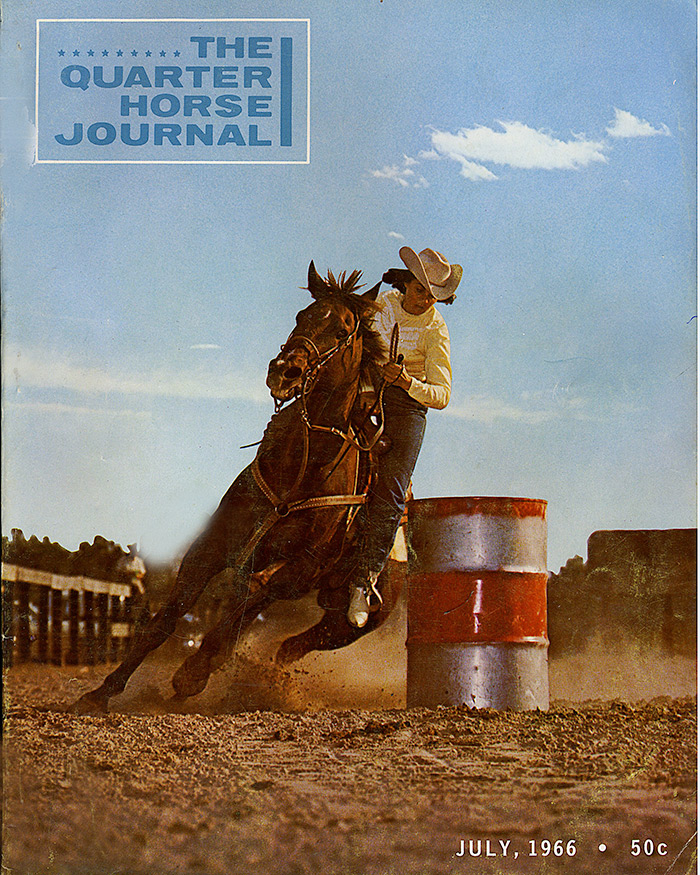 Ardith Bruce
Quarter Horse Journal
Bruce landed among the top 15 seven consecutive years from 1963 thru 1969. In 1967, she and Red won the Houston Livestock Show and Rodeo the first year it was held in the Astrodome.
Red loved running close to home – he won the Pikes Peak or Bust Rodeo in Bruce's hometown of Colorado Springs six times. She was inducted into the Pikes Peak or Bust Rodeo Hall of Fame in 1997.
Bruce was among the early GRA members to conduct barrel racing clinics and often traveled to Hawaii to conduct them. In addition to barrel racing, she spent a great deal of time on the race track and became the first female licensed outrider in the State of Colorado.
She also gave back and remained loyal to the association for decades even after retiring from full-time competition. When the Association's headquarters was moved to Colorado Springs, Bruce was there to help get things up and running. Her dedication and loyalty to the association carried over to the next generation with her granddaughter, Amber Bruce West, serving a term on the WPRA Board and now her great granddaughter is running barrels in college. Ardith was the one to put together a celebration party when Scamper was the first barrel horse to be inducted into the ProRodeo Hall of Fame and was once again on hand to see the first WPRA members inducted into the ProRodeo Hall of Fame in 2017.
Cindy Rosser, similar to Bruce, has been a staunch supporter of the WPRA for decades and has worked every facet of the rodeo business. Born December 7, 1954 to Cotton and Linda Rosser in Yuba City, California, she grew up horseback and rodeo has remained her life's work. She joined the GRA/WPRA in 1969 and served 20-plus years on the Board of Directors. She was the California Circuit Barrel Racing Champion in 1982.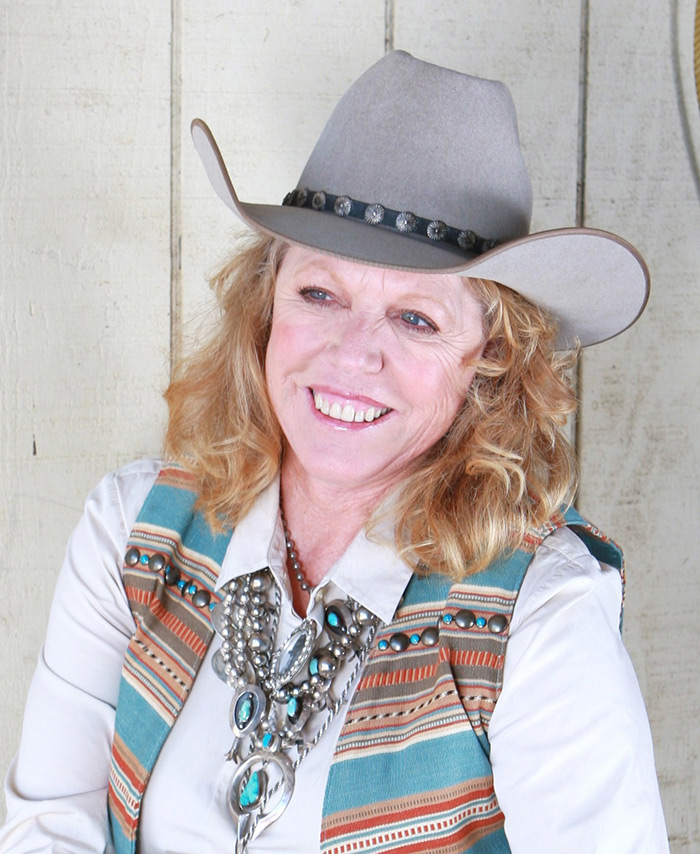 "You are kidding…wow, wow, wow," said Rosser when she learned of her induction while working cattle on the family ranch. Rosser is only the second WPRA notable to earn induction into the ProRodeo Hall of Fame with Florence Youree being the first. "I am honored to be put in the same category as Florence, an early member of the GRA. That is quite an honor and it is great that the ProRodeo Hall of Fame is recognizing the women of the WPRA.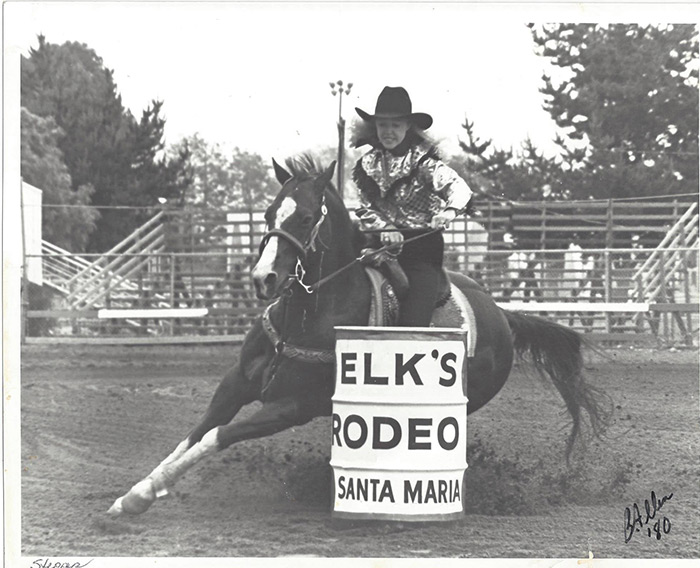 "It is truly a great honor to be in there with some great people."
Rosser has had a hand in rodeo production all her life and in 1986 was named the PRCA Secretary of the Year, in 1998 she was selected as the NFR Rodeo Secretary and in 2012 was the Ram National Circuit Finals Rodeo secretary. She has also carried the American flag in the opening ceremonies and has trained numerous horses to jump through paper, stand in a Liberty Bell, a birthday cake, a ring of fire, and more. She also produced and designed openings and sponsor flags at the NFR for 10 years.
In 1995, she was named the Coca-Cola WPRA Woman of the Year, in 2015 she received the Lenora Reimers Heritage Award through the WPRA and in 2019 was honored with the Tad Lucas Award from the National Cowboy Museum. 
Rosser is also a member of American Bucking Bull, Inc. and has sat on their Board of Directors for more than 6 years. She currently resides in Marysville, California.
Full information on the PRCA inductees can be found at www.prorodeo.com. 
The 2022 ProRodeo Hall of Fame Inductions are scheduled to take place at 10 a.m. MT on July 16 in Colorado Springs, Colorado.
Editor's Note: The information enclosed in this release is courtesy of the Women's Professional Rodeo Association (WPRA) for media use. However, if you reprint any of the following information verbatim in your publication, or if you read it verbatim on a radio broadcast, please mention that the information is courtesy of the WPRA.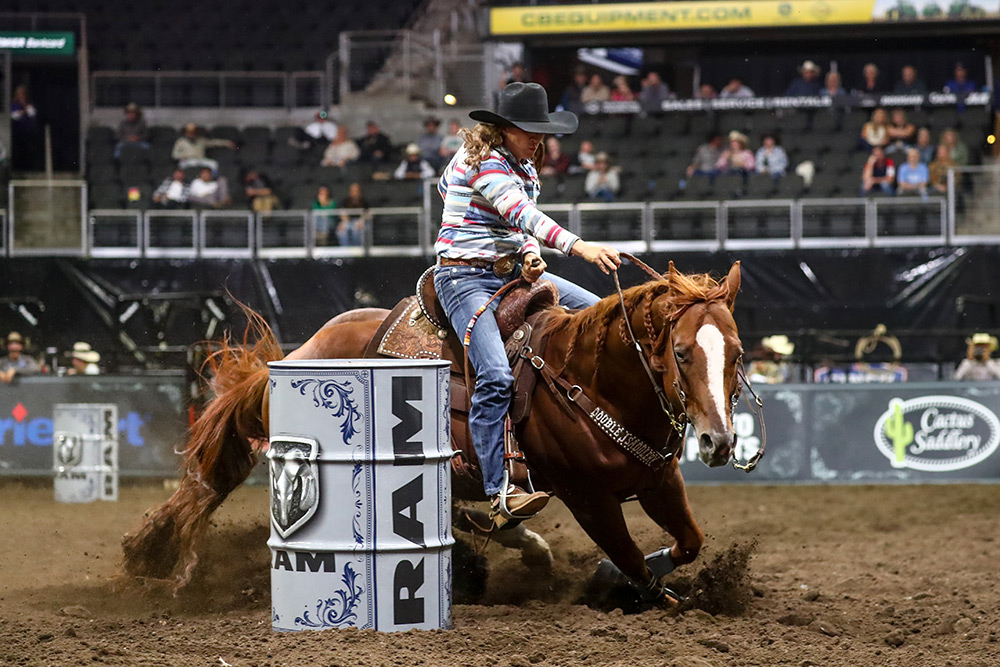 Brittany Pozzi Tonozzi Member Spotlight Pozzi Tonozzi Sets New WPRA Regular Season Earnings Record By Ann Bleiker Photo by Roseanna Sales Brittany Pozzi Tonozzi officially set a new WPRA regular season earnings record during the first round of the inaugural Cinch...
(719) 447-4627
(719) 447-4631 (fax)

431 South Cascade
Colorado Springs, CO 80903
DIRECTIONS
(719) 447-4627 | (719) 447-4631 (fax)
WORLD CHAMPIONSHIP BARREL RACING — Where the Elite Compete®
WORLD CHAMPIONSHIP
BARREL RACING
Where the Elite Compete®