Angelone Adds Name to History Books with 2022 WPRA World Champion Breakaway Roping Title
By Ted Harbin
Photo by Jackie Jensen
---
Around Thanksgiving this year, Martha Angelone (pronounced Ang-a-lone-e) loaded up her truck and trailer and left Stephenville, Texas, for the Nevada desert.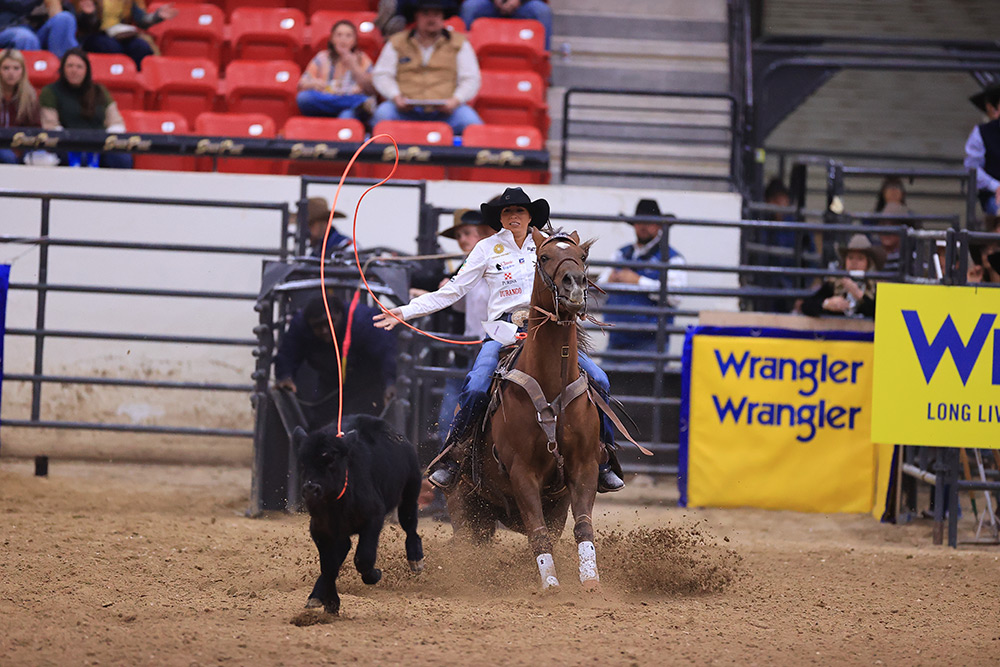 Martha Angelone
Photo by Jackie Jensen
She was missing something, though. She was packed and on her way, but the most cherished piece of her championship puzzle was staying behind. Spots Lil Legend, a 13-year-old sorrel gelding she calls Legend, couldn't make the trip. He was still rehabilitating after colic surgery in September.
"It broke my heart that I had to leave for the finals and couldn't take him with me," said Angelone, originally from Cross Junction, Virginia, but now living in Stephenville, Texas. "He's doing perfectly fine now, but I was only going to have a week to get him ready for the finals instead of giving him more time and getting him ready for the big winter rodeos next year.
"He's old enough, too. These horses deserve the time off that they need, and I knew I was going to need him for next year. Going out there, I realized I needed to win one check, and I'd win the world."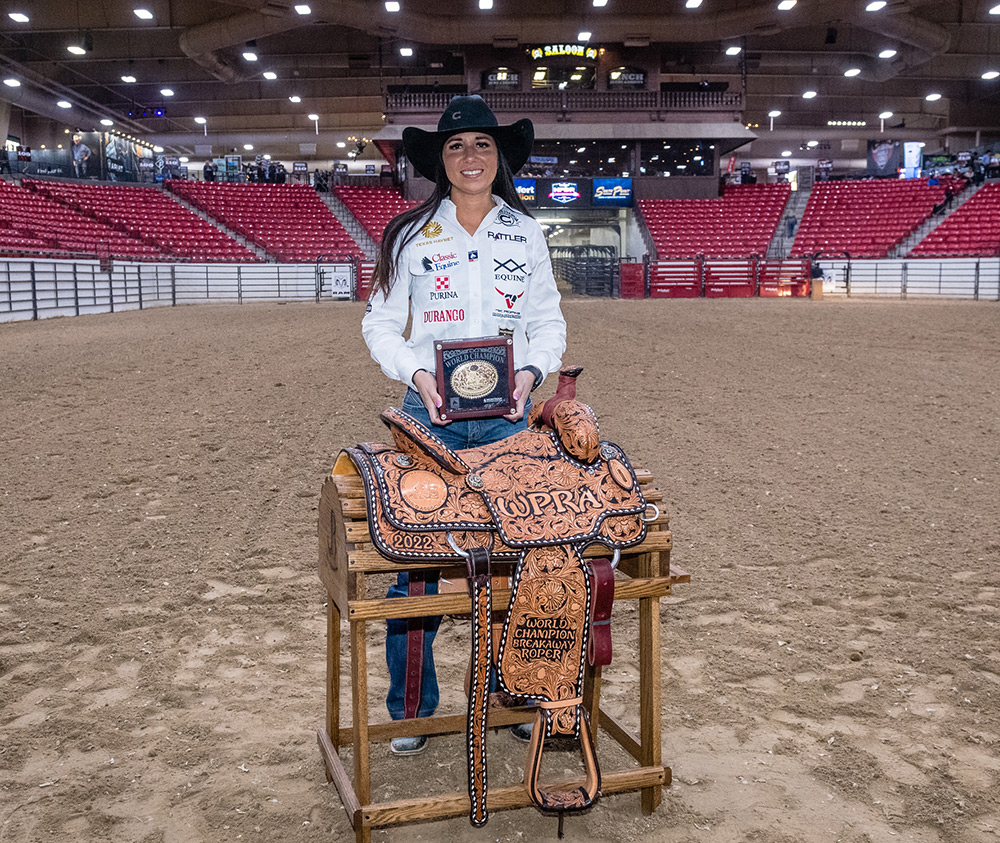 Martha Angelone
Photo by Dan Lesovsky
That's because Angelone was pretty dominant, especially toward the end of the regular season. She won San Antonio; Reno, Nevada; the NFR Open in Colorado Springs, Colorado; and shared titles in Red Lodge, Montana, and Goliad, Texas. She entered the National Finals Breakaway Roping at the South Point in Las Vegas No. 1 in the world standings with $109,000, then earned $21,000 over two days to earn her first Montana Silversmiths gold buckle.
"It is my first WPRA world title and I'm going to try to make it repeat as many times as I possibly can," she said. "My goal is to make the NFR and be in the top 15 and set myself up for each year. I feel like how I looked at it this year, I set myself up for a lot better. All of our goals are to win the world. I didn't set that as a goal when I got there.
"I told myself, 'Go place on every calf.' I didn't really have the horsepower I had this (regular season), but I had a different mindset. How it played out this year had a lot to do with my mindset."
It was a bit of an up-and-down campaign to get her to the breakaway roping finals. She had one big win in the Texas buildings, and that came in San Antonio. That was worth more than $11,000 and kept her in the game. Once the summer run hit, so did Angelone. While riding Legend, she gathered big checks in a hurry.
At three rodeos spread over a month, from mid-June to mid-July, she collected nearly $35,000, with almost $26,000 coming at the NFR Open.
"For me, standing on the stage at the Thomas & Mack after Round 10 was the highlight for my year; that was such a cool moment," Angelone said. "From the wins, the one in Colorado Springs was pretty special to me.
"I won almost $30,000 there, and I ended up being the Top Gun winner. It ended up being a cool experience."
By the time the regular season came to a close, she had built a lead that was almost insurmountable. She was $37,000 ahead of her closest competitor, Erin Johnson of Fowler, Colorado. By the time the breakaway roping finals concluded, Taylor Munsell of Alva, Oklahoma, had become the reserve world champion. The average title went to Weatherford, Texas, cowgirl Cadee Williams, who finished with a 10-run cumulative time of 31.9 seconds.
"I wasn't going into the finals trying to win the average," Angelone said. "Since our finals pays $5,000 a go-round, I was going in there to see how much money I could win in the rounds."
She placed six times and also finished with the fastest run of the two-day finale. She stopped the clock in 1.8 seconds to win the eighth go-round and collect the Betty Gayle Copper Fast Time Award from the National Cowgirl Hall of Fame.
"That was cool," she said. "I've always been one that if there's a roping that gives something away for the fast time, I want to win it. I used to be known as a go-round roper, because I like to throw fast and I like to be fast. It's really cool that I ended up winning that, too."
She did it without her main man, Legend. Since he was unavailable, Angelone leaned on Gunna Shock Ya, a 7-year-old sorrel gelding she calls Jesse James. When Legend went down, Jesse stepped up. When it was his time to shine in Las Vegas, he did.
"That horse is a bad cat, too," Angelone said. "I've always said that he might not do what he needs to do, but I need to give him more credit. In the two weeks out there, he didn't do one thing wrong. He worked absolutely amazing.
"Even this past summer, he was there. I had some girls that their good horses got hurt or they'd fly in and need a horse, and I'd let them ride him. He may spook a little here and there because he's green, but he's super easy to ride."
That made all the difference when it came down to crunch time. It was Jesse's job through the final month of the regular season, and it was the young gelding's task inside the South Point Equestrian Center.
"I love that we get to rope in Las Vegas and get to experience the same thing as the boys," she said. "I know we want to be in the Thomas & Mack at the end of the day, but there are positives to being where we were. There are so many good ropings while we're out there."
Like several other breakaway ropers, she stayed in Sin City and took in the jackpots around town, many of which were sanctioned by the WPRA. They helped pad her pocketbook in in the process.
Whether she was roping in Las Vegas or Cheyenne or San Antonio or Reno, Angelone had a support system that was the guiding force behind all that she did. Her mother (Carrie Stanovick) and sister (Sarah) have been there all her life, and her boyfriend (Tanner Green) helped out through the struggles that come with rodeoing for a living. He even sent his good tie-down roping horse to California when Legend had surgery.
The Angelone sisters are both all-around cowgirls who compete in all WPRA-sanctioned roping events having learned how to rope from their late father Vito, who passed away in 2016 from his battle with cancer. The second week of November, the sisters team roped together at the WPRA World Finals where Martha was Sarah's biggest cheerleader as Sarah became the first WPRA world champion in the family, winning the all-around title. Martha finished reserve all-around champion. When the money changed in breakaway roping a few years ago, Martha jumped on the bandwagon and chased the dollars and the prizes available to the women who rope for a living. Sarah isn't as keen on traveling like Martha, so they haven't hit the road together yet. The sisters have gathered great horses and confidence and built a business and their names in the business one run at a time.
As her two weeks in Las Vegas came to a close, Martha was asked to join the other ProRodeo world champions on the stage inside the Thomas & Mack Center, a first in breakaway roping history. Each titlist was introduced to the crowd, then handed their gold buckles before posing in front of their trophy saddles, and the brightest smile may have been Angelone's.
Two seasons ago, she stood next to Jackie Crawford when Crawford won the first ProRodeo breakaway roping world title and Angelone finished as the runner-up.
"Ever since that moment, I told myself that I wanted to be standing where I was the day I got the buckle at the South Point," Angelone said. "It became a reality.
"When I rode out of the arena in Colorado Springs, I told myself I had a really good chance to win the world. I loved winning Reno. I loved being the first one to win in San Antonio, but nothing tops how nervous I was when I got on that stage at the Thomas & Mack. I didn't know what to say."
She'll have to overcome that soon. She is the world champion and will always be one, whether she's at a jackpot in rural Erath County, Texas, or on the biggest stages of ProRodeo.
"I have been thinking about how cool it is that I won the world," she said. "I think it will hit me most when I start going places, and the announcers start saying it when they introduce me."
Ladies and gentlemen, world champion Martha Angelone.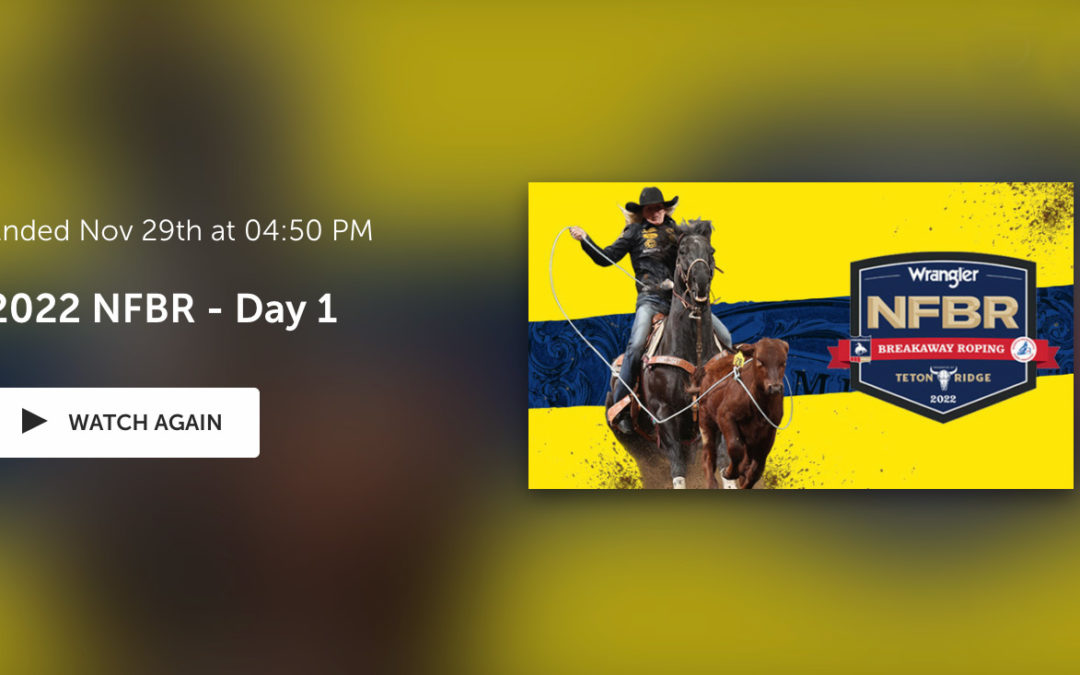 QUICK LINKSROPINGNFBR STORIES431 South Cascade Colorado Springs, CO 80903(719) 447-4627 (719) 447-4631 (fax)Privacy Policy Contact US431 South Cascade Colorado Springs, CO 80903 DIRECTIONS(719) 447-4627 | (719) 447-4631 (fax)Privacy...
(719) 447-4627
(719) 447-4631 (fax)

431 South Cascade
Colorado Springs, CO 80903
DIRECTIONS
(719) 447-4627 | (719) 447-4631 (fax)
WORLD CHAMPIONSHIP BARREL RACING — Where the Elite Compete®
WORLD CHAMPIONSHIP
BARREL RACING
Where the Elite Compete®