NFR Open Preview
Angelone and Allan Back to Defend Titles
By Ted Harbin
Photo by Brian Gauck
---
As Martha Angelone stood on the stage at the National Finals Breakaway Roping last December, she reflected on a world-championship season.
There were some amazing moments that led to her being atop the breakaway roping standings, and one of the rodeos that stood out among them was her victory at the inaugural NFR Open, the newly minted surname of the longstanding National Circuit Finals Rodeo.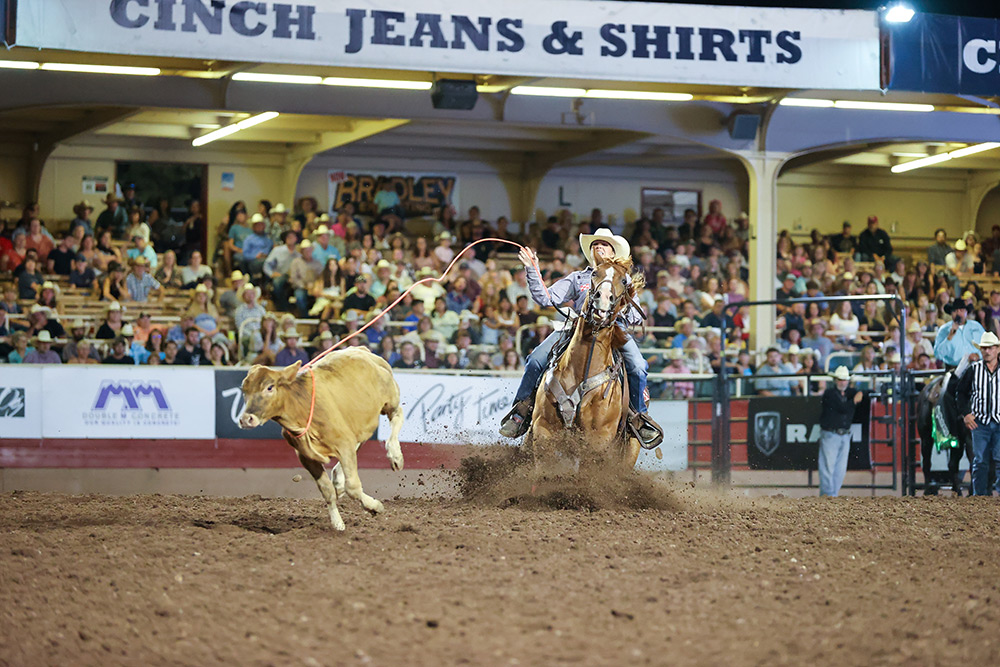 Martha Angelone
Photo by Brian Gauck Rae
"The Colorado Springs (win) was pretty special to me," said Angelone, who pocketed $35,000 last July, with about $26,000 coming at the Pikes Peak or Bust Rodeo, the NFR Open's host. "When I rode out of the arena in Colorado Springs, I told myself I had a really good chance to win the world."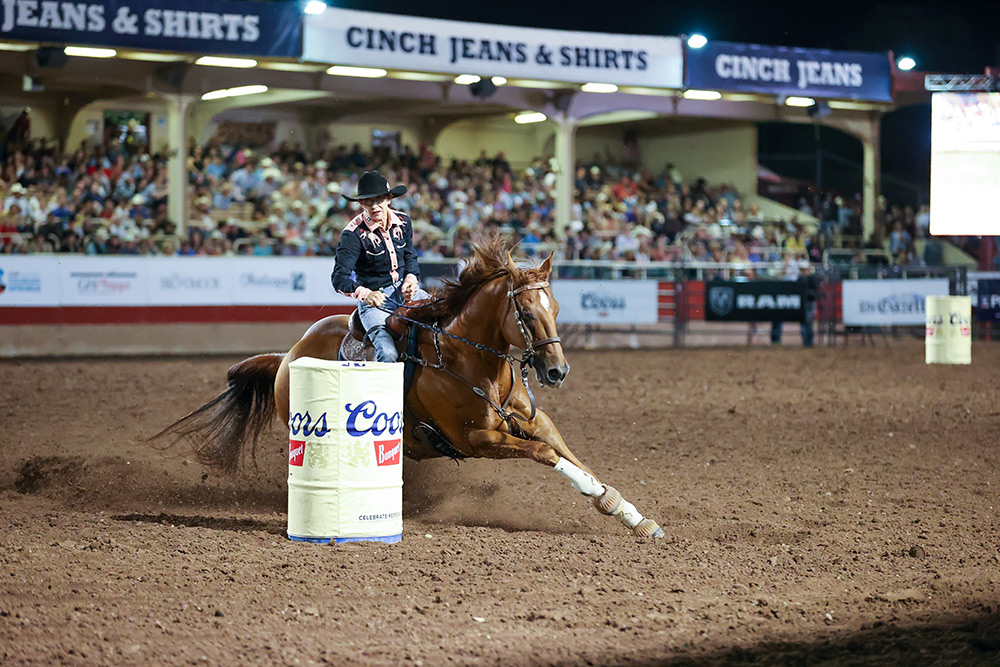 Cheyenne Allan
Photo by Brian Gauck Rae
It was one of many victories for the Virginia-raised cowgirl now living in Stephenville, Texas, but it was the most significant financially. Since dollars equal championship points, that paycheck in Colorado Springs was uber valuable to Angelone. She has the chance to repeat during this year's finale, set for July 11-15.
She finished the year with $130,304, the only breakaway roper to earn six figures in 2022. She was about $40,000 better than the reserve world champion, Taylor Munsell of Alva, Oklahoma, who roped in more than $21,000 at the South Point Equestrian Center to secure the No. 2 spot in the final standings.
Munsell, too, will return to the NFR Open as a two-time year-end titlist of the Prairie Circuit, the ProRodeo series of rodeos primarily in Oklahoma, Kansas and Nebraska. By the time she reached the regional finals last October, Munsell was in chase position. Despite a rough start — a no-time in the opening of three go-rounds — the 2019 college champion won the final two nights and earned a third-place payday in the aggregate.
"It was a good circuit finals," said Munsell, who earned her National Intercollegiate Rodeo Association title while competing at Northwestern Oklahoma State University. "It just gets tougher and tougher every year. My confidence level is definitely a lot better now. This is a great end to the year."
It also gave her a chance to pad her income in Colorado Springs, and she could use it. While Angelone is again in the top five of the money list, Munsell is on the outside of the Top 15 and looking in.
Barrel racer Cheyenne Allan isn't really looking at her place in the world standings as she prepares for her trip to Colorado, but she'd love the opportunity to be a back-to-back winner of the NFR Open. She's done that sort of thing before, winning Pendleton, Oregon, in consecutive years and being the Columbia River Circuit year-end titlist in 2021 and 2022 to earn successive berths to the national championship.
"It's a great privilege," said Allan of Mabton, Washington. "Anybody that makes it to Colorado Springs for this has got to be very good in their event, blessed by God and know it's a privilege to go there. In the barrel racing world, the caliber of horses and riders are top notch.
"It's like going to the National Finals Rodeo. A select few — and there's a reason why they're selected – have proven themselves in their circuits. I'm looking forward to it."
Last July, she placed in the second round and finished third in the two-run aggregate to earn a shot at the semifinals in the tournament-style competition. She then shot into the top four, where she and her mount, RCA Royal Flush, posted the fastest run of the week, 17.04, to secure the top spot. In all, she collected more than $16,000 on the back of her speedy red racer she calls Three, a 10-year-old sorrel gelding by Not a Bad Deal out of In Honor of Sandy.
"I'm looking forward to it," she said. "The atmosphere of that rodeo, the committee, the people there … it's top notch. I've never been to the NFR, but if there's anything like the NFR, this is pretty close."
As it is with many in the field of 27 in each event, the NFR Open is their chance to prove their abilities and the talents of their equine partners on a major stage. Now in her 60s, the passion she has for barrel racing continues. She understands what is in front of her and thrives on enjoying the moments the sport provides her.
"For me, I'm going in to do the best job I can do at the time," Allan said. "Last year, being the first time there and being able to win it was a blessing from God. When I made it back to the short-go, I wasn't expecting anything. I'm glad they moved it to Colorado over Florida because it's a bigger, outside pen.
"I go into every rodeo, every setup as a new day and try to do the very best you can. Everybody's out there trying to beat you or trying to beat the other girls. I'm not that way; I can't be that way. I'm too old. Just do your job, and if it materializes, halleluiah. I have a great horse for the outdoor pens."
Yes, she does, and Three handled the climate change from her Washington home to the base of Pikes Peak.
"What's interesting is that with last year being our first year there, I wasn't sure how everything would go with the higher elevation," she said. "I was tickled with the way he was performing. I was in the same group with (2021 world champion) Jordon Briggs, and my time and her time were really similar. That told me something about him."
Allan knows she has something of a star in Three. He's the reason she won the national title in 2022, and he's the reason she'll be back in contention to do so again, but she's also a jockey that knows how to set up her horse and make him work better.
"He's bred to be able to do what he does," Allan said. "Every trainer will tell you that you are good because of the animal you are on. My husband loves breeding and genetics, and he breeds for speed and mind. If you don't have those factors, you won't float to the top. Randy has a good eye for ability and seeing what is going to be a winner."
Cheyenne Allan knows a little bit about that, too, because she keeps proving it year after year. Whether she can repeat as the national champion remains to be seen, but she'll be in Colorado Springs to see what happens.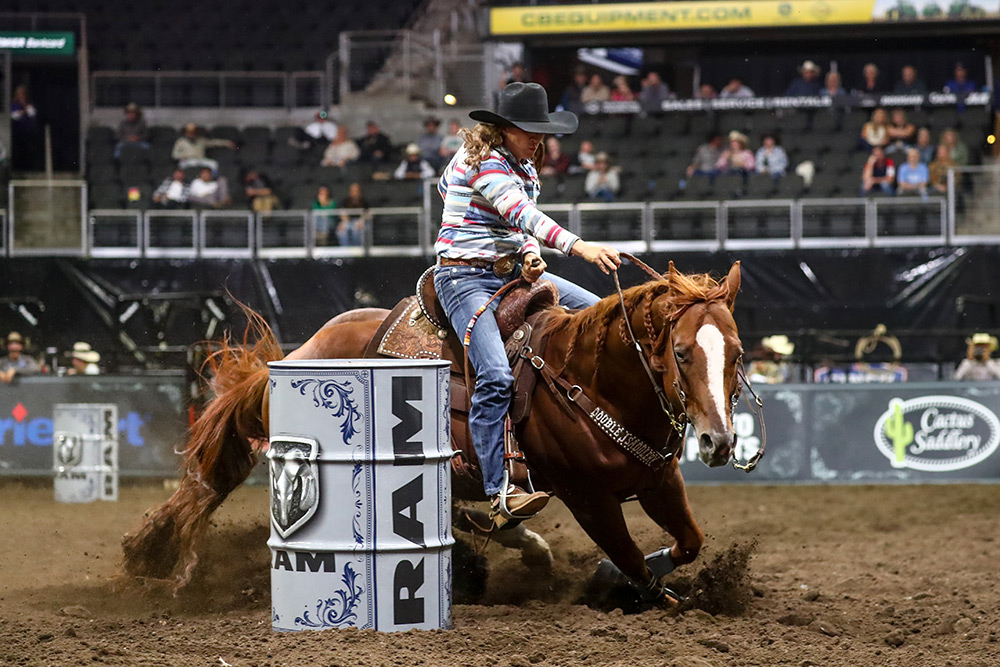 Brittany Pozzi Tonozzi Member Spotlight Pozzi Tonozzi Sets New WPRA Regular Season Earnings Record By Ann Bleiker Photo by Roseanna Sales Brittany Pozzi Tonozzi officially set a new WPRA regular season earnings record during the first round of the inaugural Cinch...
(719) 447-4627
(719) 447-4631 (fax)

431 South Cascade
Colorado Springs, CO 80903
DIRECTIONS
(719) 447-4627 | (719) 447-4631 (fax)
WORLD CHAMPIONSHIP BARREL RACING — Where the Elite Compete®
WORLD CHAMPIONSHIP
BARREL RACING
Where the Elite Compete®