Beisel Wins Albuquerque and Abilene in Homestretch of Season
By Ann Bleiker
Photo by Phillip Kitts
---
We are approaching the last full weekend of rodeos in the 2022 regular season that will determine who lands in the top 15 in both barrel racing and breakaway roping and who is left to try again next year.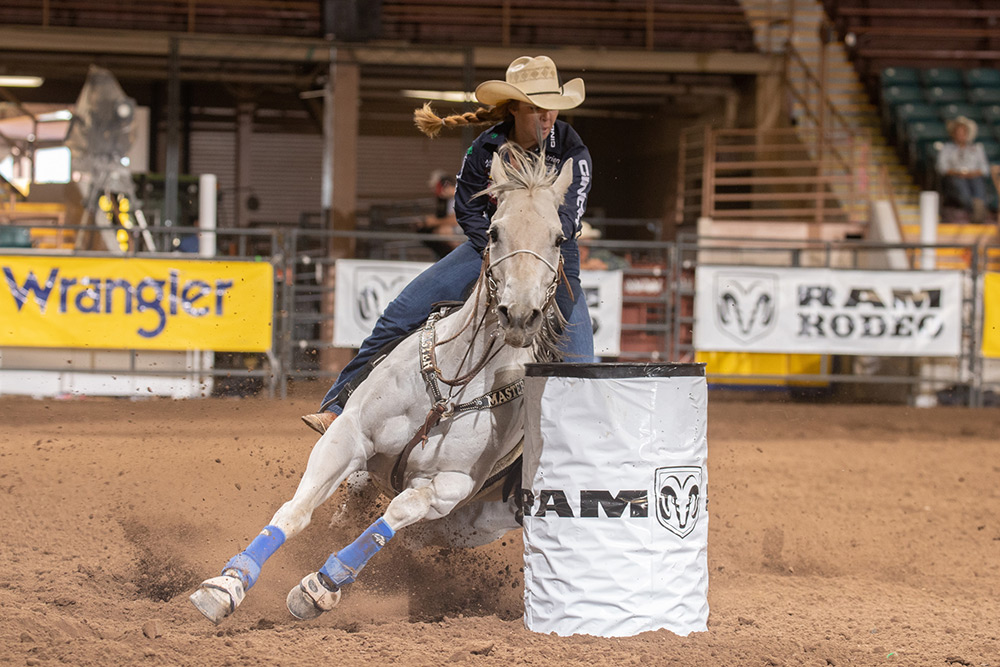 Emily Beisel
Photo by Phillip Kitts
Although already in the Top 15, Emily Beisel didn't want to leave any cash on the table and picked up two big wins this past weekend to move her name up the standings and further off the infamous Top 15 bubble. Beisel, who will be making her fourth consecutive appearance at the Wrangler NFR, finished atop the leaderboard in Albuquerque and Abilene and added $7,152 to her 2022 earnings. She is currently ranked ninth with $93,148.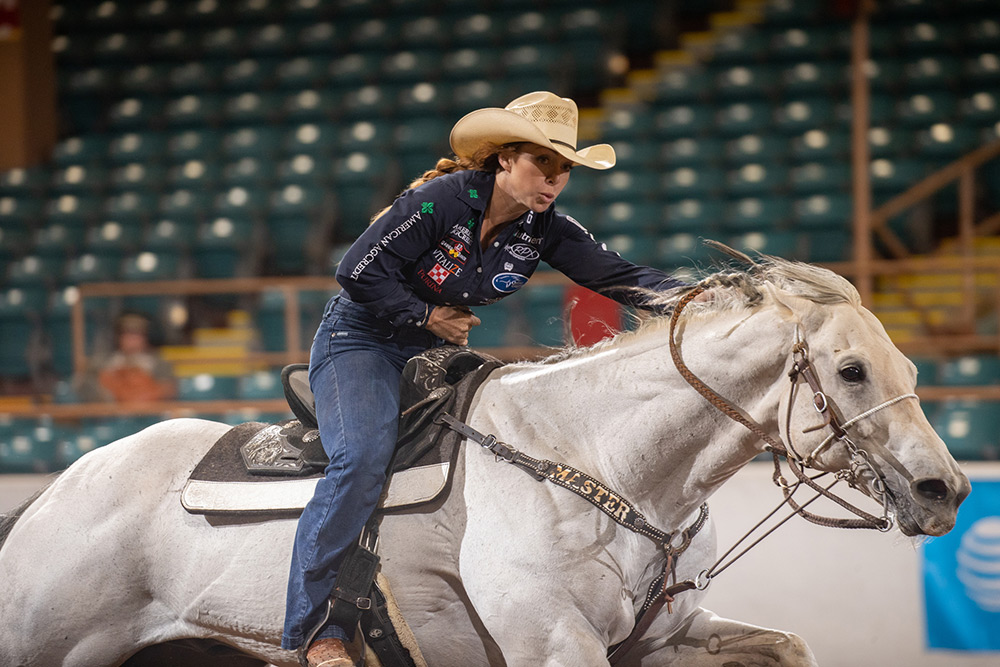 Emily Beisel
Photo by Phillip Kitts
Beisel won the New Mexico State Fair & Rodeo in Albuquerque after stopping the clock in 15.28 seconds edging home state cowgirl Shannon McReynolds with a 15.29-second run. Beisel had a little more breathing room in Abilene, Texas, winning the rodeo in a time of 17.15 seconds to Cassidy Champlin's 17.25.
Michelle Darling, who has traveled some with Beisel this year, is currently 15th with $79,572. She is looking for her first NFR qualification but sitting at No. 16 this week is none other than Lisa Lockhart. Lockhart, who is looking for her 16th consecutive NFR qualification, currently has $77,778 won on the season and is definitely in striking distance. Leslie Smalygo, who is also looking for her first NFR berth, is 14th with $84,016.
Looking the other direction Paige Jones of Wayne, Oklahoma, is ranked 17th with $77,554 and is yet another Oklahoma cowgirl looking for her first chance to run down the alleyway at the Thomas and Mack.
The story is similar on the breakaway roping side as well. Josie Conner, who will turn 19 just days after the end of the regular season, is hoping she gets to celebrate that day with a ticket to the Wrangler National Finals Breakaway Roping. She is currently in the hot spot at No. 15 with $45,918. Right on her tail is none other than 20-time WPRA World Champion Jackie Crawford with $45,835. Crawford is looking for her third consecutive NFBR qualification.
On each side of No. 15 is Samantha Fulton of Miller, S.D., at No. 14 with $49,303 looking for her first NFBR and emergency room nurse Tacy Webb is No. 17 with $43,414. Reigning world champion Sawyer Gilbert is No. 18 with $43,203 and brand new mom, Kelsie Domer, has recently returned to the arena looking for a last chance effort to sneak back in the Top 15. Domer is 20th with $42,875.
No doubt a lot of eyes will be on the Cowboy Capital of the World Rodeo in Stephenville, Texas, this weekend along with rodeos in Omaha, Nebraska; Amarillo, Texas; and Poway, California just to mention a few.
Hang on tight the end of the season is going to be a wild ride.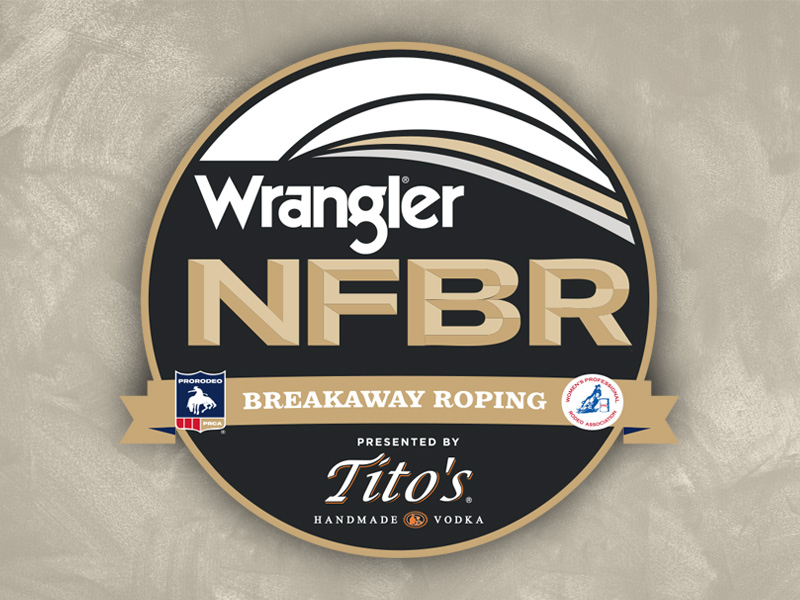 Nominations for Outstanding Committee Woman of the Year Las Vegas Events and Professional Rodeo Cowboys Association Announce Cancellation of First Rodeo Performance Scheduled for Thursday, Dec. 7 In respect for those who lost their lives on December 6, the NFR will...
(719) 447-4627
(719) 447-4631 (fax)

431 South Cascade
Colorado Springs, CO 80903
DIRECTIONS
(719) 447-4627 | (719) 447-4631 (fax)
WORLD CHAMPIONSHIP BARREL RACING — Where the Elite Compete®
WORLD CHAMPIONSHIP
BARREL RACING
Where the Elite Compete®